You said yest to your dress!...what do you wear under your wedding dress? Well we know we wear underwear etc but does it matter what you wear? The answer is yes, very much yes. Undergarments can make or break a look and fit of a dress, smooth out any lumps and bumps and hold things in place when you have low backs or fronts etc. we put together some info for you ladies depending on what style you decide to rock on your big day!
Strapless
Strapless dresses are always so beautiful! BUT what are you going to do bra wise??? Ok no, going without isn't usually an option..is it? Most dresses have some sort of "cups" built into the dress already, but lets be real, that offer no support. You have a few options 1. If the dress has a lace up back then having the dress altered to put in more fitting cups into the dress is an options as you can lace up the dress pretty snug without everything moving during your day. 2. You could invest in a corset like undergarment that will hold everything in place and support your chest without making the "shelf" look.
source:
Nordstrom 
Backless / Low back / Keyhole
Ok so backless dresses are one of my FAVES! They add a beautiful elegance and sexiness at the same time without showing it all. So you have this stunning dress but normal bras or even strapless bras don't work, so what do you do? Sticky bras! Yes sticky bras is an official word >.> . The adhesive bras are great for giving a little shape without having to wear a full bra. Keep in mind these don't work like a fully strapped bra with the same support, more so for a little bit of a "pick me up" to give a little lift. There are also these awesome shapeware body suits that have clear plastic straps if you are looking for a little more support and don't mind the straps.
source:
Nordstrom
Plunging necklines
Oh so risque! Who doesn't love these sexy dresses? This one is pretty easy, there are these awesome bras that are designed for the plugggnneee. They look kinda funny but trust me they work wonders! If you have a smaller chest and like being free these over sized nipple pastie bra things are perfect!
source:
Nordstrom
,
Nordstrom
Halter / One Shoulder
For our brides who are rocking a halter dress we have you covered! Like any halter top or dress the same rules apply really. You can go free and not wear a bra if you alter your dress to have proper inserts or we suggest (yep you guested it ) the sticky bra! If you haven't guessed already we love this! Its suuuuppeerrr useful for so many styles AND reusable!
Mermaid / Trumpet
For these stunners you want to be wearing something that fits super snug around the hips and tumny area.
source: unknown,
Kohls
A Line / Ballgown
Ahh the beautiful A line dress and the dress to end all dresses, the ballgown. The dresses we dream of as little girls! One thing im pretty sure we never dreamed about is what do you wear underneath them? Well lucky for you its pretty simple and we have covered these ones already, woot woot! So for these, depending on the back of the dress you can get away with a strapless body shaper OR if you have a lace up back, you can just go bare! Yup thats right bare it all! ( not really but you get what I mean). Lace up dresses are great because thet hold you in oh so nice and snug so you don't have to worry about a bra, but if you still are concerned about any lumps and bumps then a body shaper is the way to go. This helps smooth out any bumps and does make lacing up easier. They are also great if you have a strapless or keyhole back as well!
source:
Kohls
Sheath / Column Dress
These timeless dresses are to die for! For the chic bride who doesn't want all the poof and frills this is a perfect match! For these you want to wear a slip underneith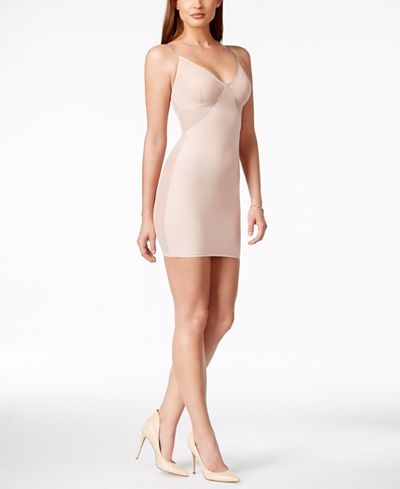 source:
Macy's
,
Macy's
We hope this helps with the big mystery on what to wear underneath your dress for your big day! make your appointment today to find your dream dress with us at Samilas Boutique! (425) 558 5714