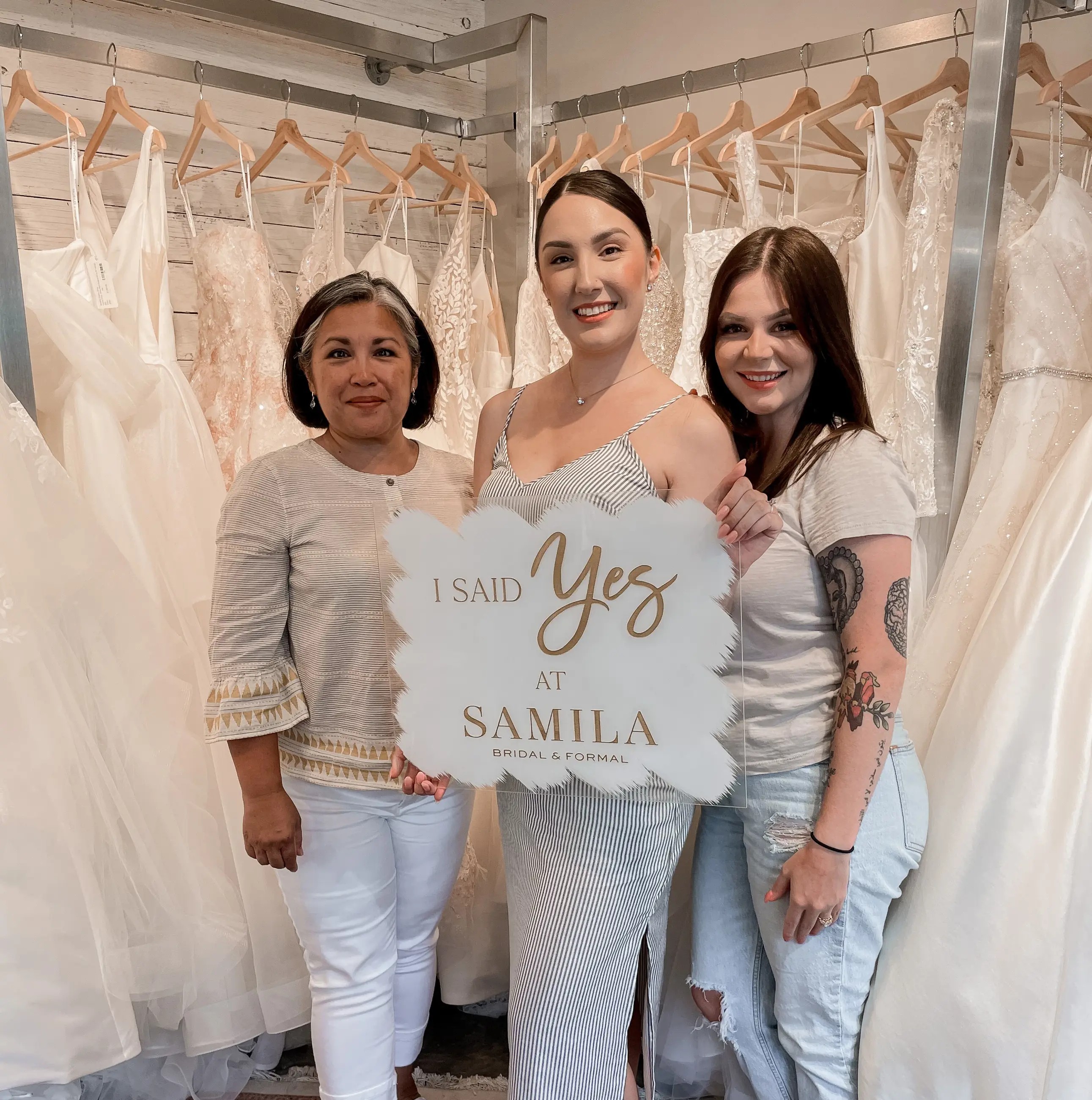 Alyssa B.
Google ★★★★★
Samila Bridal was the perfect experience. My stylist Shea was detailed, knowledgeable and was on her game. I went to Samila as my second dress location for try on and honestly I am so glad I did. I saved the best salon for last. When booking an appointment (I booked the Diamond session) you have the salon to yourself and can relax and really focus on the dresses. The decor of the salon sets the mood and gives the needed ambiance. Highly recommend going!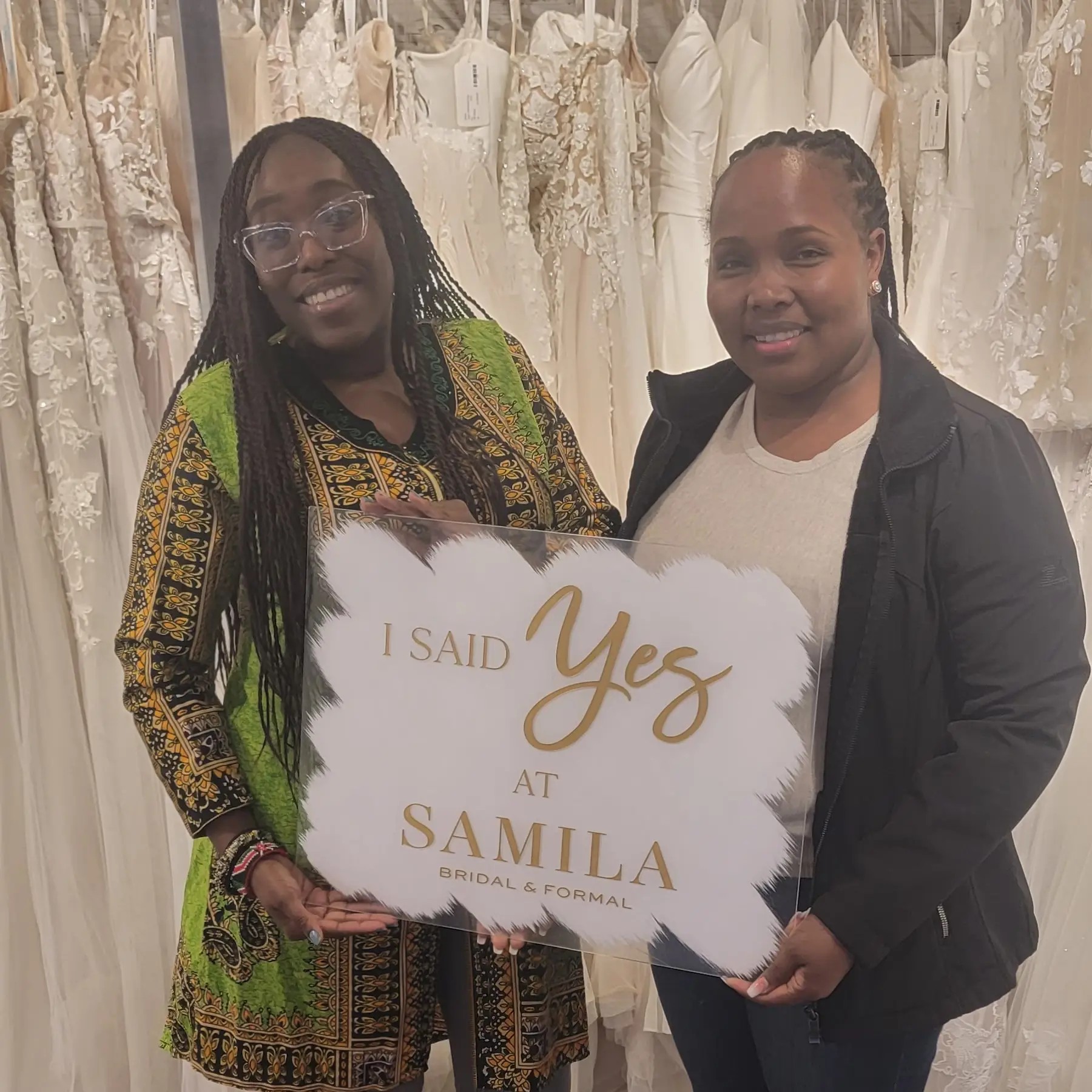 Elsie L.
Google ★★★★★
I visited 2 bridal boutiques and Samila Bridal provided the best experience and I also found my dream wedding dress, I was so excited to finally found what I was looking for, the staff was amazing they treated me and my friend kindly, and respectful.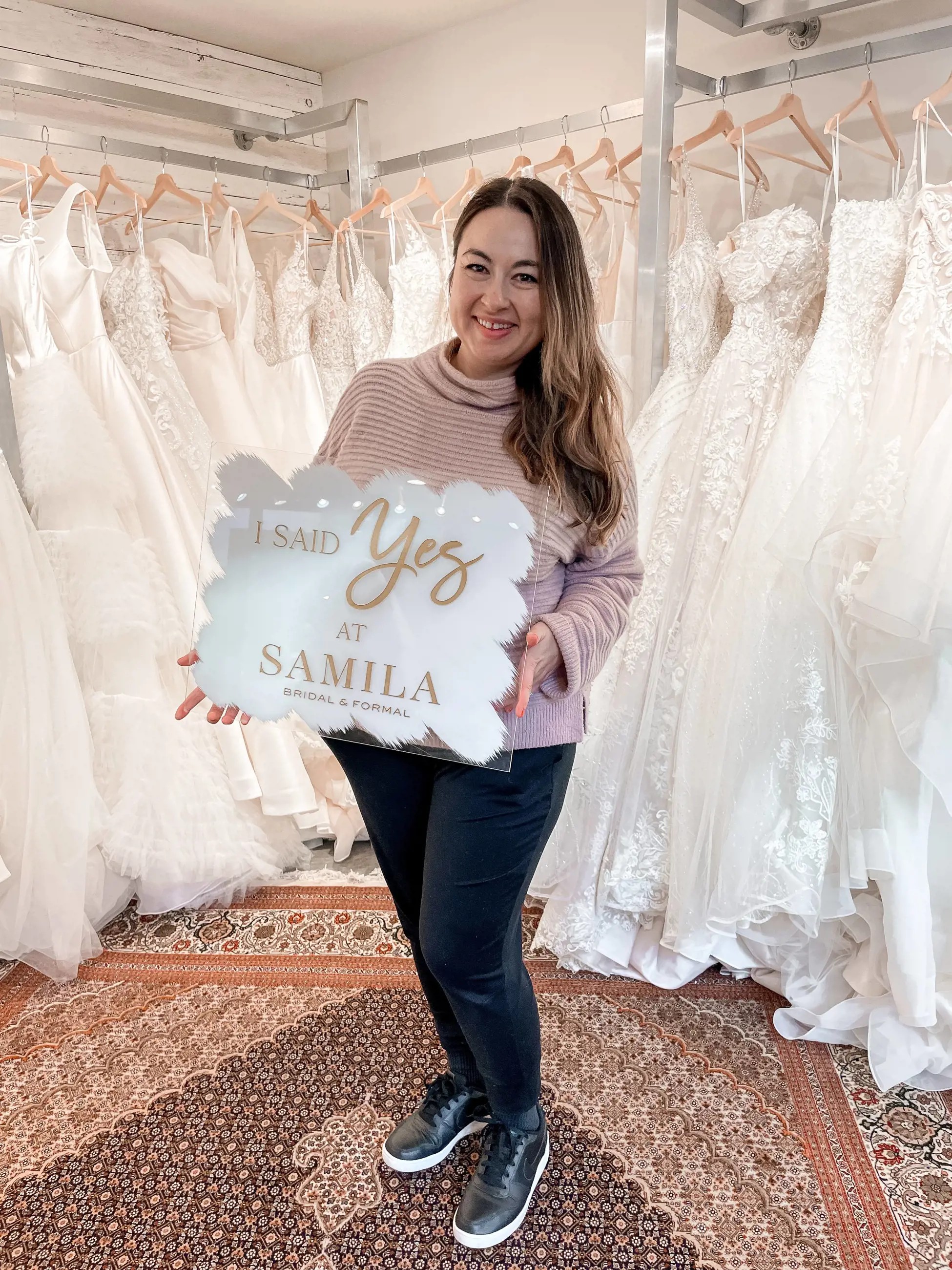 Christine L.
TheKnot ★★★★★
I had the most fantastic experience from start to finish with Samila. When I decided on my gown (After trying on over 70 at several other boutiques!) I remember the staff ensuring me they would be on the full journey with me and they really delivered on that process. The entire experience was seamless. The alterations were perfect, and last but not least - I had a mini stress meltdown about one tiny detail that Yasmeen talked me off of the ledge from. She was so compassionate for all the stress I was feeling and was going to move mountains for me to get the perfect neckline. Turns out the neckline was already perfect and I was zoning in on that detail as a stress reaction. She was like a friend/therapist when I needed it and even called me to follow up multiple times. Can't say enough about the wonderful team at Samila.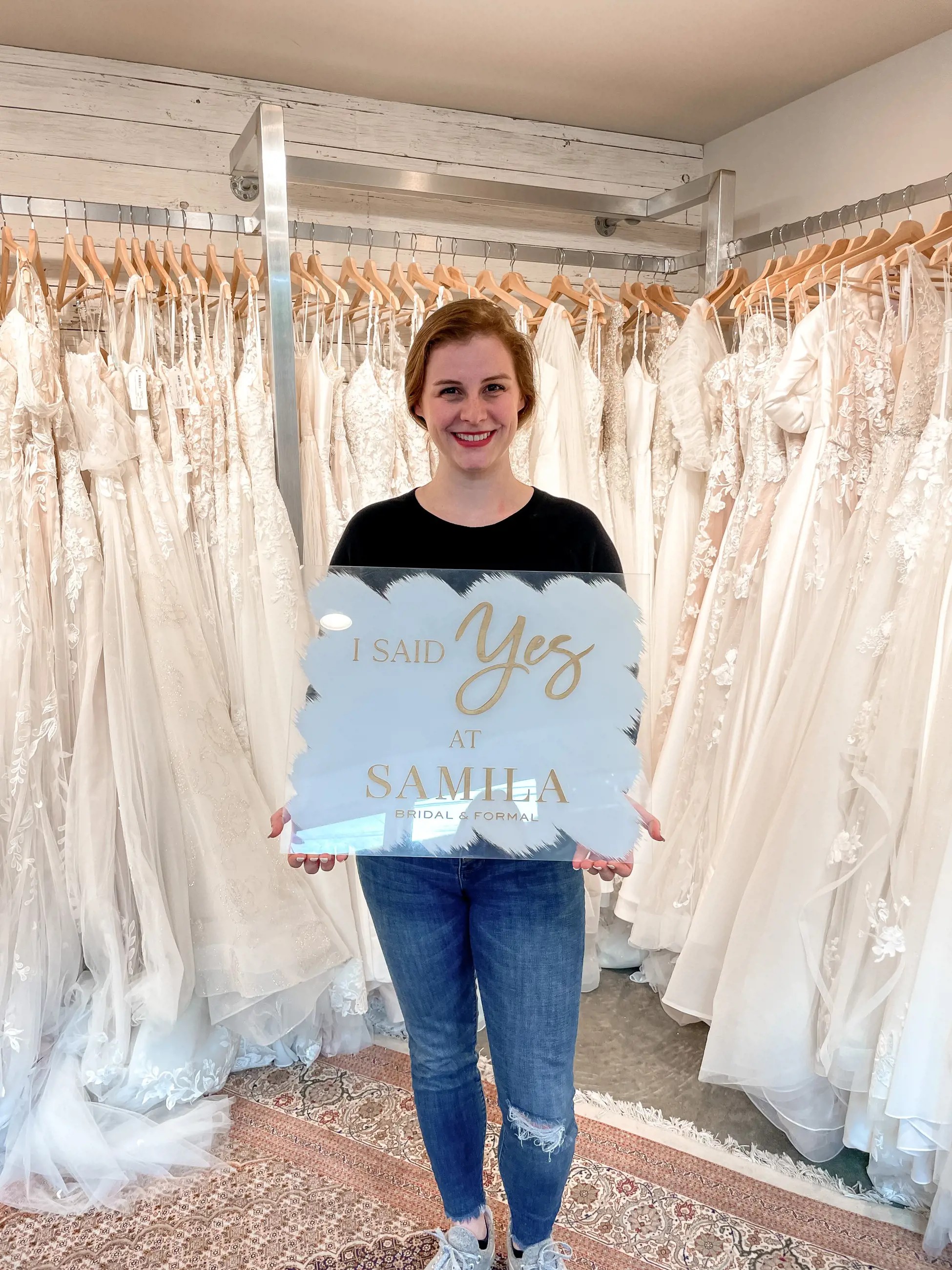 Rebecca F.
Yelp ★★★★★
I have been raving about my experience at Samila Bridal since my appointment last week! I seriously can't recommend then enough.

Shea and Malia were incredible! They say down with me and the rest of my group to talk through the dresses I had tried on at the other salon I visited. They asked what I liked, but more importantly what I didn't like about my favorites. Shea then curated the perfect set if dresses to try on. Even though I felt like my favorite dresses were completely different, Shea figured out the common thread and found the perfect dress! I swear she figured out my vision before I did. They also made the experience fun with their flourish curtain reveal for every dress.

If you are looking for a bridal salon in Seattle, give Samila Bridal a call!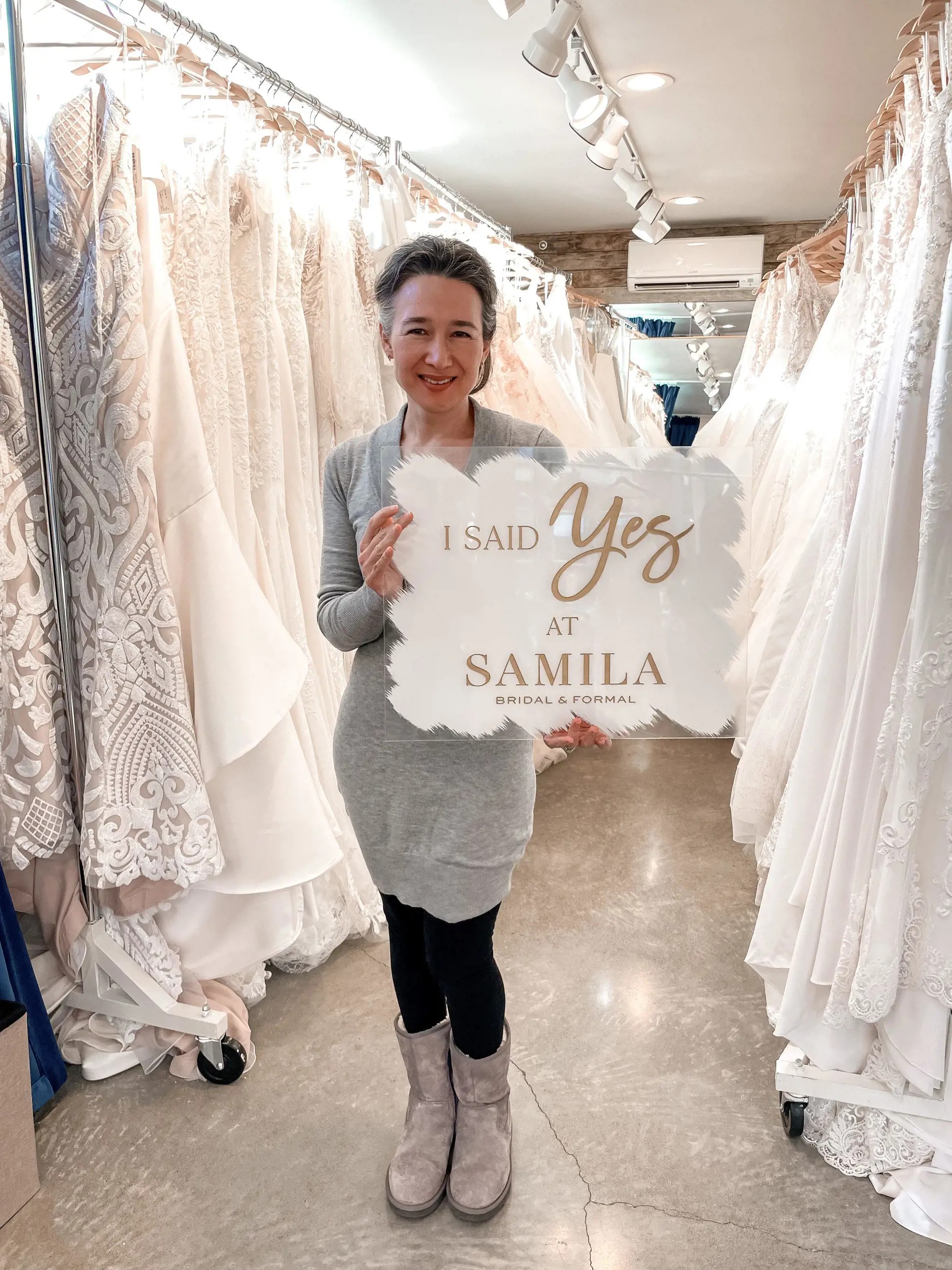 Tania A.
Google ★★★★★
I sincerely appreciated the experience I had at Samila Bridal and Formal. My stylist Shea (sp?) could not have been more organized, professional, pleasant, and intuitive with the style of wedding dress I was looking for. She used every minute of my appointment time to show me a good variety of dresses without steering me away from what I envisioned or rushing me at all. They turned out to be my first and last stop to shop for a wedding dress. I highly recommend Samila Bridal!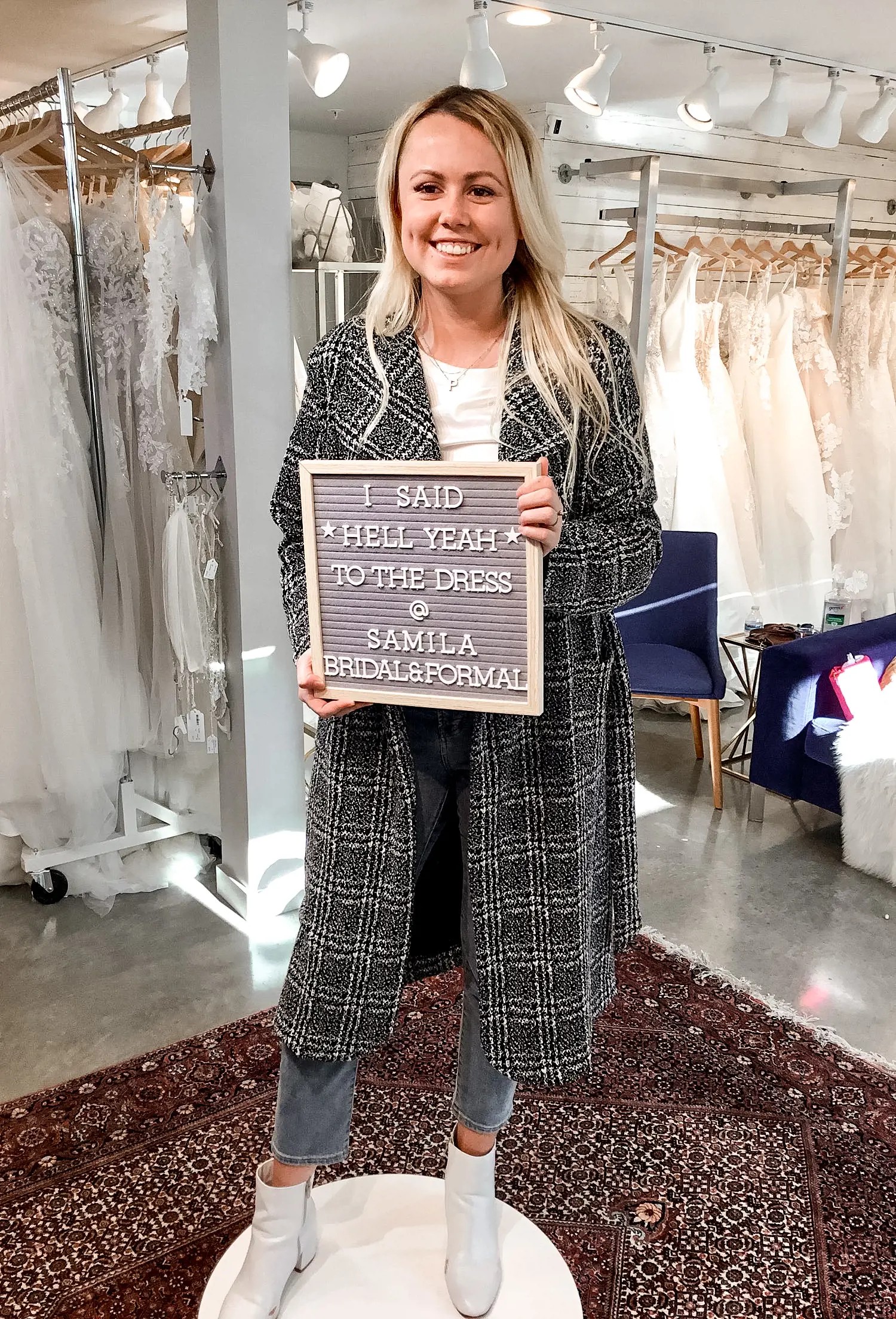 Payton D.
Yelp ★★★★★
This whole experience was absolutely wonderful. I booked the two hour appointment and only ended up needing 45 minutes to find my dress, because my stylist was amazing! We sat down and discussed what I wanted and she nailed it. Every single dress she brought out was exactly what I was looking for. Even if some of my crew made some comments that were not exactly positive, she was able to counter in the most positive and professional way. I felt supported and validated. Everyone there made me so comfortable for something that can feel like a lot of pressure, and they made it fun! I would recommend this place a thousand times over.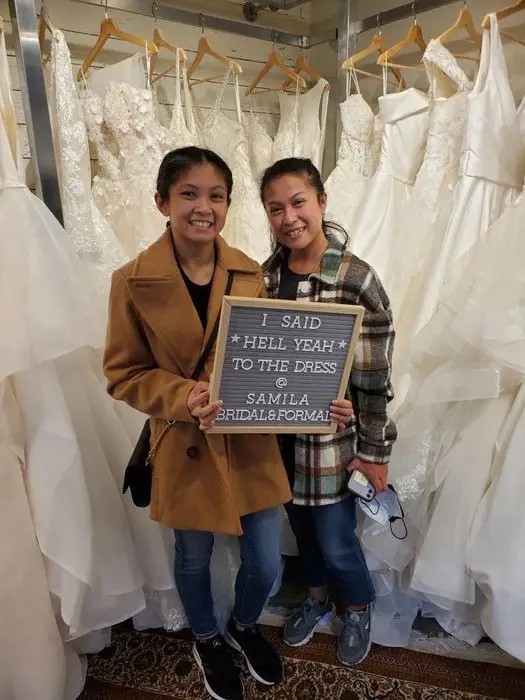 Mary F.
WeddingWire ★★★★★
I had the pleasure to be able to be helped by Samila herself, her daughter Yasmin and their associate Alianna. They made the bridal fitting appt very comfortable and a pleasant visit I never got rushed or pressured into anything. I loved every minute of the visit. The entire team was friendly and so very patient. Not only that but there are sooo many beautiful dresses to choose from. I highly highly recommend them to any bride in need. Sincerely Thank you Samila and team.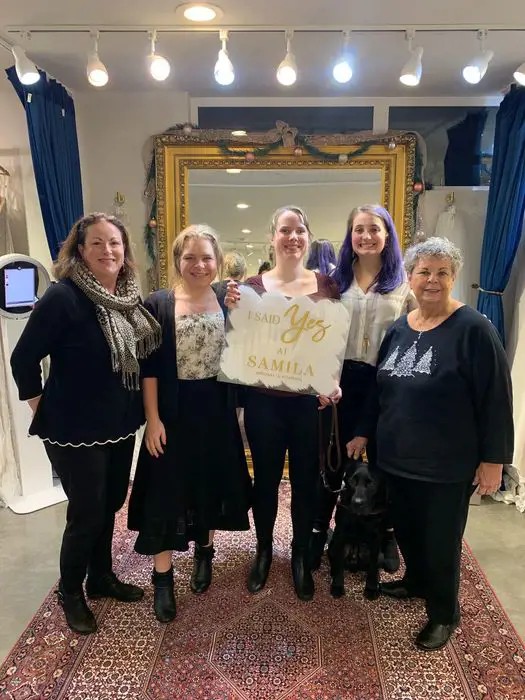 Ali S.
WeddingWire ★★★★★
I can't believe I'm saying this but I found my dream wedding dress with some of the most special humans in my life at a place that has always made me feel seen and welcomed.

Over the weekend, I returned to Samila Bridal and Formal to find my wedding dress. I say returned because I have always known that when I was ready to find a wedding dress, I would only need to go to Samila. In high school, I remember hitting 11 different dress shops in one day in search of a homecoming dress and feeling beyond discouraged especially when store after store had absolutely no clue how to interact with a blind teenage girl who just wanted to have a magical high school dance experience like everyone else. Then in a last ditch effort, my mom and I wandered into Samila and I have never gone anywhere else for formal dresses. From the moment I walked in as a teenager, I have never felt more seen as a complex human who is blind, a fashionista, confident, and capable. Yasmin at Samila made me feel at home instantly and immediately communicated with me like she had only worked with blind people for years, describing where she was in relation to me, when she would touch me to adjust straps or hems, explaining color and texture of dresses, and all the while understanding my style with killer instinct. I got to feel normal at Samila when everything else around me in high school made me feel othered.

So this weekend, I made an appointment and requested to work with Yasmin again because for once in my life as a blind woman, I knew I would be embraced with understanding, ease, and enthusiasm. Yasmin and her team did not disappoint and my dream wedding dress experience came true in the best way. I can't possibly express my gratitude to Yasmin and Samila Bridal and Formal for not only getting me in dresses that made me feel incredible, but for creating a space where I can be unapologetically myself.

PD: I'm standing holding a sign that says "I said yes to the dress at Samila's Bridal and Formal." Around me, my beautiful grandma, mom, cousin/bridesmaid, and best friend/maid of honor and trusty guide dog/ring barer stand with the huge mirror in the background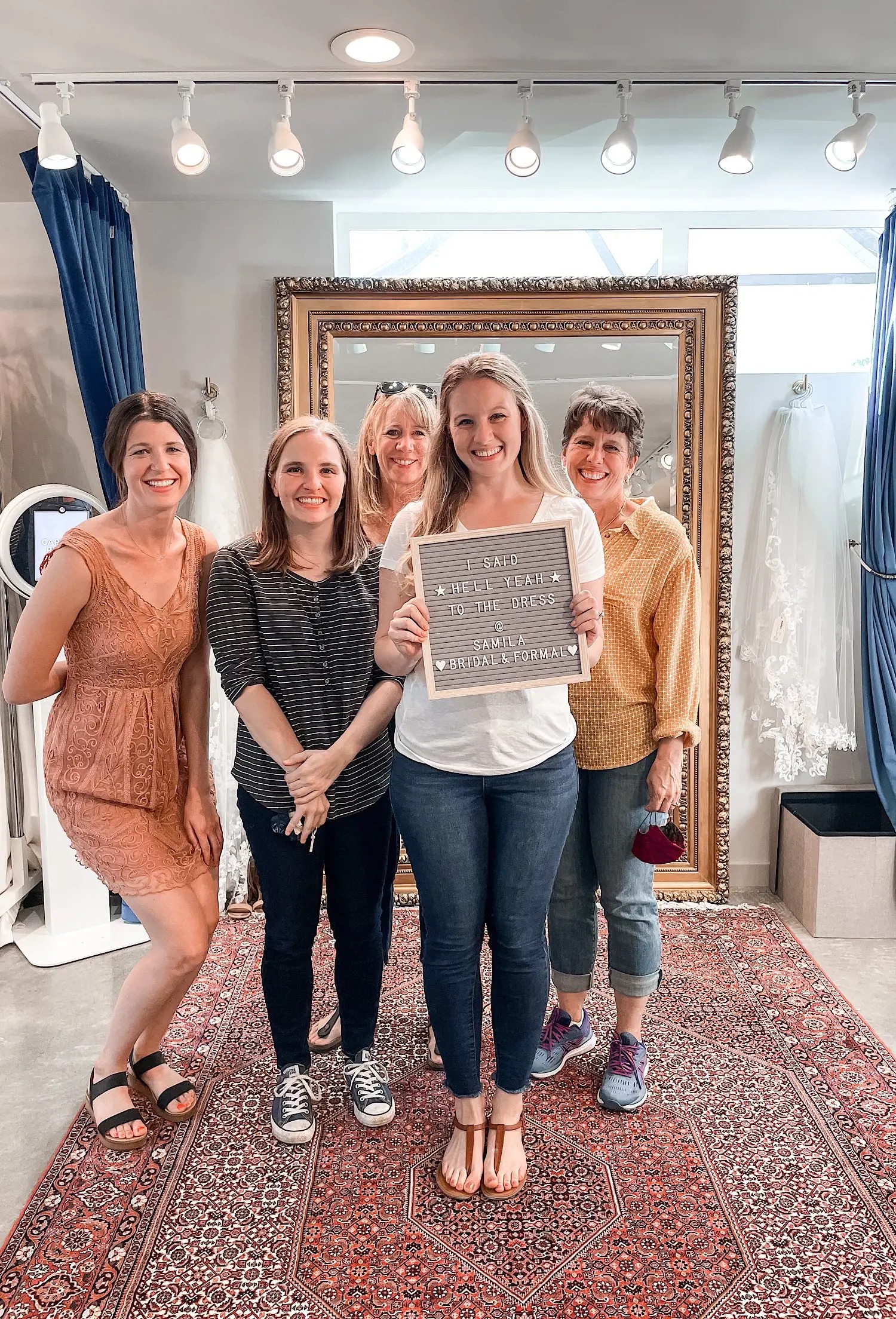 Karen D.
The Knot ★★★★★
I chose Samila Bridal and Formal after looking online for boutique wedding dress shops in Seattle that carried Morilee dresses and would allow me to bring a couple guests (due to COVID many wedding dress shops were only allowing 1 or 2 guests). I ended up doing the Diamond experience so I could bring 4 people with me and as a plus we got snacks and champagne. Right away all of the consultants were so sweet and made me feel very comfortable. They listened to what I was looking for and made adjustments along the way based on my feedback from each dress. It was so apparent how much they put into each client and prioritized finding my dream dress over making a sale. They had an amazing selection and I definitely found the perfect dress without breaking the bank. The process after purchase was incredibly smooth. They were able to squeeze me in for a last minute alterations appointment after I got COVID and the day of pick-up were able to quickly readjust the bustle hooks when it ended up being too long. I am SO happy I picked Samila and would 100% recommend them to anyone looking for a comprehensive wedding dress experience!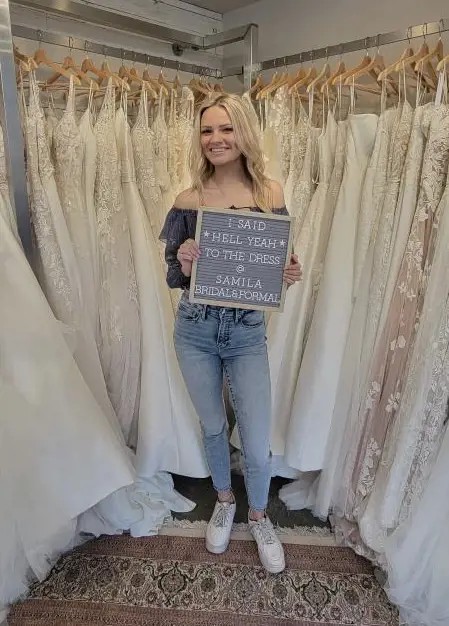 Kat B.
The Knot ★★★★★
My experience was amazing! Yasmin was SO incredibly amazing in helping me figure out what I wanted and offered me options I wasn't sure I would like but ended up loving. She took the details I knew I wanted and helped me pick out my dream dress. My friends, family and I all had an incredible time. Can't recommend them more!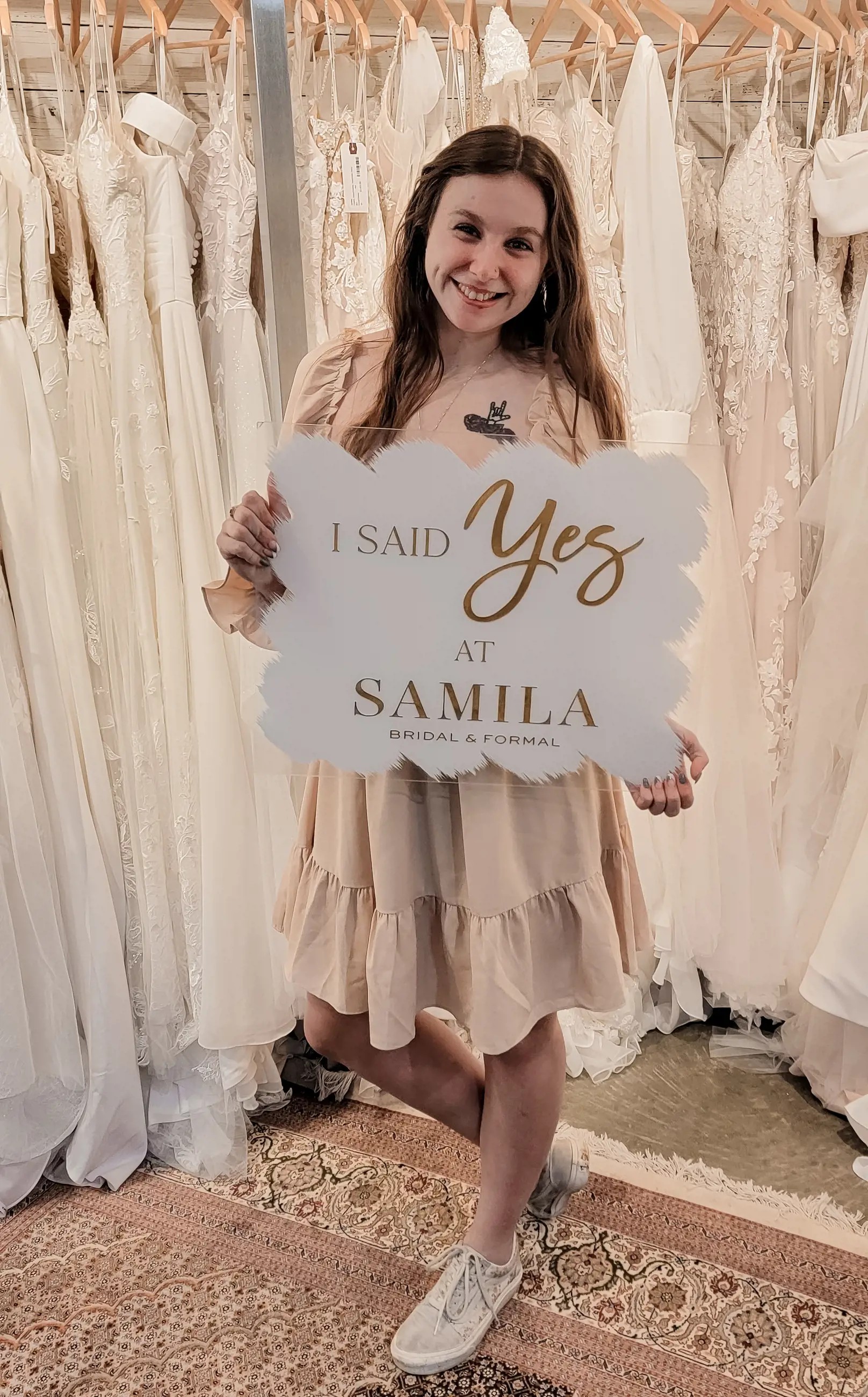 Ashton H.
The Knot ★★★★★
These girls were so awesome throughout the entire process. I needed a dress from online and they helped me get it to their salon within a week! I ended up falling for a different dress in their salon, but the stylist Yasmin was so kind and super supportive during the entire process.
Erica L.
The Knot ★★★★★
I visited 4 bridal boutiques and Samila Bridal provided the best experience by far! Shea and Yasmin were an absolute joy to work with, and the service they provided was beyond expectation. I communicated what I was looking for in a dress, and the first one that I tried on was the one! When the dress I ordered came in but didn't fit due to the sizing not fitting to specification, Yasmin and her team handled the situation with such professionalism and grace, and I had no worries because I knew I was in good hands. They took great care of me and my dream dress fit perfectly on my wedding day. If you're looking for a wedding dress, Samila Bridal is the place to go!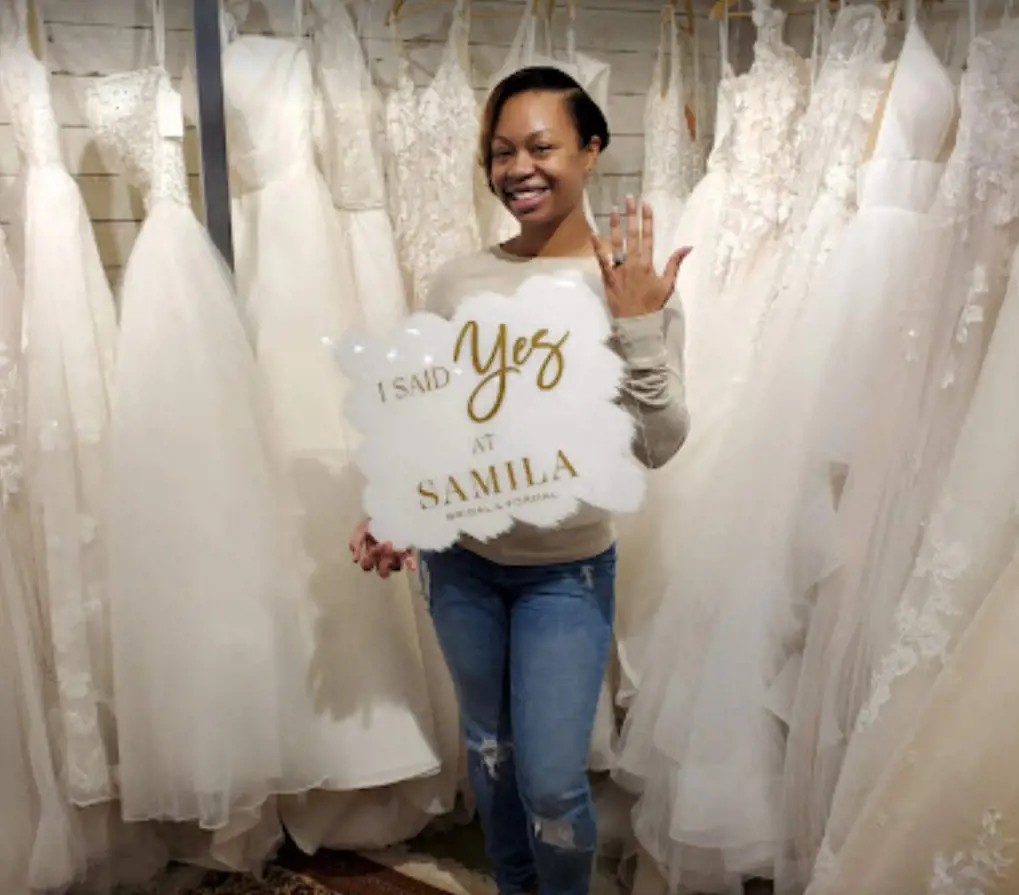 Ashley R.
Google ★★★★★
I had the best experience at Samilas in the Winter of 2021! I had a 10 year vow renewal planned for May 2022 and was looking for the perfect dress (I never had a wedding). Myself, Samila and Yasmin knew this was the one as soon as I tried it on! It almost fit me perfectly, just needed minor alterations. It was like it was meant to be because I was leaving the area to move across country in 2 months and didn't have time to order anything. Yasmin sold me this gown right off the rack and promised me that my dress would be ready in time before I moved and she delivered! Yasmin and Samila are such beautiful people and made me feel like family. I highly recommend this bridal shop!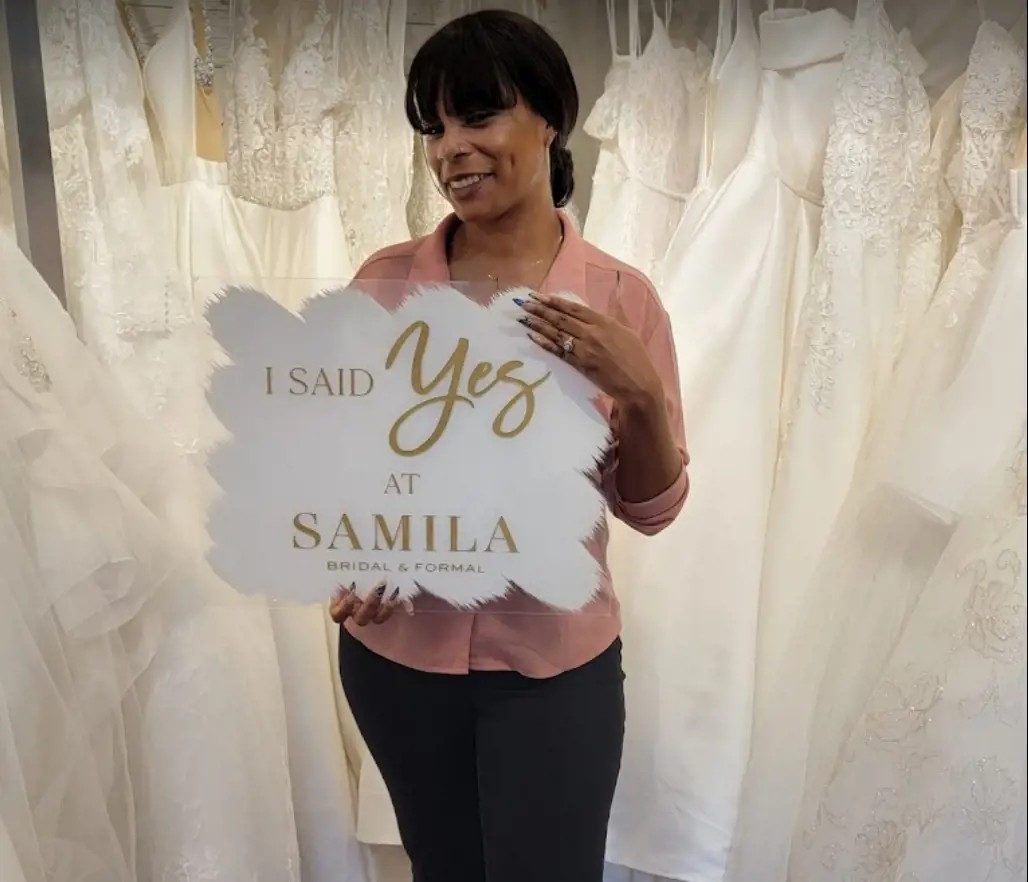 Elisha R.
Google ★★★★★
Yasmin and Shea really know how to make
A bride feel special. The vibe at Samila is EVERYTHING. Long story short, I had a horrible experience with another bridal store. I called Yasmin and informed her I'm looking for a particular dress and she stated "if anybody can get this dress, it's me". She ordered a sample dress and a week later my dream dress was here. The dress fit me to the T. I can't believe I just bought my dream dress. Shea you're customer service was amazing. Thank you so much ladies. You've made my special day so much more special 😘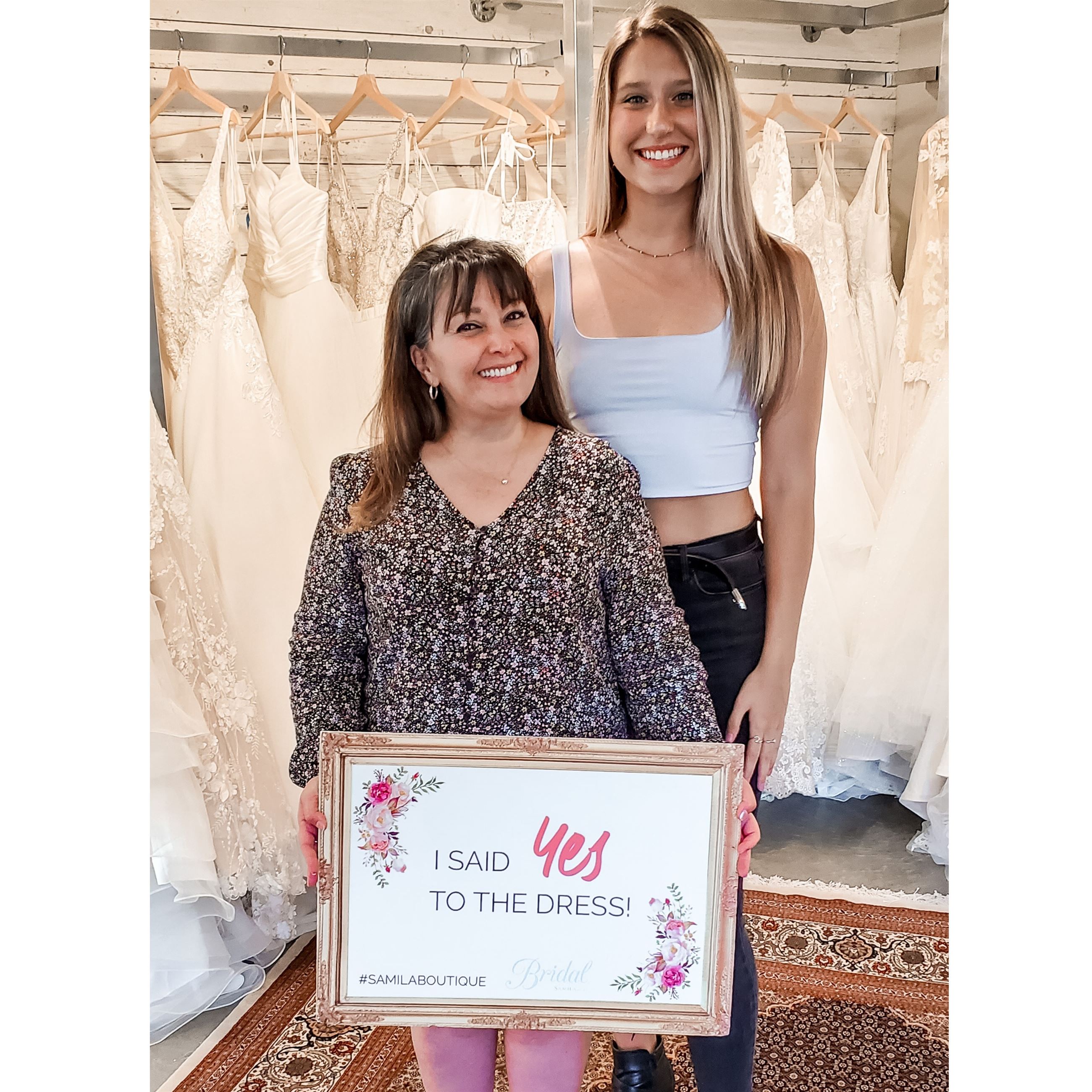 Leah W.
The Knot ★★★★★
What a fantastic experience! Yasmin is a gem and I am so glad I saved the best for last! My search for the perfect wedding dress took 9 months and two states! With the stay home order for three months hit, I started looking online. Huge mistake! Once the order was lifted Yasmin contacted me and I was able to schedule a fitting almost immediately! I'm four months away from my wedding date!! The new location on Alki is beautiful and the energy is on spot! My dress is exactly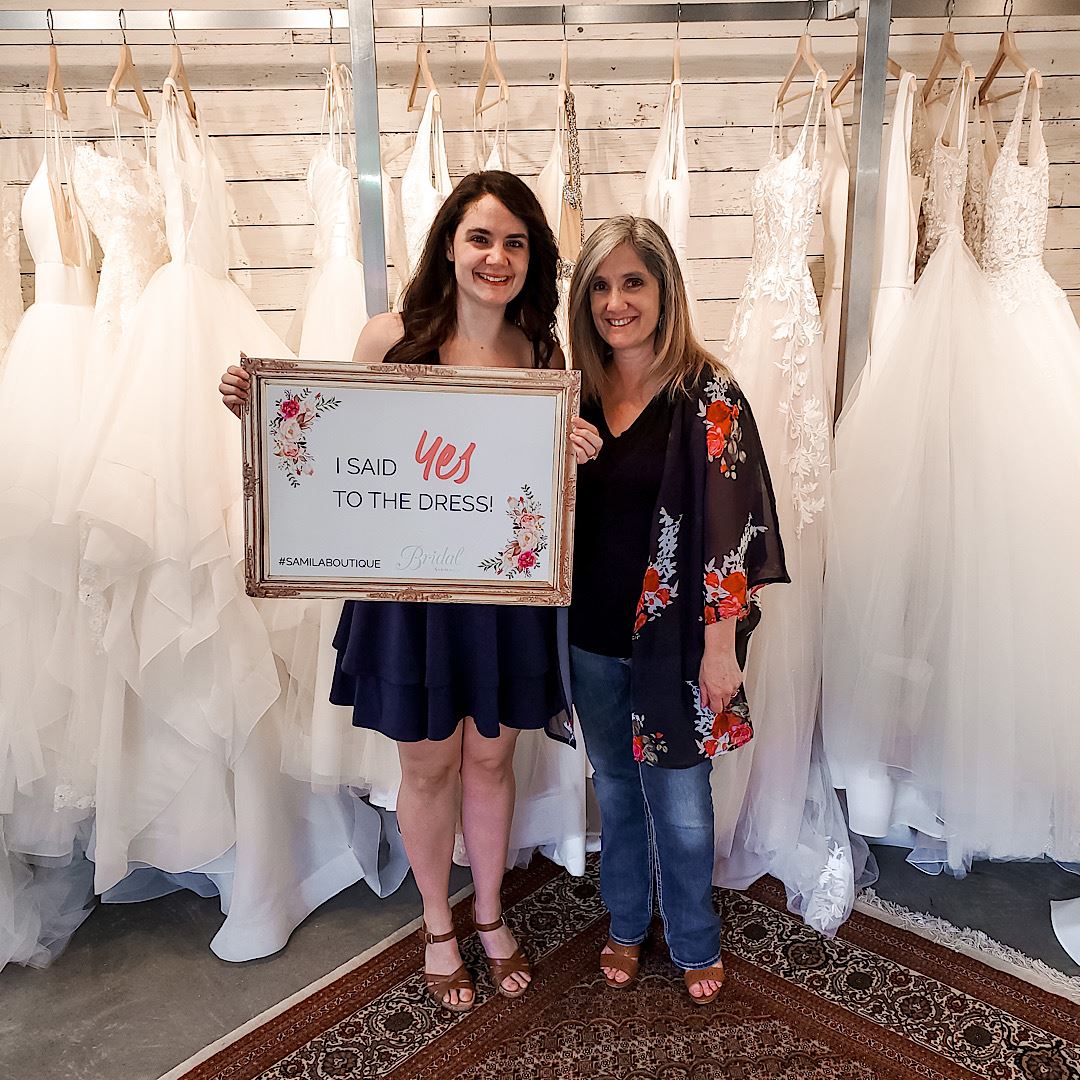 Arielle J.
The Knot ★★★★★
My mother and I got to work with Yasmin to find my perfect wedding dress! After not being in love with any dresses I had tried on at other shops, I was excited that I was able to schedule a last minute appointment here when I realized they had reopened at their new location. Yasmin was absolutely amazing and helpful through my appointment and even went above and beyond and set up a zoom meeting for us. She pulled multiple dresses for me all in beautiful styles(the dresses here are so beautiful! I didn't see a single dress in this shop I didn't think was pretty), she never made me feel rushed. Once I had found my dress, she even helped me get an idea of what kind of accessories I might want to go with my dress. Thank you Yasmin for making this such an amazing experience.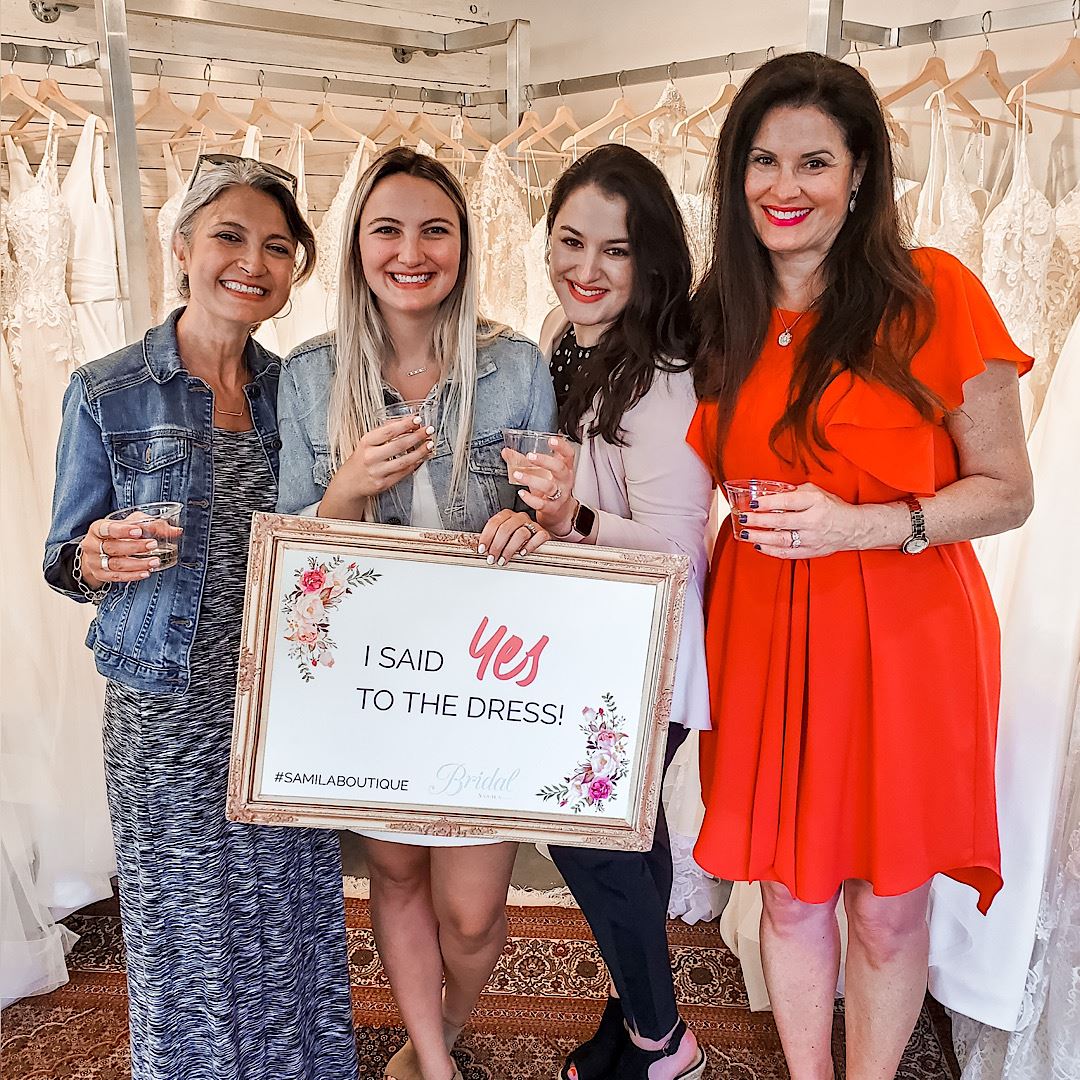 Ayse R.
The Knot ★★★★★
Wow! I am still on cloud nine after both my visits to Samila and experience with the wonderful Yasmin. Yasmin took the time to listen to what I was and was not looking for and absolutely NAILED it. She found the most amazing wedding dress that was more beautiful than I could have ever dreamed of. She is so kind and bubbly and made my special day even more special by her just being there. Never once did I feel pressured or upsold. She was incredibly respectful of my budget and even arranged a special day yes to the dress event. This was the first store (and only) store I felt I needed to go to because quite frankly it does not get better than Samila and Yasmin. There new location is so dreamy and cute tucked away in a beautiful part of town a minutes away from alki so we could easily continue our bridal festivities and enjoy the view. I truly cannot say enough good things about this place and Yasmin and will forever recommend it and will always find an excuse to come back. If you are looking for the place to say yes to the dress, look no further, this is it.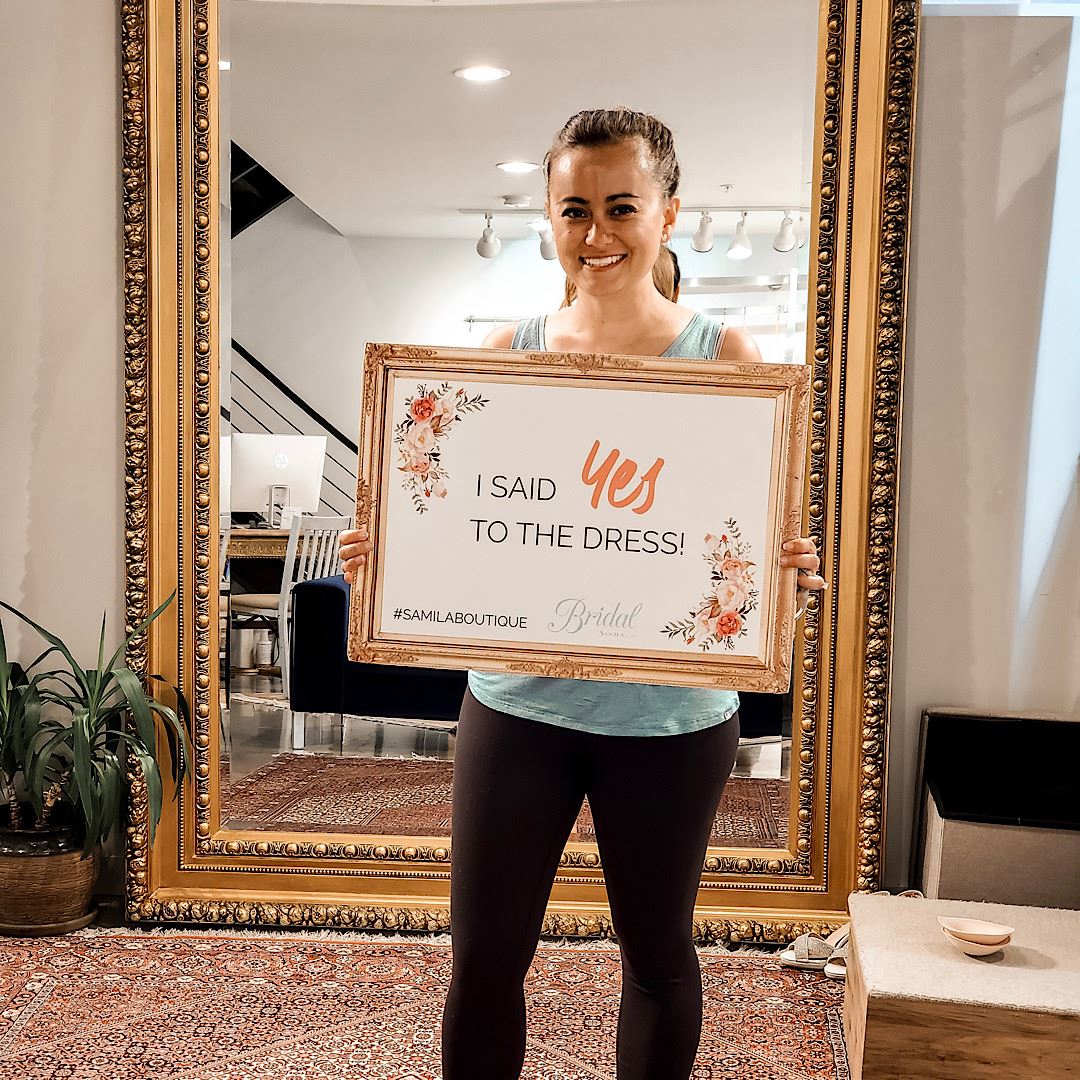 Cassandra T.
The Knot ★★★★★
I got engaged right before the COVID pandemic, so got an extremely late start to wedding dress shopping, given that our wedding was planned for less than a year from when we were engaged. Yasmin at Samila Boutique provided a clean, safe environment in order to try on dresses and find the perfect one. After a 10 minute conversation about the wedding and what my style was, she knew exactly what I was looking for. I was shocked that the first dress I tried on, I ended up purchasing. I am not an impulse buyer, so I was very pleased! Yasmin is an experienced professional, and I would highly recommend checking out her shop.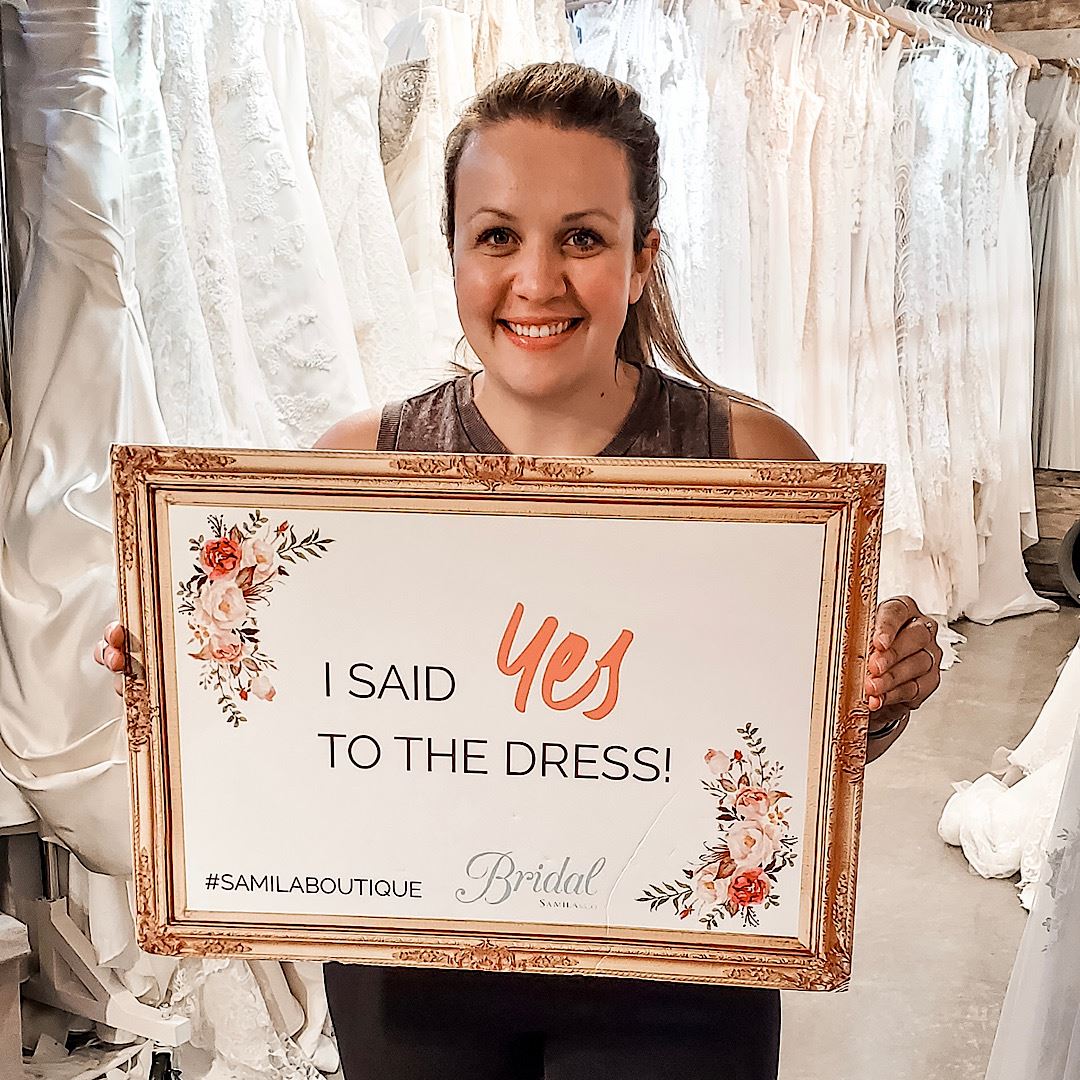 Robyn H.
Yelp ★★★★★
Samila Boutique is the dream experience for wedding dress shopping. Yasmin is seriously the dress whisperer! The gowns in there are gorgeous, extremely well priced, and you get treated like a princess. I was able to find my dream gown in a single visit, and can honestly say it was an amazing experience. My best friend found her gown here too, and I knew it was the place for me. Beyond the gowns and service, I love how much I time Yasmin spent speaking about the options and special touches she can put on gowns. She also supports you through the alterations process and does everything in house. I seriously cannot say enough amazing things about Yasmin or Samila. I will definitely be back for bridal dresses and other special occasions.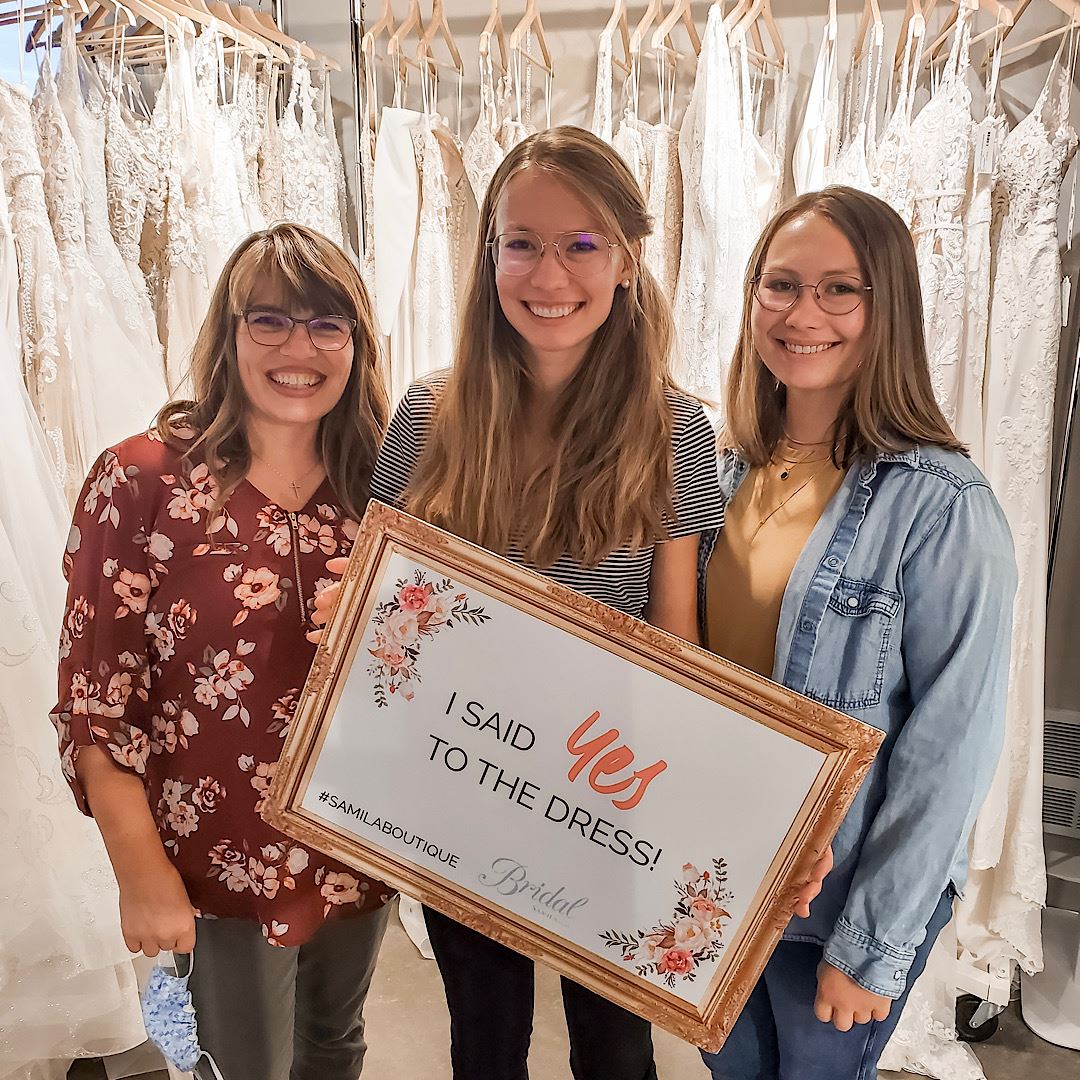 Jessica E.
Google ★★★★★
Samila boutique blew us away! Yasmin is the sweetest, warmest host you could ask for. As a bride she quickly made me feel so comfortable and welcomed into the store. Even with masks and other precautions for COVID that tend to make things feel impersonal, I forgot anything was different than normal and simply enjoyed being a bride. I fell in love with the first dress she
brought out (after trying MANY dresses on at 4 other shops with no luck), tried on a few more just to be sure, and said yes to that first dress! Yasmin went so far above and beyond to pull strings and made a bunch of calls to find the color that I was looking for. Truly could not ask for a better experience. Thank you Yasmin!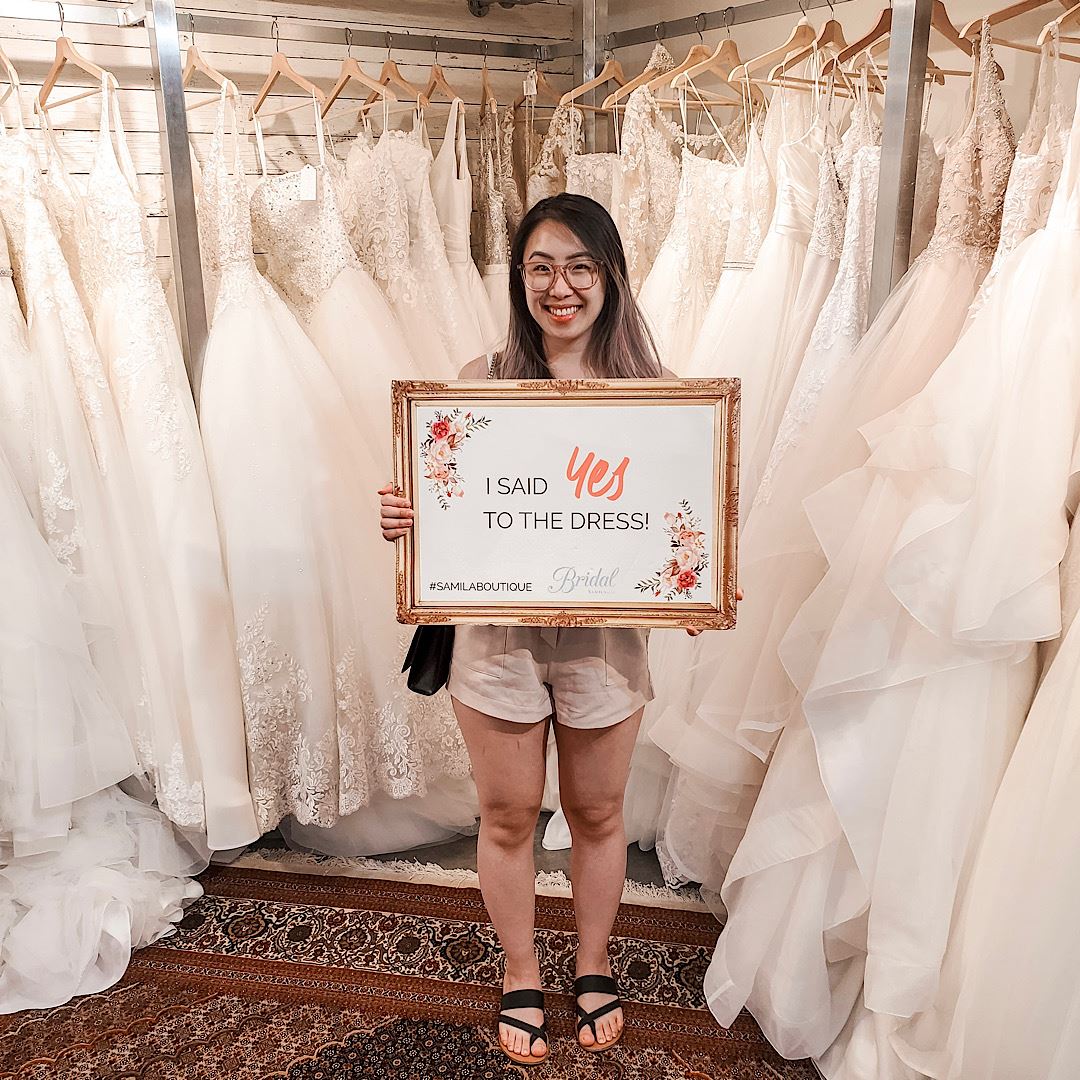 Tammy Y.
Yelp ★★★★★
Samila Boutique was the first stop on my wedding dress journey and I wouldn't have had it any other way. It was really easy to schedule a virtual appointment to gauge the boutique's selections before making the drive in store. Yasmin was absolutely incredible to work with -- very knowledgeable and took the time to understand what kind of dress I was looking for. I was really nervous to go through the experience without my bridesmaids / closest friends with me, but Yasmin made me feel so taken care of! Fast forward to the in-store appointment, Yasmin always went the extra mile to show me how the dress would look if it wasn't in my size: clipping the dress, adding accessories, tying up my hair in a bun, etc. I loved my experience with Yasmin so much, coupled with a family owned (and BIPOC!!) boutique, and a breath taking dress, I knew I had to say "YES!". Couldn't have asked for a better experience, honestly! Furthermore, alterations are all done in-house, so it makes the process really easy, and Yasmin will be there for me throughout it all :) Will definitely be recommending this place to all my friends.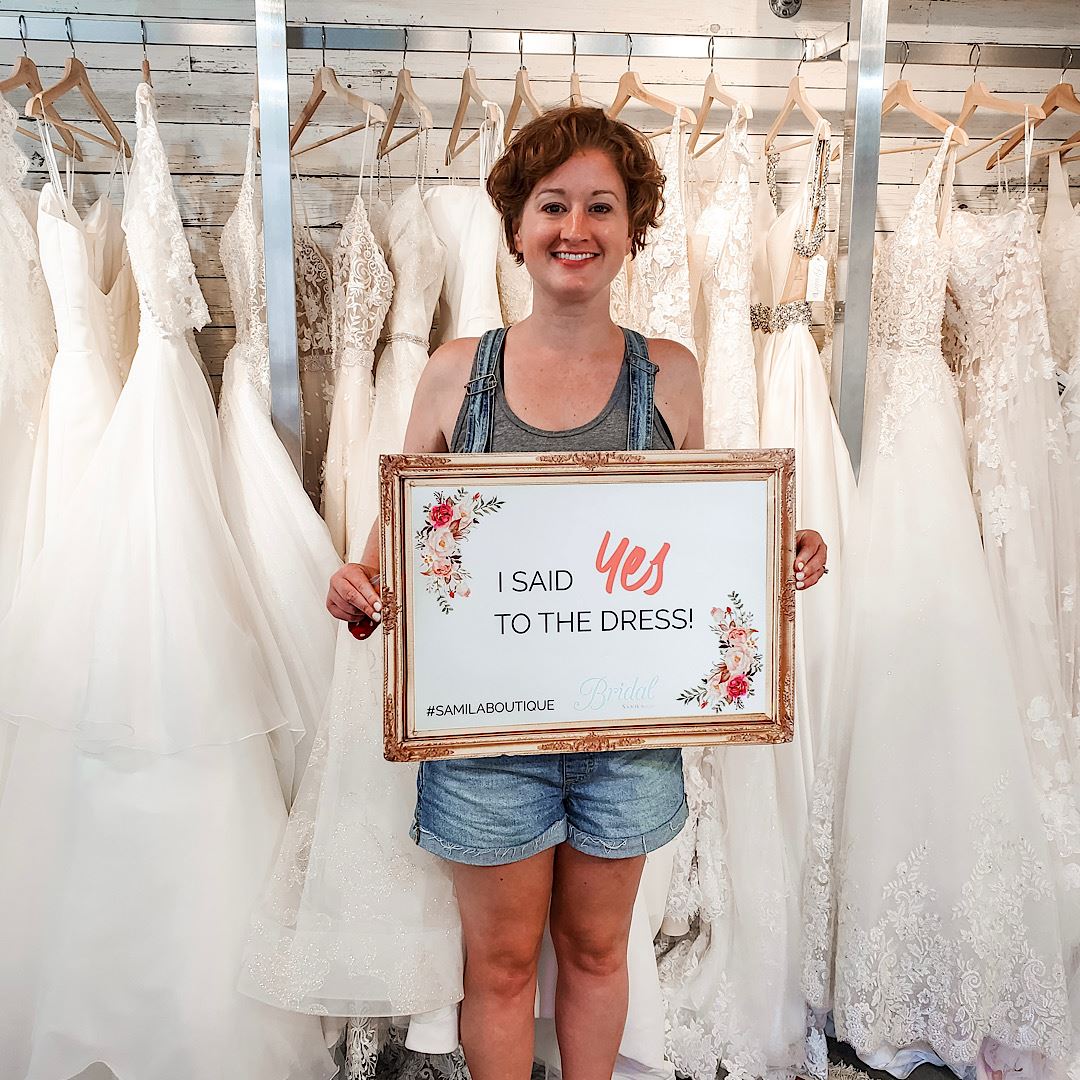 Sarah B.
Yelp ★★★★★
Yasmin at Samila Boutique is the fairy godmother/dress whisperer of wedding dresses! I went to 5 other bridal shops around Seattle and felt lost and overwhelmed. Yasmin had a keen sense for my taste and pulled several dresses that I felt gorgeous in! I wish I could have got more than one at this shop :)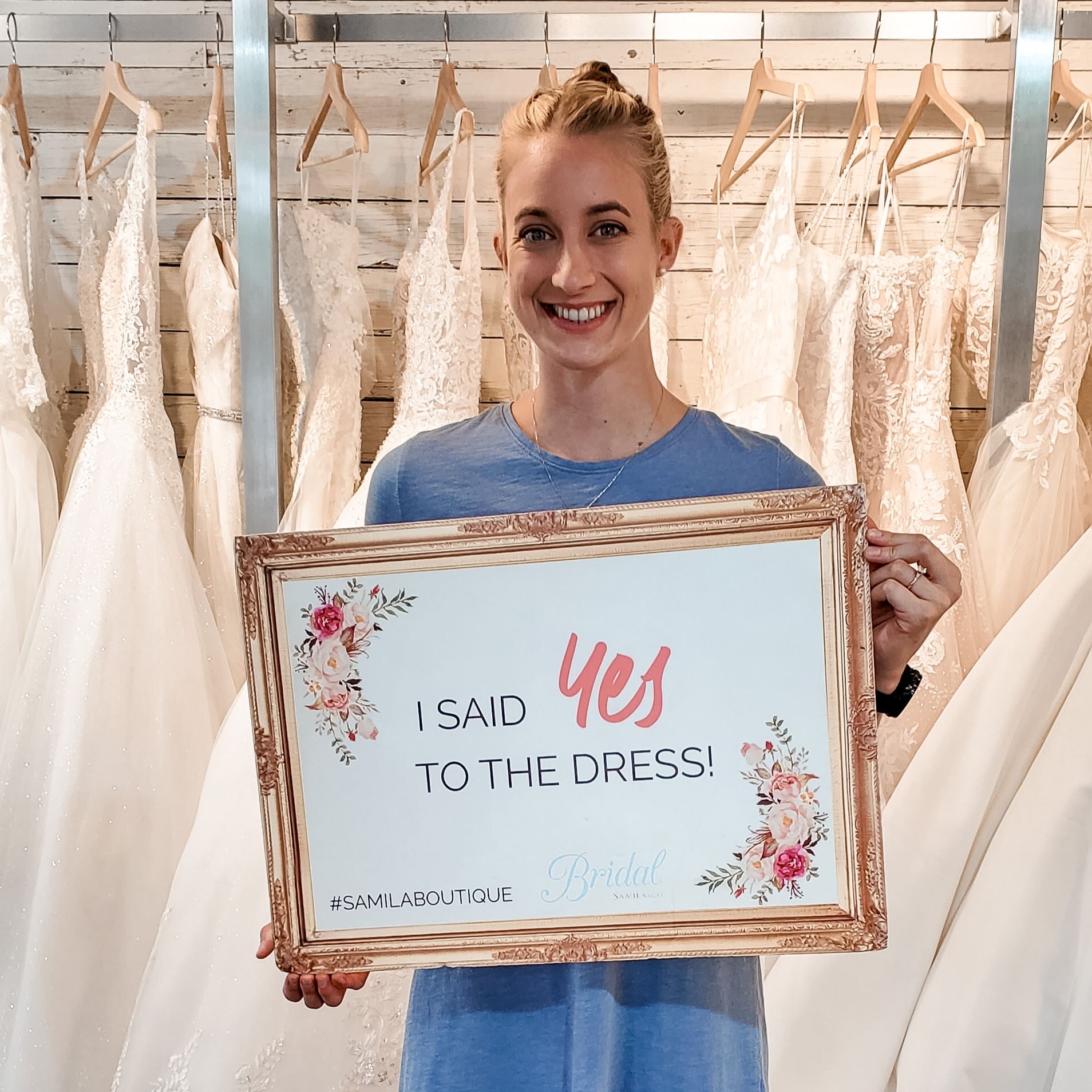 Bryn R.
The Knot ★★★★★
Wow! I had a great experience at Samila Boutique! Yasmin was so helpful and was able to help me narrow down my style to find a beautiful dress I felt comfortable in. They had an incredible selection. I did not feel pressured and just had a relaxed, fun time. It's also nice that they have alterations/tailoring available through their boutique which takes the stress out of finding someone else. I would definitely recommend Samila's to anyone!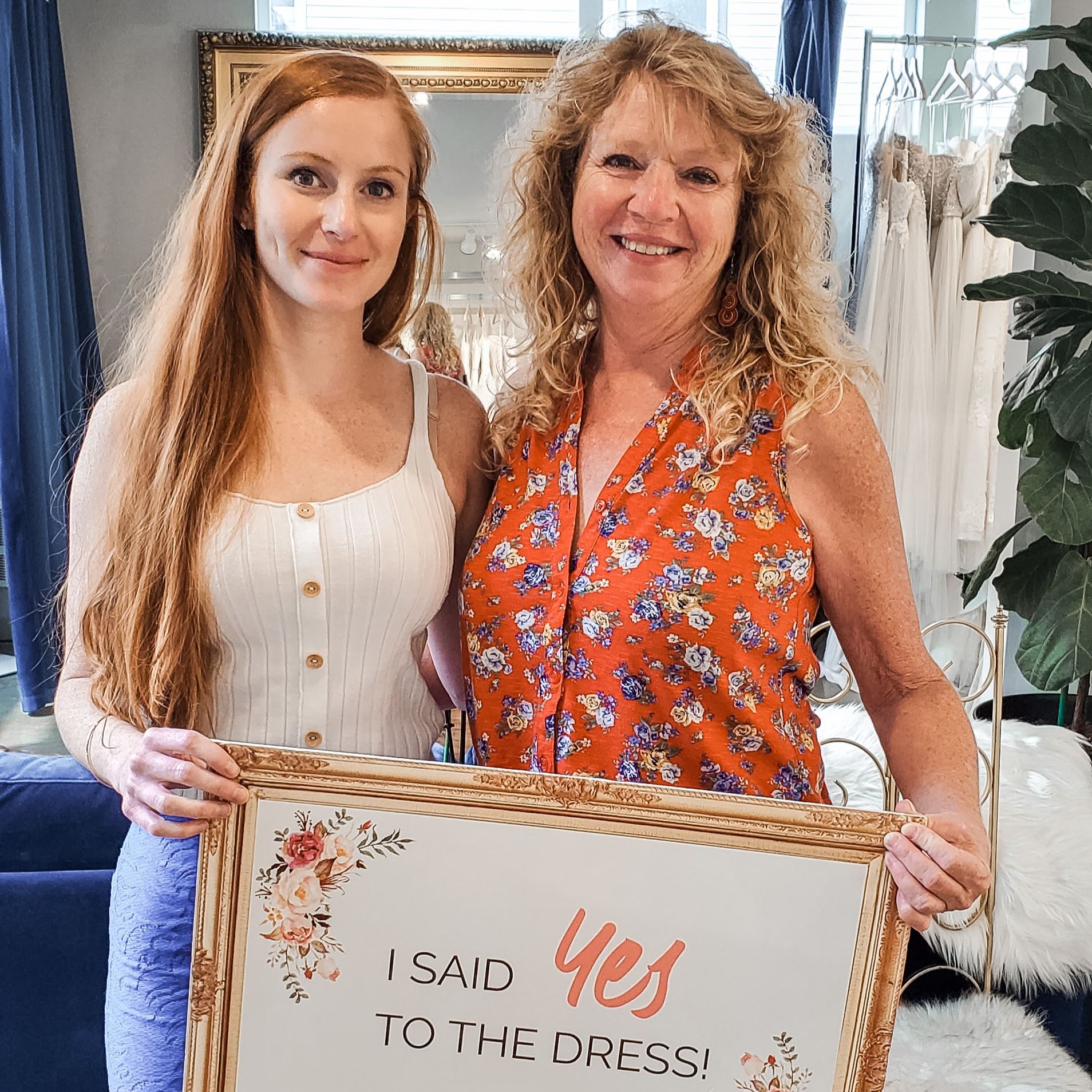 Tessa C.
The Knot ★★★★★
Not only does Samila Boutique have a huge selection of such beautiful dresses but their customer service is outstanding! When you get there, you have the whole place to yourself. They take their time with you not giving you any rushed feelings. They have a solution to every concern and an answer for every question. They listened to exactly what I was looking for and are now custom making my dream dress for a reasonable price. They have in-house tailoring and the stylist is with you every step of the way (from finding your dream dress to final fitting). They also took time out of their day to find my mom the perfect Mother-of-the-bride dress which was no easy task as my mom is one of the most picky shoppers. As I waited for my mom to try on many dresses, they even bought me breakfast and coffee while helping me out with ideas for bridesmaids dresses. On top of all of this, they let me come in an extra day and take up even more of their time, so my best friend could see me in the dress. They go way out of their way to make their customers happy! Samila Bridal is professional but also provides you with a comfortable family-like setting. I feel so lucky to have stumbled into this store. I highly recommend shopping here before anywhere in the Seattle area!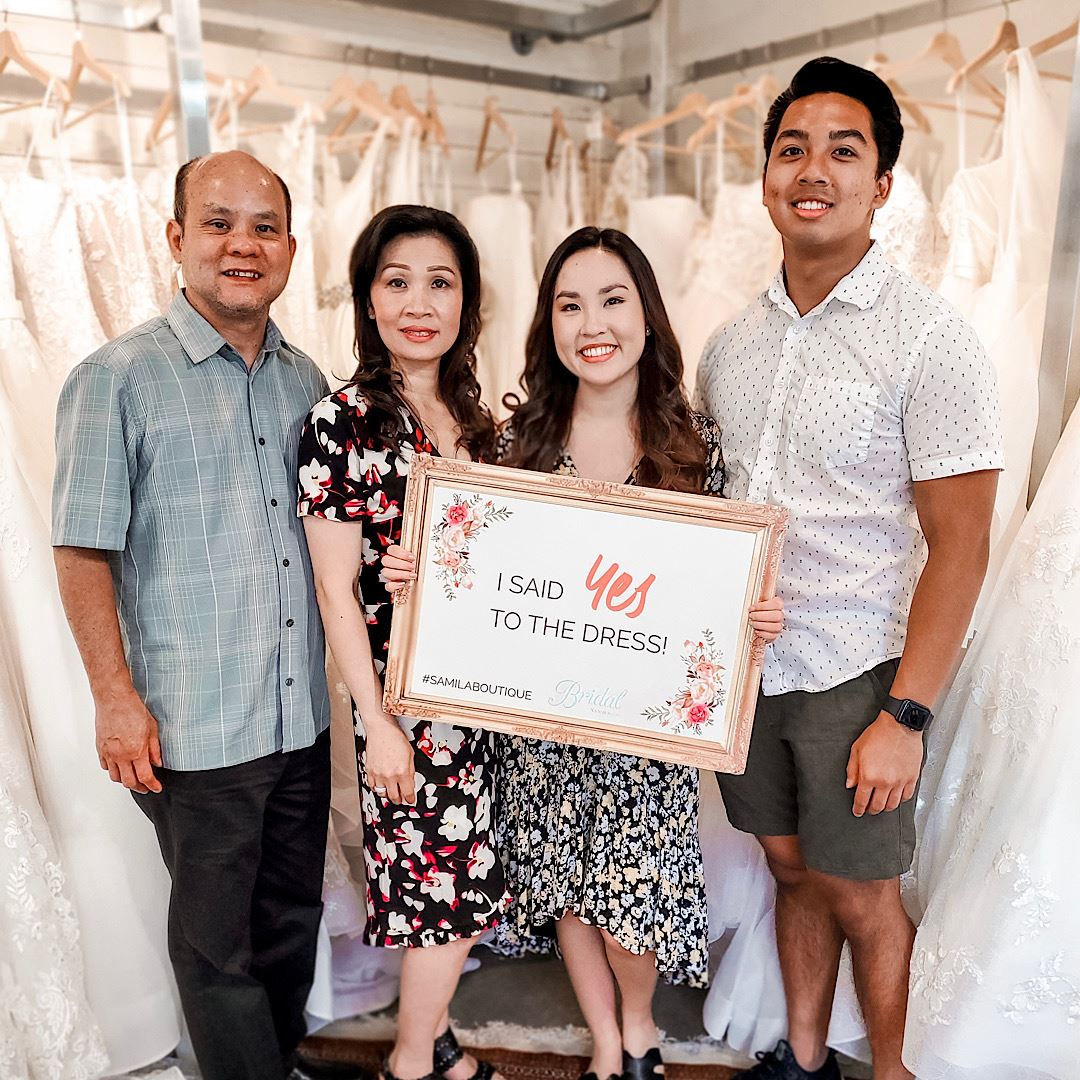 Jennifer N.
The Knot ★★★★★
I've always dreamed of the day of getting engaged to the LOML, planning a wedding, and of course- finding a wedding dress! I am SO glad that I found my dream dress at Samila Boutique. This boutique is hands down the cutest place with the absolute best service- I will not recommend any other place for brides to go (and trust me, I've been to almost all the shops in the area)! :) I was about to schedule an appointment with Samila when Covid-19 hit and everything was closed, but Yasmin and I immediately connected through Instagram! We talked for MONTHS about one specific dress and I cannot thank Yasmin enough for her time answering my questions, helping me come up with ideas, and even sketching out the dress for me! I've never felt so understood by someone I haven't ever met before- she's my true Fairy Gown Mother! We ended up scheduling a virtual appointment in the midst of quarantine, and my mom and I had such a great time! Yasmin answered all of our questions, showed us THE dress along with others, and made the experience super fun (even though it was through Zoom). Past forward to this last month, my family and I finally came in to see Yasmin. It was seriously the highlight of my summer! The shop is SUPER clean and everything was just sparkling! I put on the dress and literally stayed in it for an hour while Yasmin accessorized me with different style veils and helped me to customize/design the dress to my liking- it was beautiful and the experience was such a dream. My parents are super important to me and Yasmin made sure they both felt comfortable and always included them throughout the entire process. I appreciated that SO much! During the first appointment, my dad found the "I said yes to the dress" sign and handed it to me before I could even say yes! I guess that's when you just know for sure that the dress is the one. During the car ride home, they kept complimenting Yasmin's expertise, service, and just overall personality. They absolutely ADORED her! I wanted to come back with my little brother to have the whole family there when I said yes, and Yasmin was quick to schedule an appointment just days after the first appointment for us to come in again on a day that worked best for us. We had the whole boutique to ourselves (which is also another super nice thing about Samila) and had such a good time. This is your PSA to go to Samila Boutique- you won't regret it! ❤️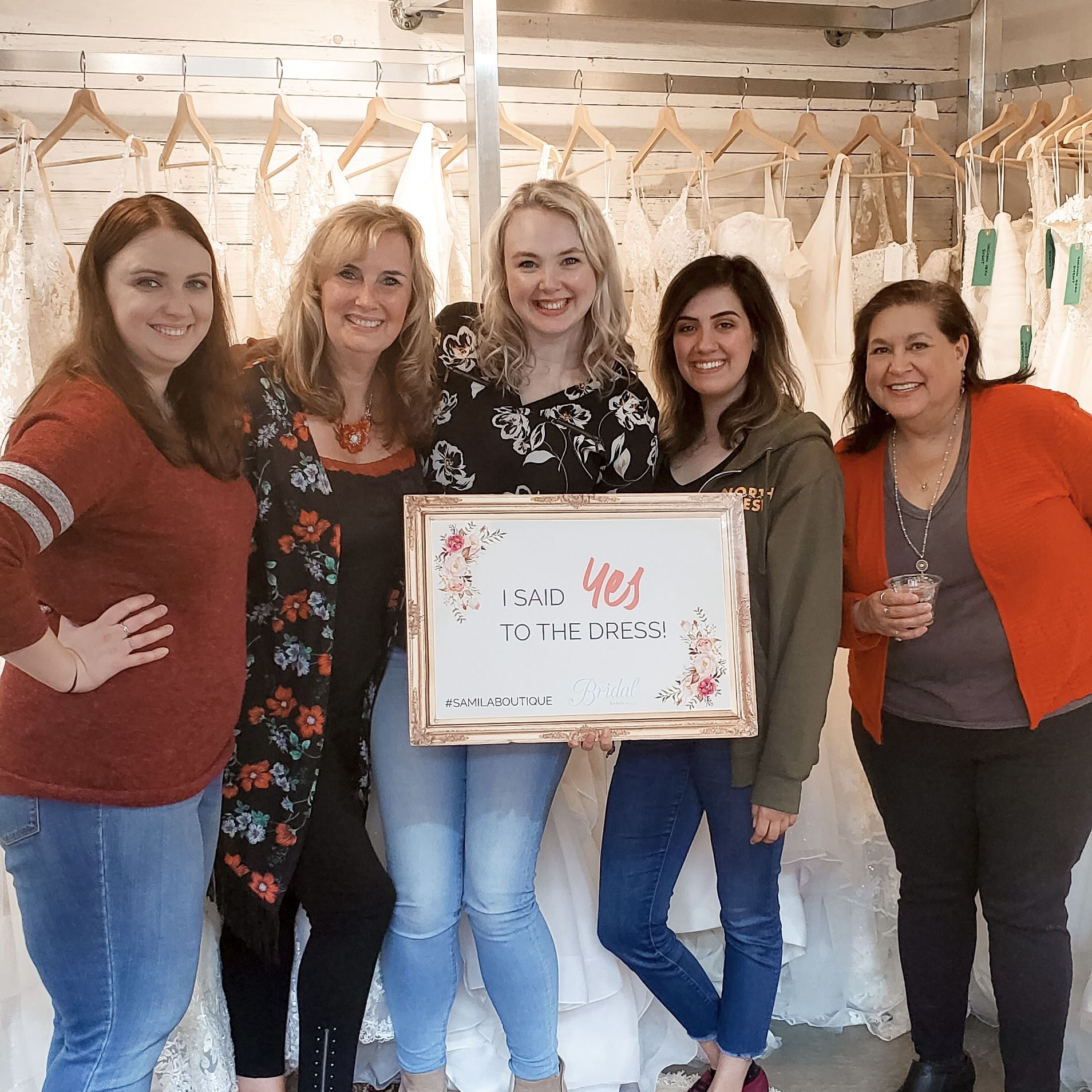 Alicia H.
The Knot ★★★★★
I had an incredible experience shopping for my wedding gown here. The combination of a wide dress selection, a chic and modern boutique, and amazing service with Yasmin made this an unparalleled shopping experience. My appointment was comfortable, fun, and so positive! Yasmin is an absolute professional but also so sweet, encouraging, and supportive. Both my mom and my fiance's mom joined me at the appointment, and they both want to come back to check out the evening wear selection for their MOB & MOG dresses! And also - I said YES to the dress at Samila Boutique!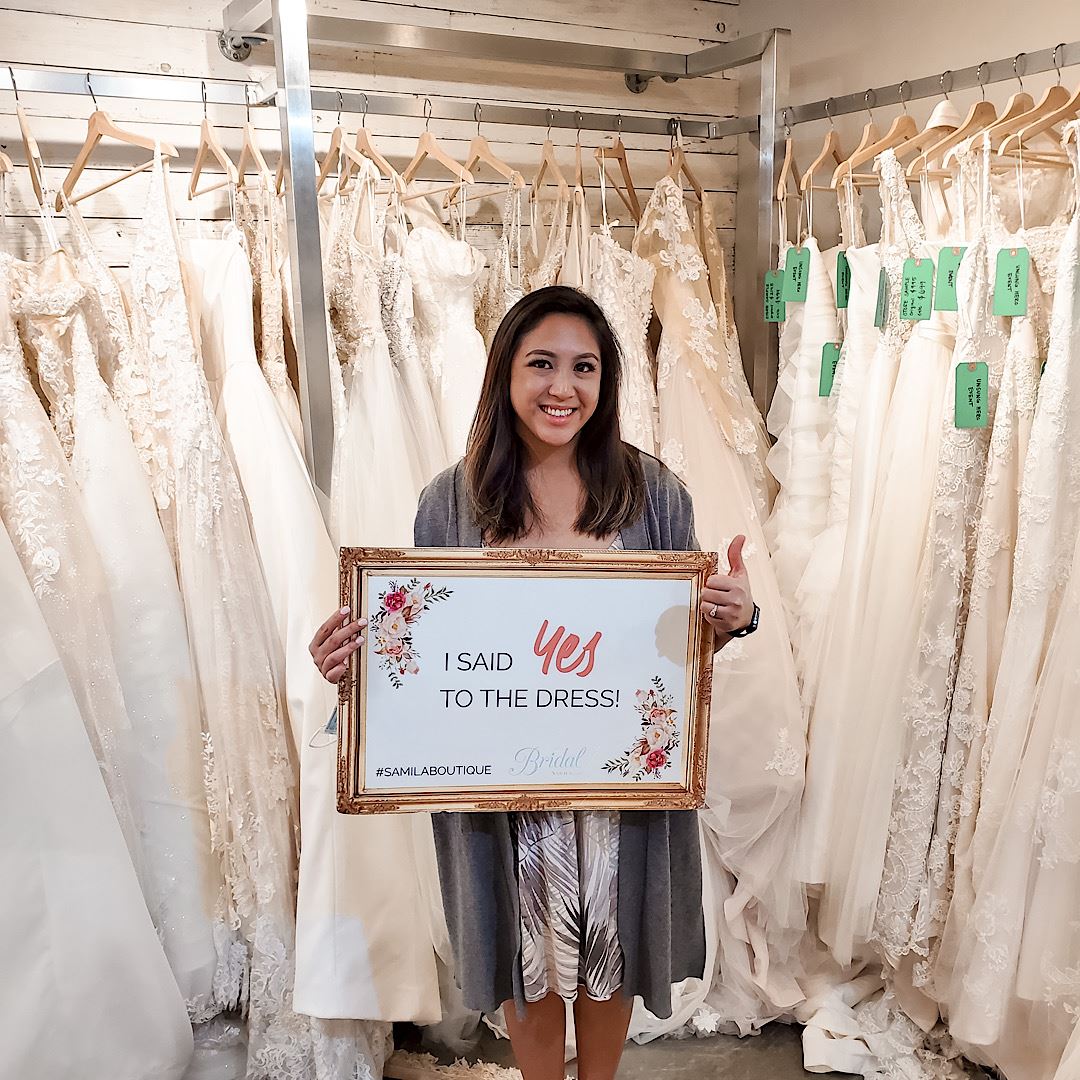 Deborah L.
The Knot ★★★★★
Samila made my dream dress possible! I wanted a lace sleeve for my dress and Yasmin created the sleeveless dress that I loved into my dream lace-sleeved dress! She was so great in envisioning what style I wanted and was able to incorporate the ideas altogether. I'm so happy say yes to my dress in this boutique! Their style of dresses are right up my alley. Couldn't be any happier! :)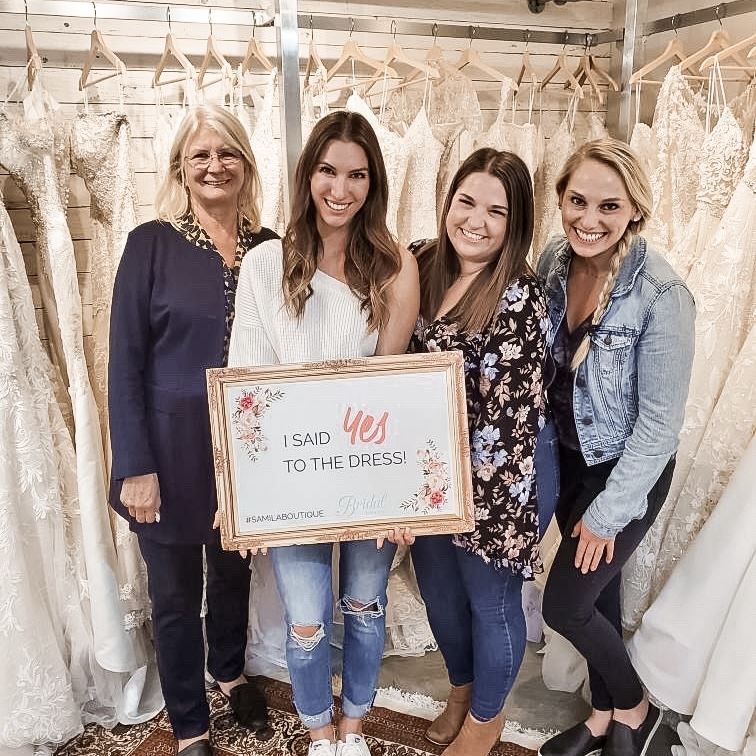 Danielle G.
The Knot ★★★★★
My experience at Samila Boutique was so memorable and lovely! Even with all the variables of Covid, Yasmin made every step of finding a wedding dress exciting, safe and stress-free. Yasmin listens to what you want in a dress and will help you find or make exactly that. She is SO friendly and accomodating. She also went above and beyond in making sure I could have my loved ones come see me in my beautiful wedding dress, which meant multiple appointments to try on the same dress. I think all my bridesmaids will go to Samila for their dress shopping now too. Thank you Samila Boutique for a wonderful experience, a perfect dress and the best service!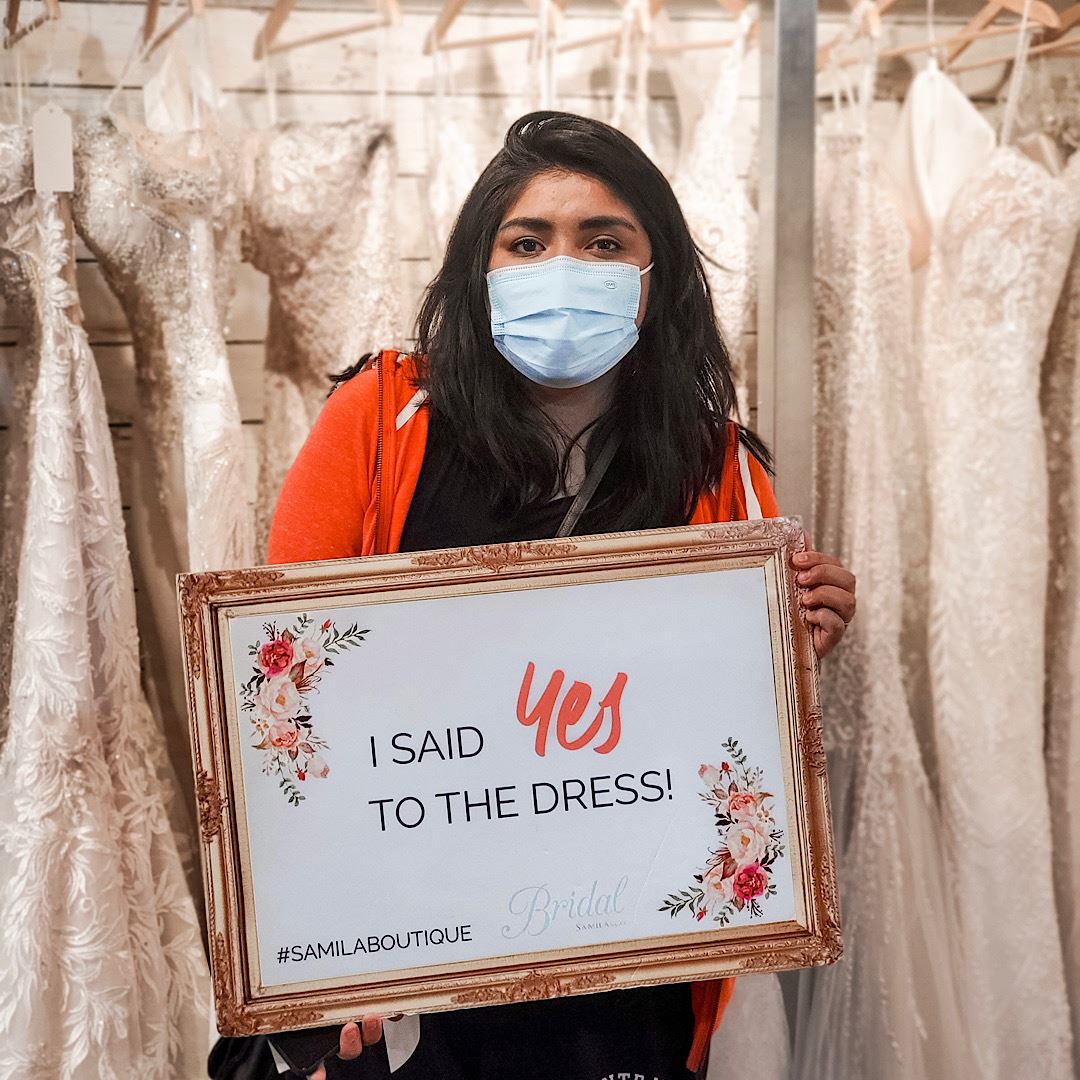 Sabrina D.
Google ★★★★★
Absolutely cannot recommend Samila Boutique enough! I first had a virtual appointment & then an in-person appointment with Yasmin, and she was fun, professional & made me feel like a princess while trying on the dresses. I was a couple sizes off from the sample dresses, but she pinned/clipped/held & worked her magic to show me exactly how each dress could look with the right size. She even took a bunch of pictures/videos for me so I could show my family members across the state. I originally almost didn't go in, because I thought I had found "the one" at another boutique, but I'm so glad I did. What I thought I wanted in the virtual appointment was completely different than my in-person appointment, and Yasmin instantly switched gears and pulled new dresses that matched my new styles I wanted. She was open & honest about pricing and completely honored my budget. Brides, do yourselves a favor & book an appointment at Samila's!!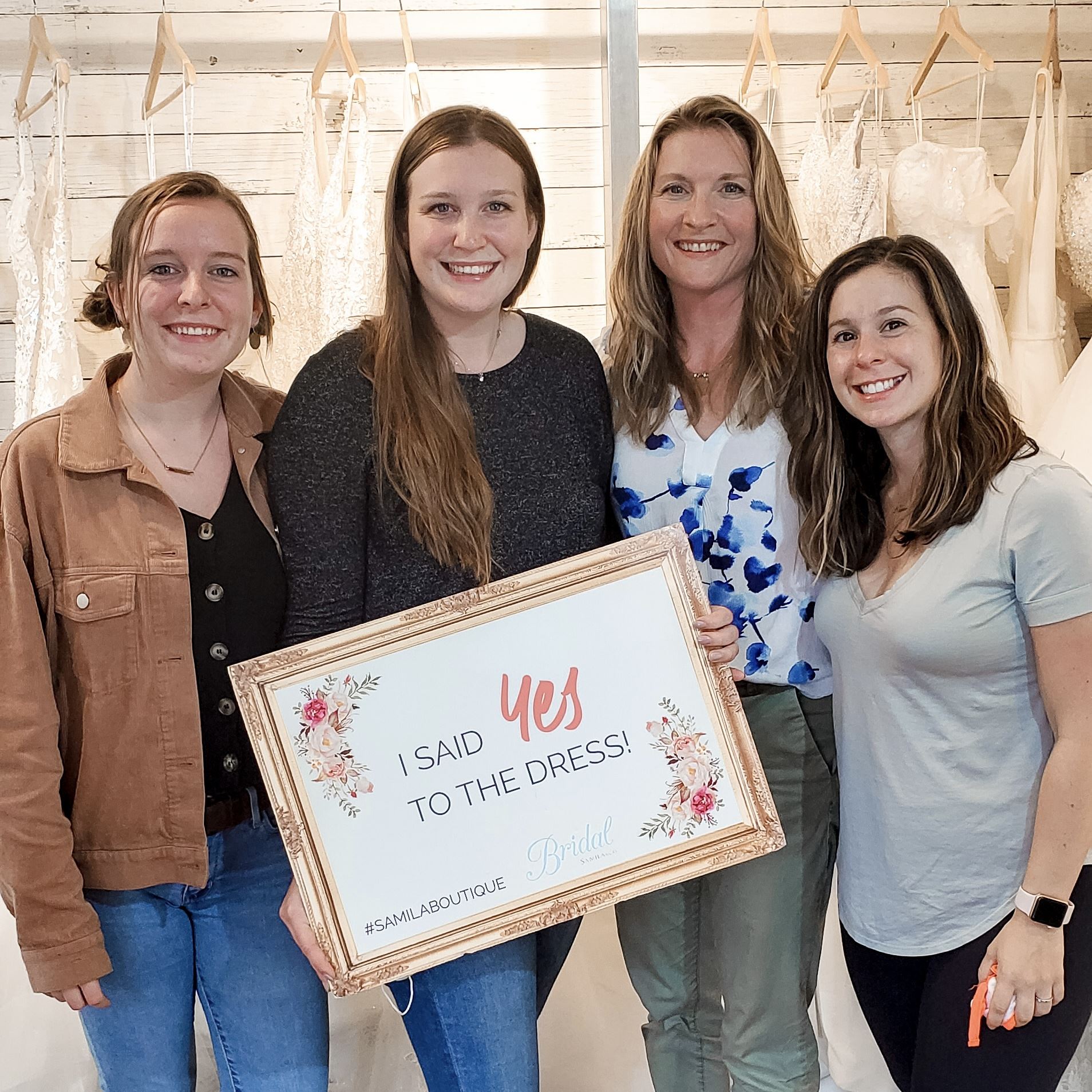 Hannah H.
The Knot ★★★★★
Alright - here is the deal. I over committed myself the day I visited Samila. It was the 3rd place I had been too, late in the afternoon, and it had been a full day of running around the city to different locations. I was not looking forward to another session of trying on dresses when we arrived - I almost called and cancelled on our way there. But this is why Yasmine and Samila is so special - She literally pulled me out of that mood, suggested a dress I didn't think I would like (spoiler, it was THE ONE!), and made the experience feel more glamorous and special than any other boutique earlier that day. I am very thankful I didn't cancel and I am thankful for Yasmine because she gave me such a wonderful experience. I still think about my dress every day and I can't wait to look at it for the rest of my life!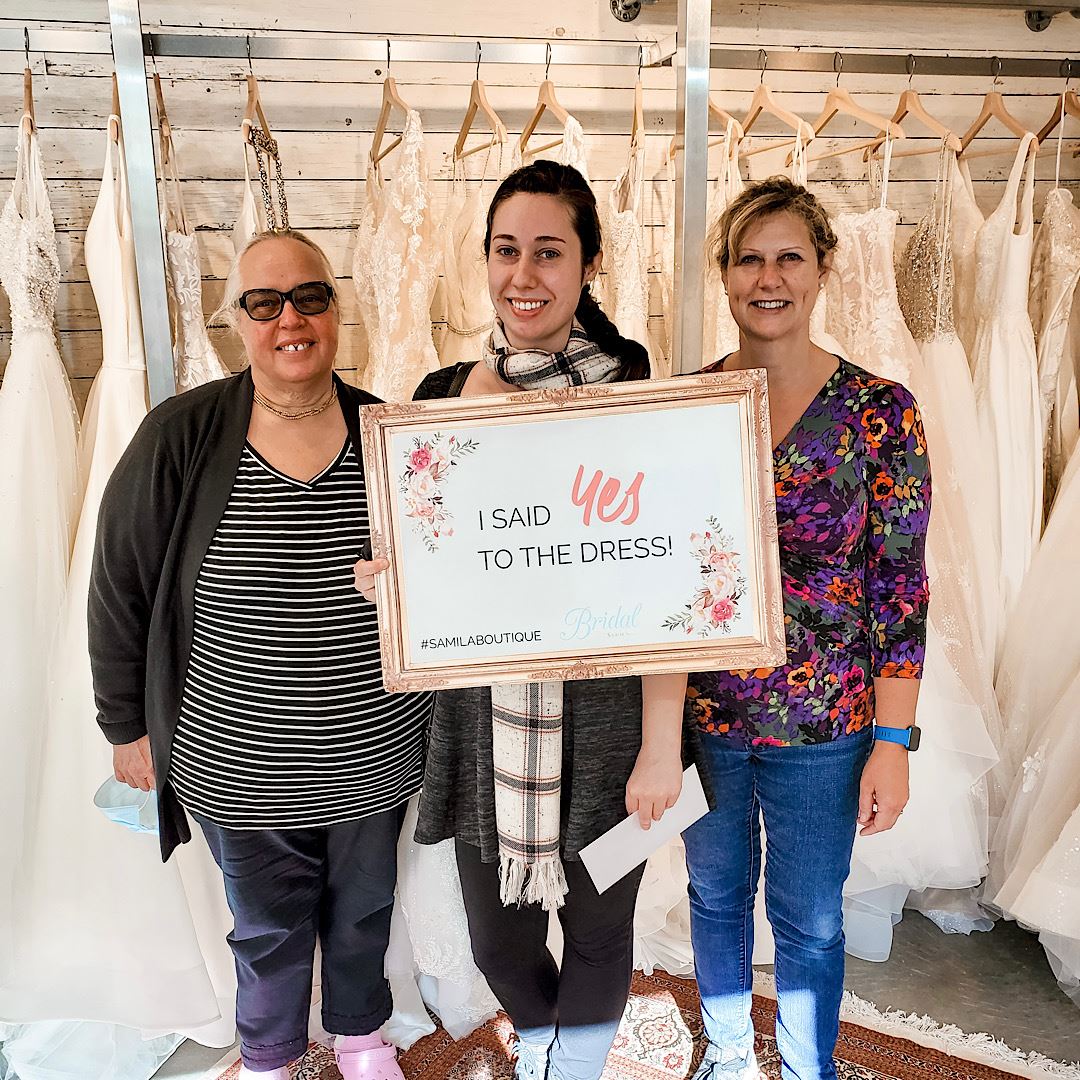 Michelle C.
The Knot ★★★★★
I really enjoyed looking for a wedding dress here. Yasmin is amazing at what she does. She is very patient and knowledgeable. She made me and my family feel comfortable. The shop is beautiful and well organized.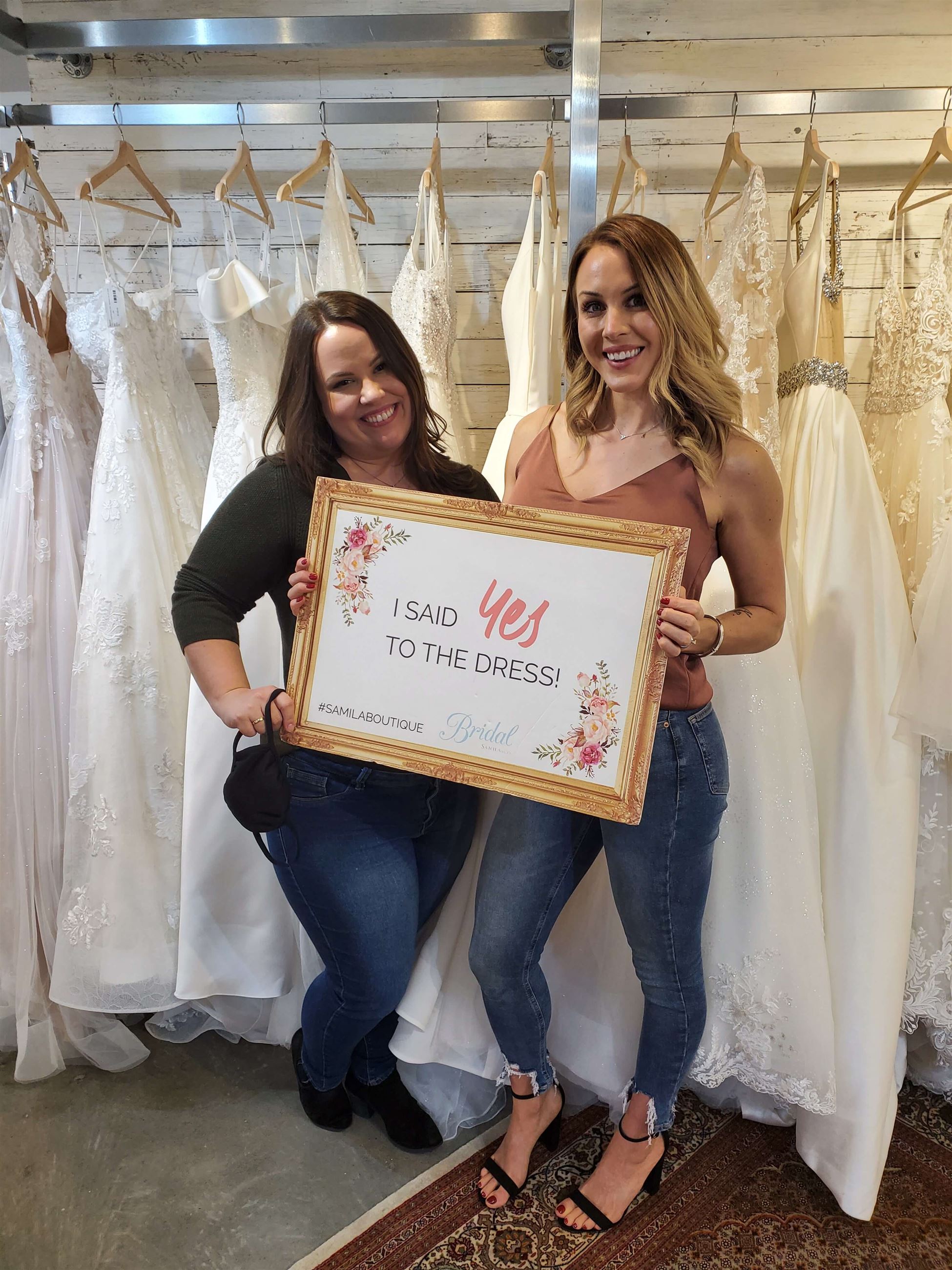 Jessica M.
The Knot ★★★★★
Samila Boutique was top on my list when it came to shopping for wedding dresses and I couldn't be happier that it was our one and only stop! Yasmin was absolutely wonderful during our time at Samila Boutique and truly made it a comfortable and joyful experience! I'm so excited to have found my perfect dress and will always recommend Samila Boutique!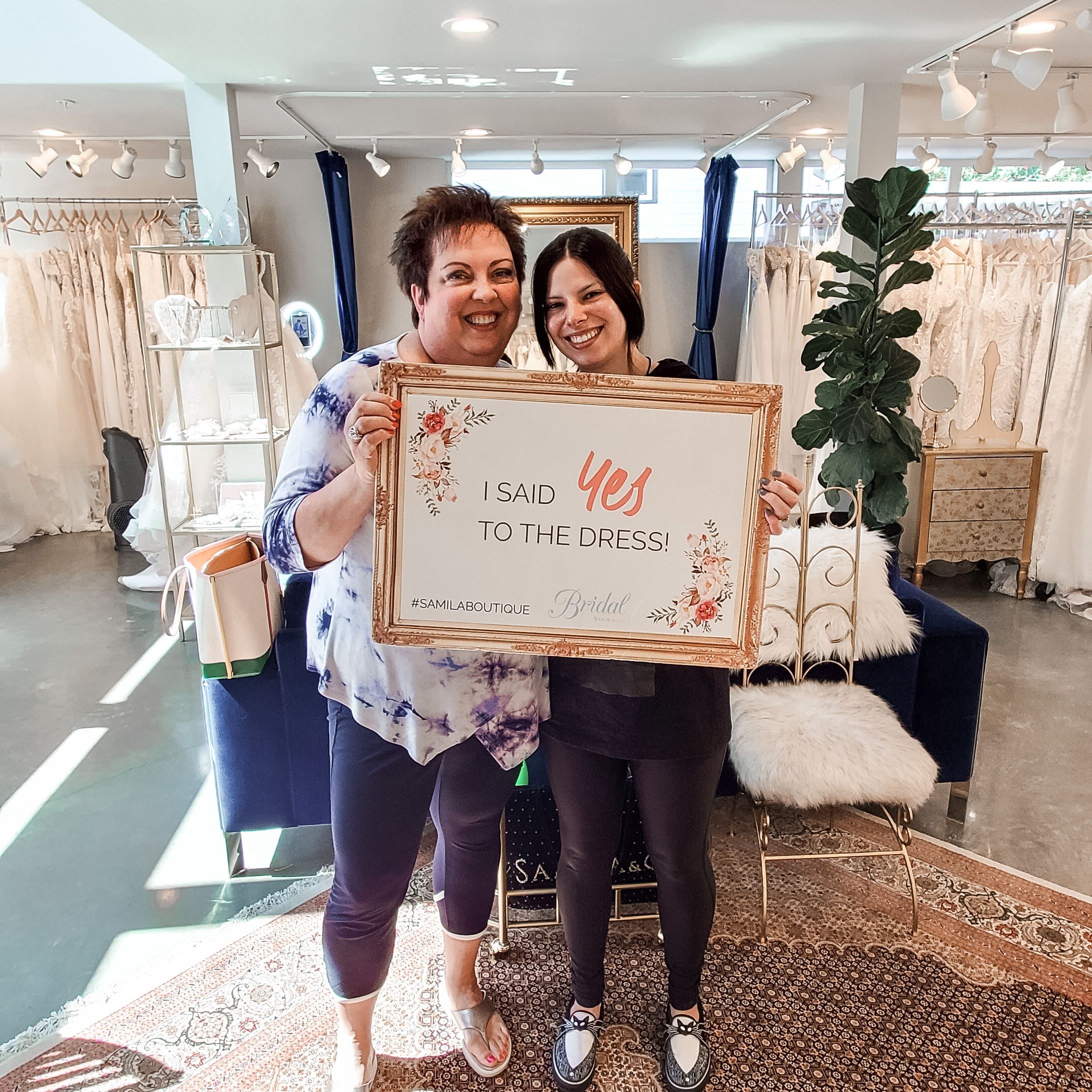 Sora H.
The Knot ★★★★★
Yasmin at Samila was incredible! We had other appointments set up and quickly canceled them after such superior service at Samila. Yasmin was so intuitive and after trying on several gowns so knew exactly what would be perfect. My daughter's gown was the most amazing dress I've every seen in my life! Thank you Samila boutique for such an amazing experience.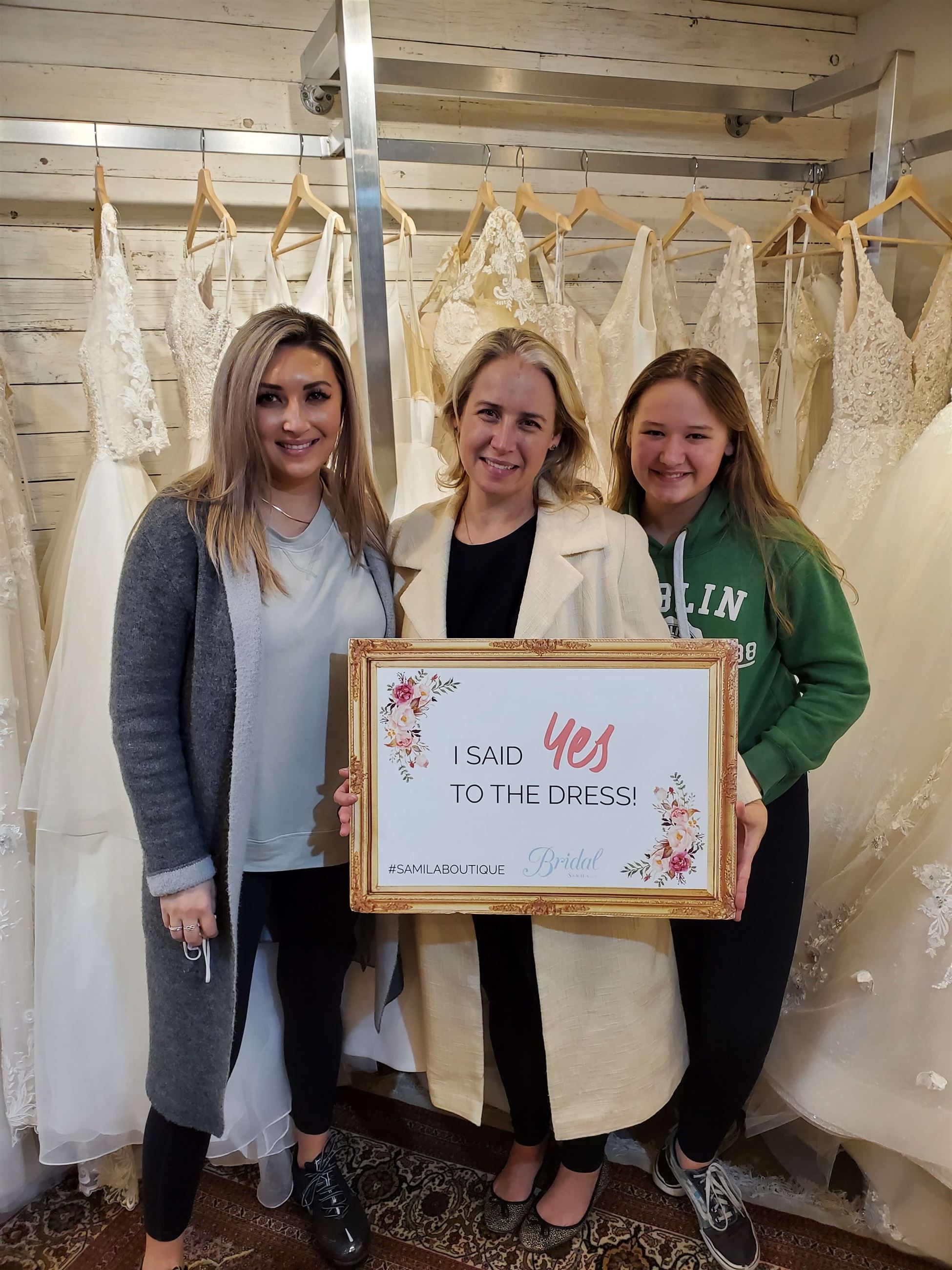 Tasha B.
Google ★★★★★
Samila Boutique is amazing and Yasmin was wonderful. She took the time and care to really understand what we were looking for, she clearly understands her designers and how they would work for my body and helped to find the right dress. I not only ended up buying my dress but got bridesmaid dresses as well. I would absolutely recommend Samila to anyone.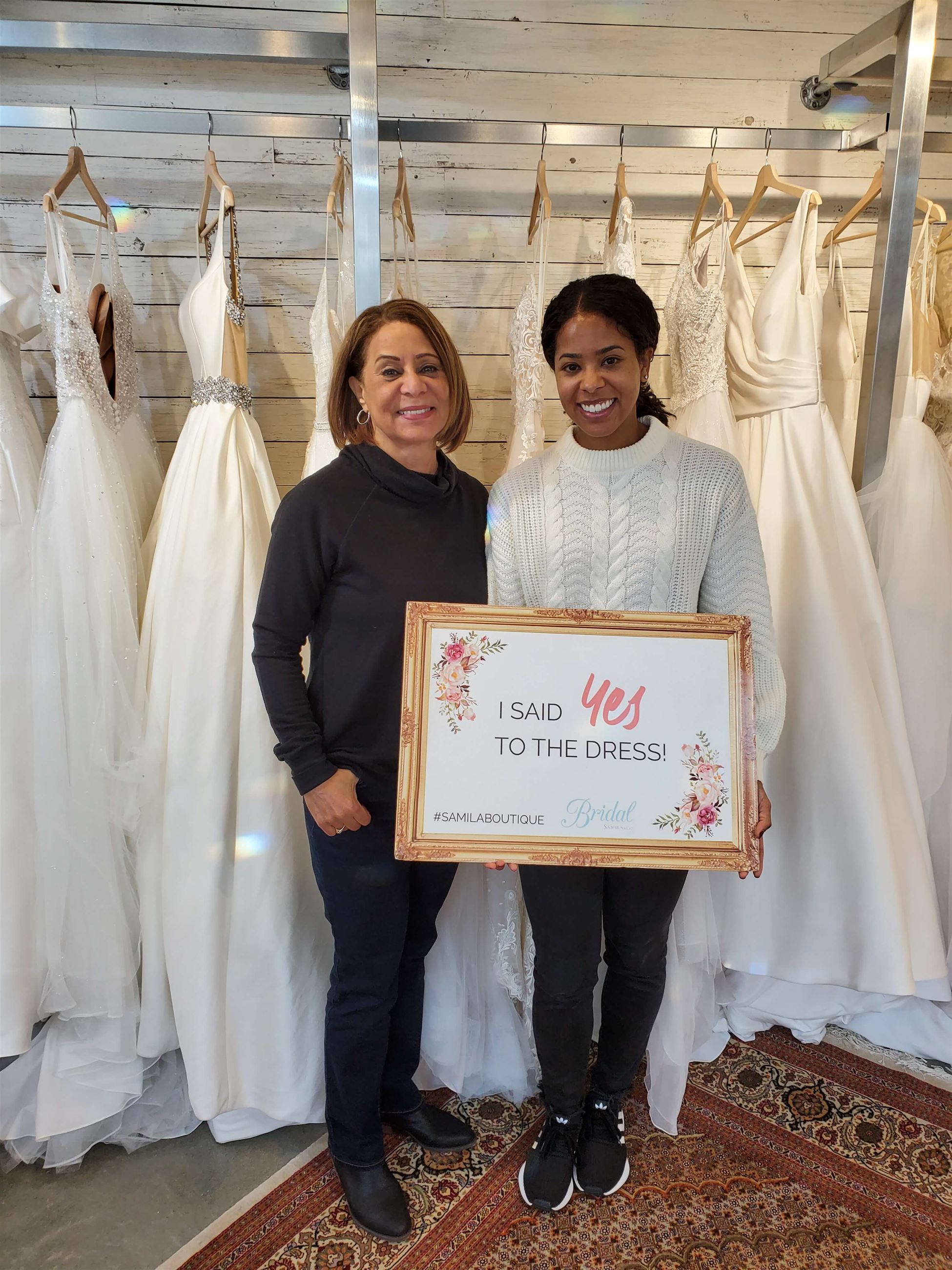 Johanna C.
The Knot ★★★★★
My experience at Samila Boutique was second to none. I am a first time bride and my dress shopping journey prior to coming to this shop was very poor. As soon as I walked into Samila's Boutique, I was warmly greeted by Yasmin. She took the time to make my mom and I feel comfortable. Yasmin asked a few questions before we got started and then provided tips and direction as I began to pull dresses. She educated me on style, shape and designers among other things. The minute I tried on my first dress I cried tears of joy, because I knew that I had found the ONE and I felt so relieved and happy with the shopping experience. I can't thank Yasmin and Samila Boutique enough and I highly recommend this shop to all future brides!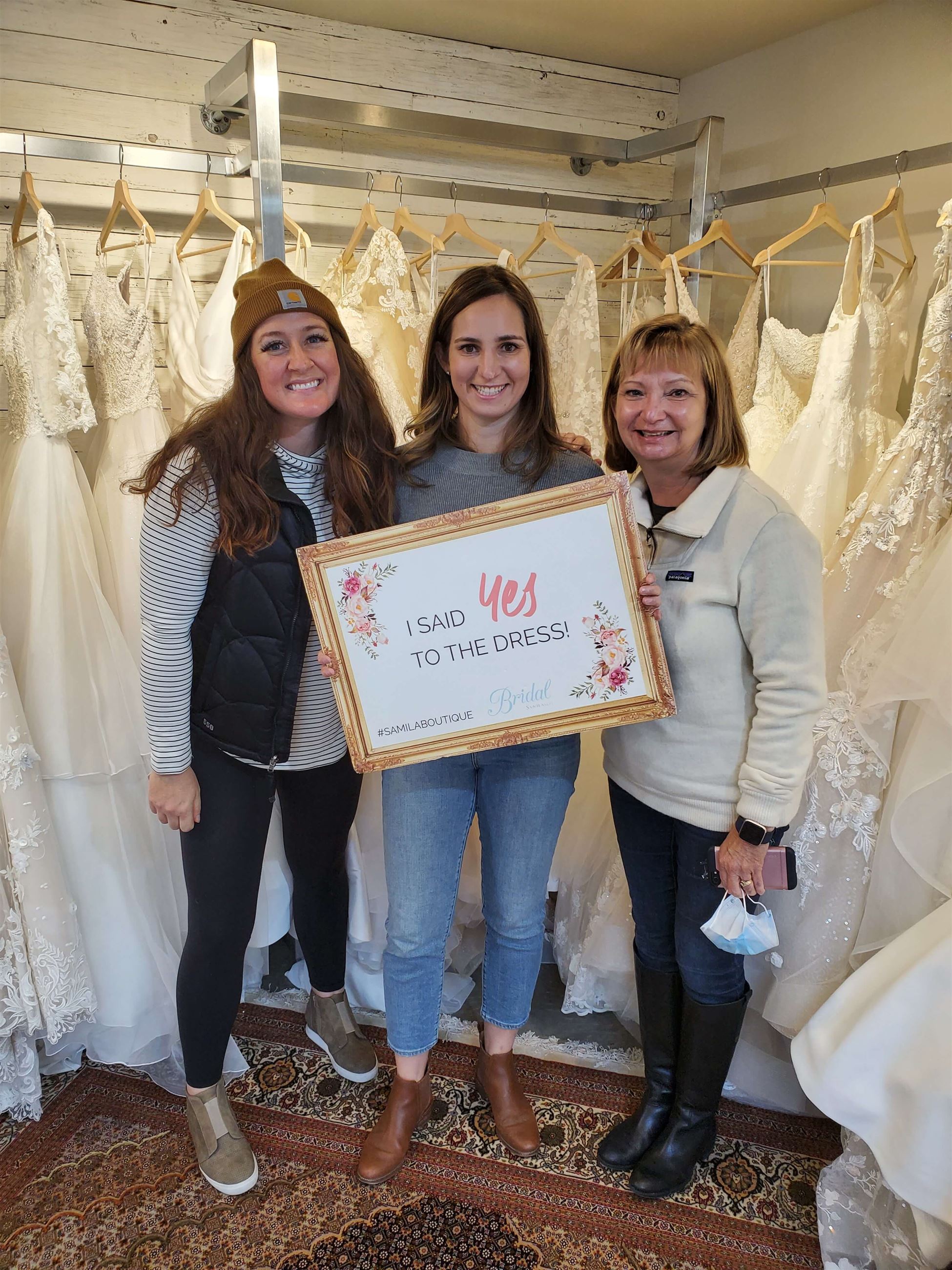 Kallie G.
The Knot ★★★★★
Samila Boutique is AMAZING. This was one of three total places I went. Yasmin is the actual best. She made the experience so fun for me, my mom, and MOH. She listened to what I wanted, or thought I wanted, but also provided ideas and suggestions. She worked hard to make sure the dresses looked right by pinning and clipping up a storm so I could see what they would look like on my actual day. I never felt pressured to buy (even though I bought that day) and really can't say how much I enjoyed the experience. Kind of wish I needed to buy 5 more wedding dresses (not
really), because we had such an amazing morning. I would tell any bride in the greater Seattle area to come check out Samila Boutique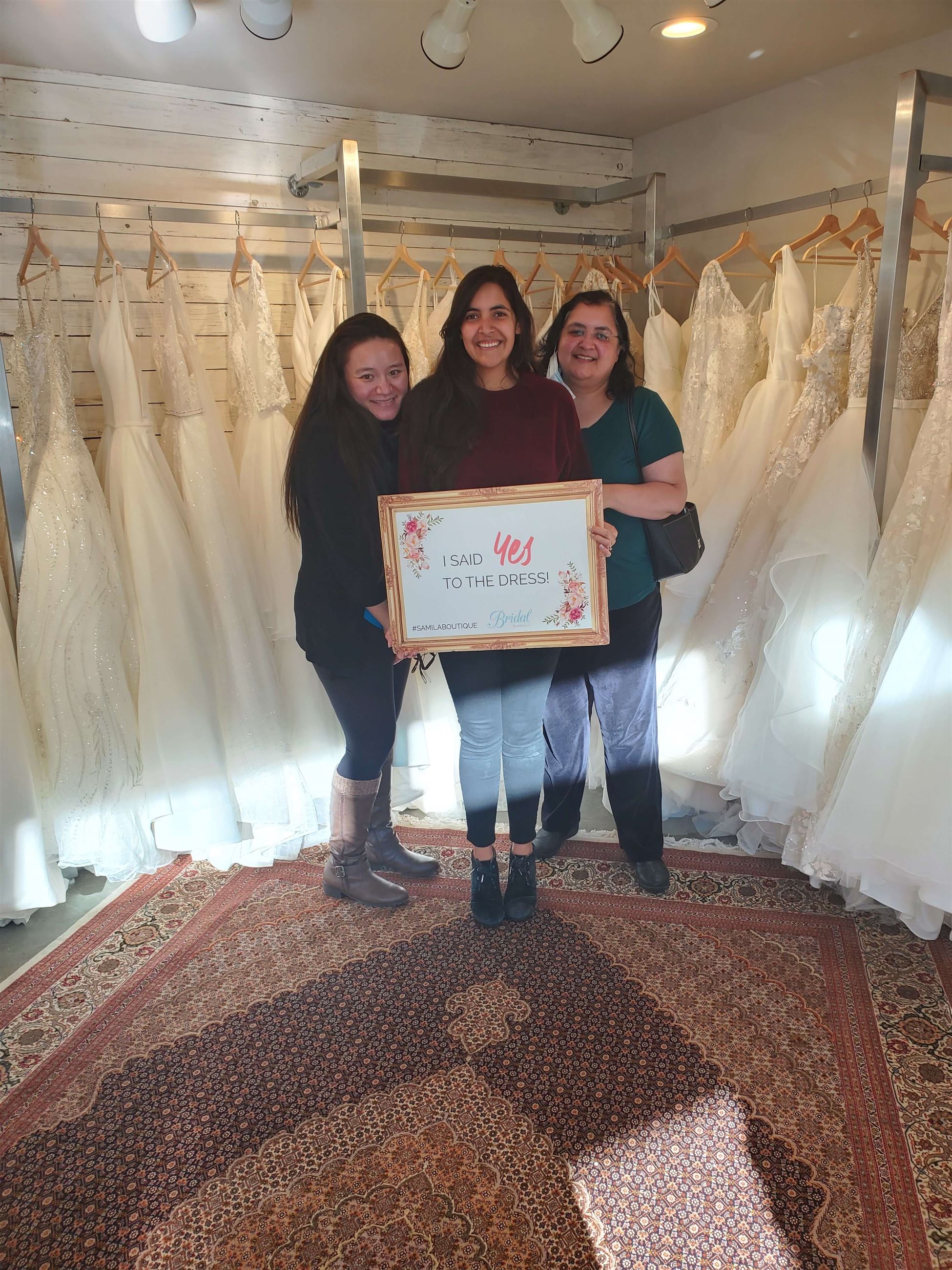 Angelica U.
The Knot ★★★★★
Yasmin Yasmin Yasmin!! Samila Boutique was THE experience that I was dreaming of. Originally I went to David's Bridal purely because I knew of it and I've never thought of wedding dresses until my fiancé proposed to me. I had such an awful experience at David's Bridal and I felt like I was a big inconvenience. I left feeling like I was foolish to romanticize shopping for a wedding dress and then I came to Samila Boutique. Yasmin made my mom, maid of honor, and I feel SO INCREDIBLY WELCOMED. She wanted to get to know me, who I brought in, my style and she had such wonderful advice. Everything within the boutique surpassed anything I could have imagined. Yasmin was a champion at helping me talk about my thoughts and figure out what dress was mine. Any concern I had she was able to fix logistical errors vs style. Yasmin has experience in designing dresses and I very much believe that this helps add to the experience. You can tell she has a deep passion for designing and her knowledge is even more in depth which helps find that perfect dress. I highly highly recommend this place! Will definitely refer any new brides here! They made shopping for a dress fun, exciting, and stress-free..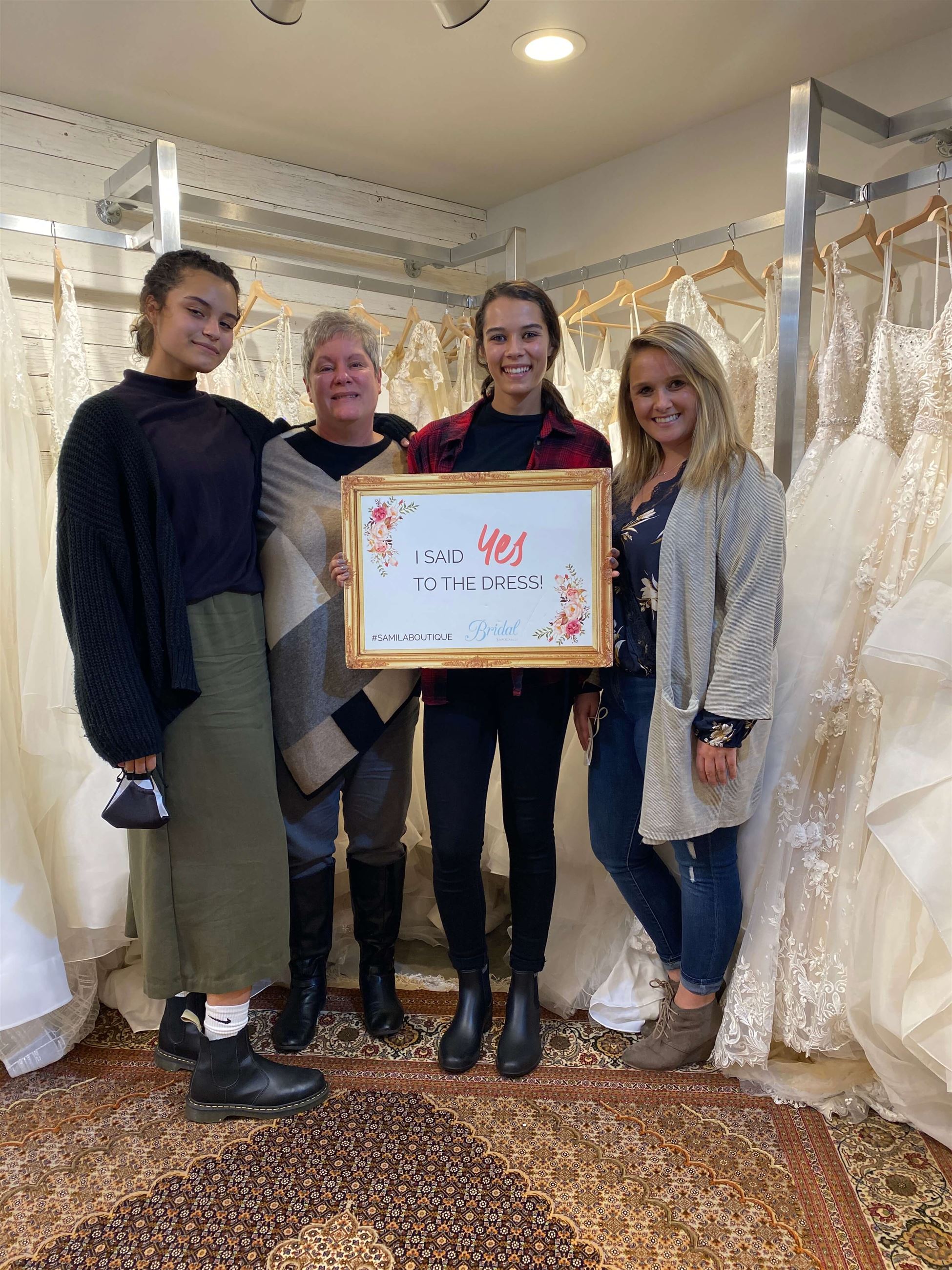 Adeline C.
The Knot ★★★★★
WOW! the team at Samila Boutique truly make you feel like family. When you walk in you're greeted by wonderful caring sales associates that want to do right by you! they don't try to sell you something you can't afford, they want to be there for you and help you find YOUR dress! they listen and take detailed notes. they truly make you feel comfortable and like a bride! i would recommend Samila Boutique 100 times over to anyone who is looking for a wedding gown, prom dress or formal/evening wear! I personally would recommend their Premier Bridal Appointment. Not only do you get extra time with this appointment but you get the ENTIRE showroom to yourself! if you can request anyone to work with, request Yasmin! she is AMAZING!!! i narrowed down my dress choice to two gowns and she was incredible and skilled enough to find a completely different dress that had the best of the two!! thank you to Yasmin and the whole Samila Boutique family on helping me say YES TO THE DRESS♥️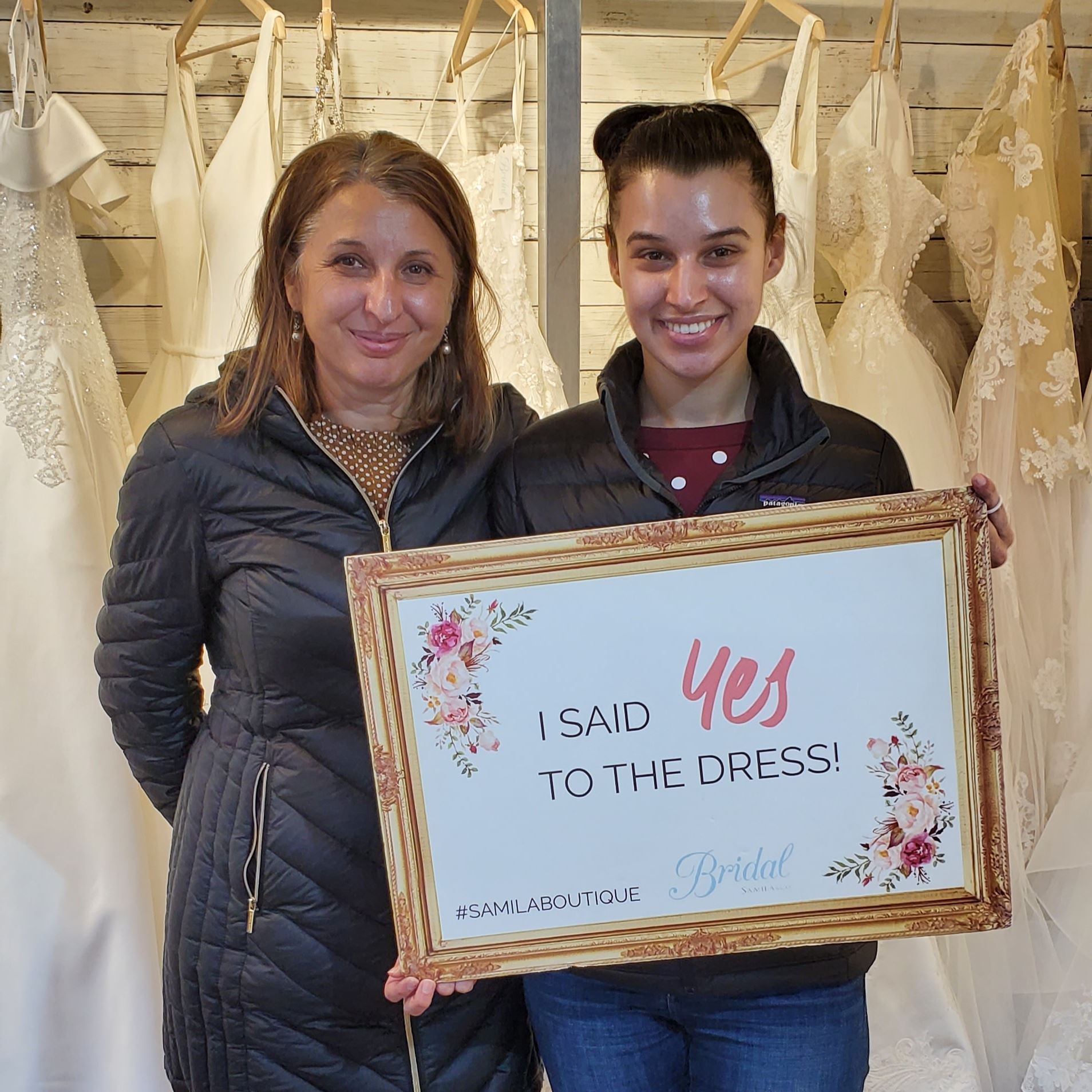 Anya J.
The Knot ★★★★★
One of the best bridal boutiques in Washington State! I went in for an appointment and was helped by Yasmin. Not only was she super helpful and patient, but she really made myself and my guests feel welcome. Great atmosphere and beautiful dresses. Left the store with the dress of my dreams. I would give this place 10 stars if I could. Thank you so much Samila Boutique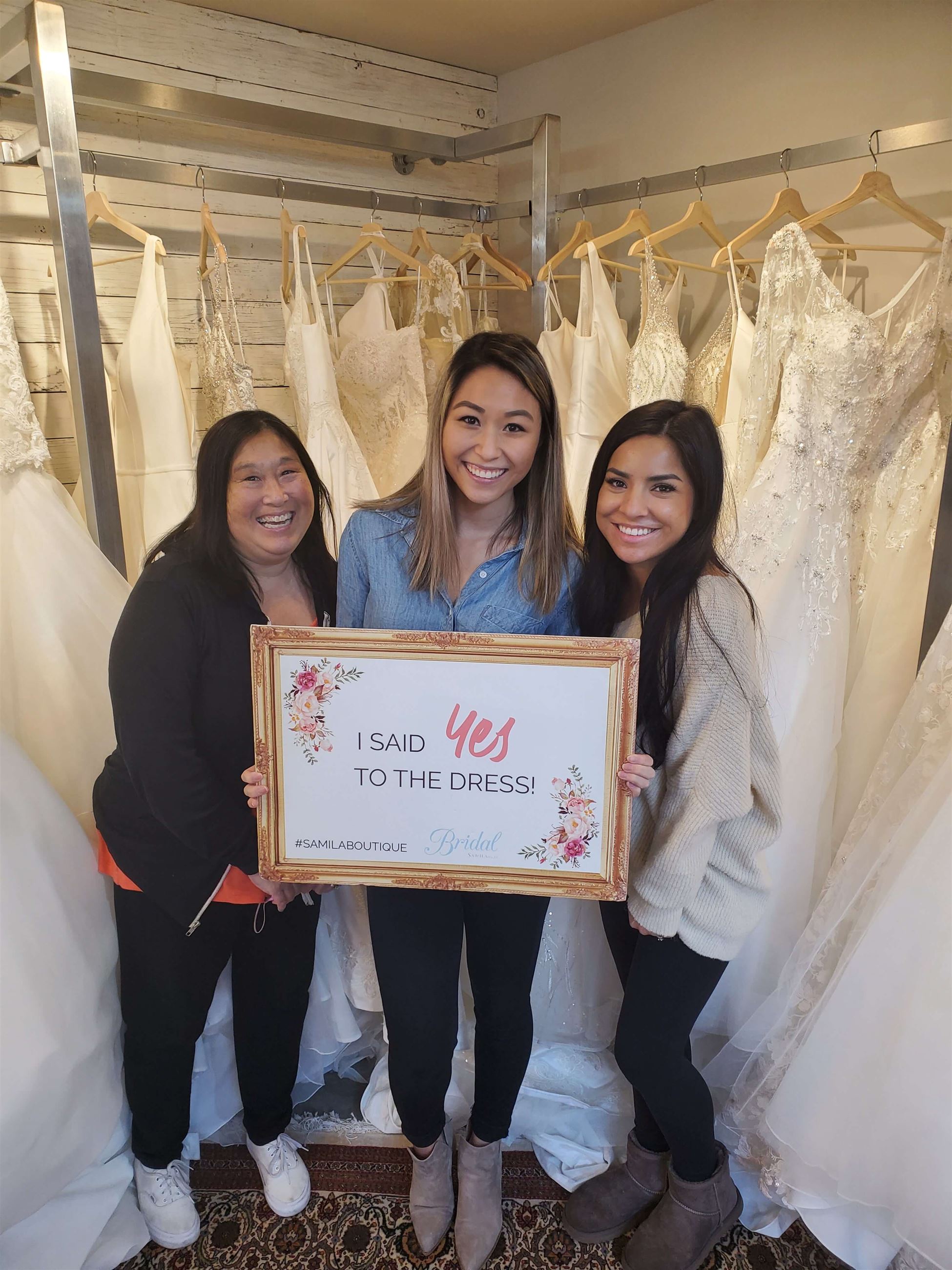 Kiana L.
The Knot ★★★★★
Samila Boutique was fantastic!! From the moment we walked into the salon to the moment we left was such an amazing journey. Was very grateful for the precautions they took with everything going on; took our temperatures when we walked in, limited capacity, asked us to wash our hands, and washed their hands, and masks at all times. We worked with Yasmin and she was fantastic! She really listened to what I was looking for, asking me all the right questions to help me find the dress of my dreams! There were dresses I picked out that I liked, but she also offered dresses she thought I would like just by the wants I had listed out to her. I was able to find my dream dress; which was one she actually recommended that met all of my "wants" in what I was looking for in my dress and I walked out with it that day! I couldn't recommend a better boutique to find your wedding dress out with so many options, fits, and such beautiful dresses! Thank you Yasmin and Samila for your service and in helping me find the perfect dress for our BIG day!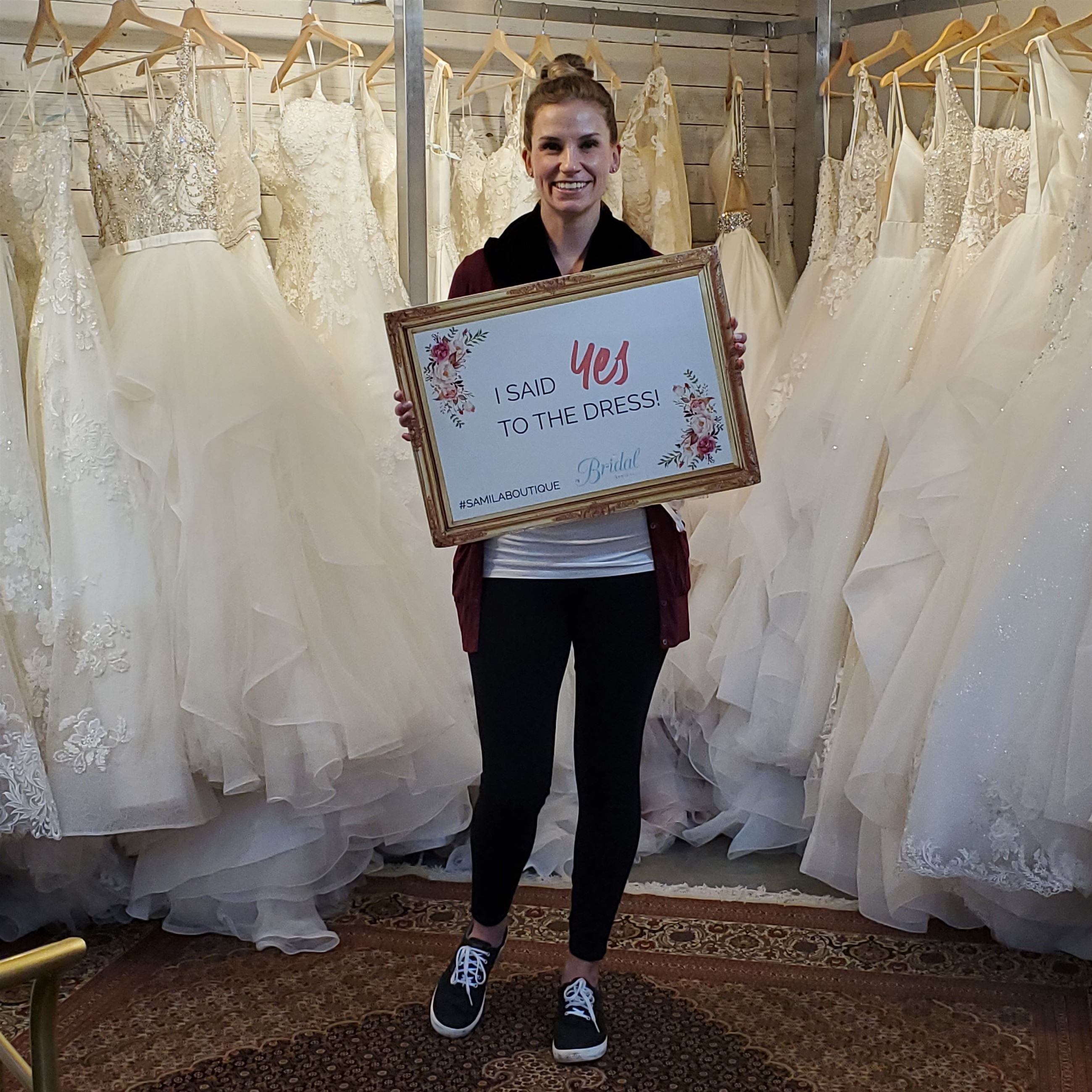 Janine P.
The Knot ★★★★★
I had the best experience with Samila Bridal and Formal! My cousin and a friend recommended them so I added them to my wedding dress boutique list. It was the first place I went to. Their new shop in West Seattle is beautiful and Yasmin and others were so fun and kind to work with. Long story short, I went to three other places afterwards and came back a week later to purchase the FIRST dress I tried on there. Can't wait to wear it and see them again for final fittings!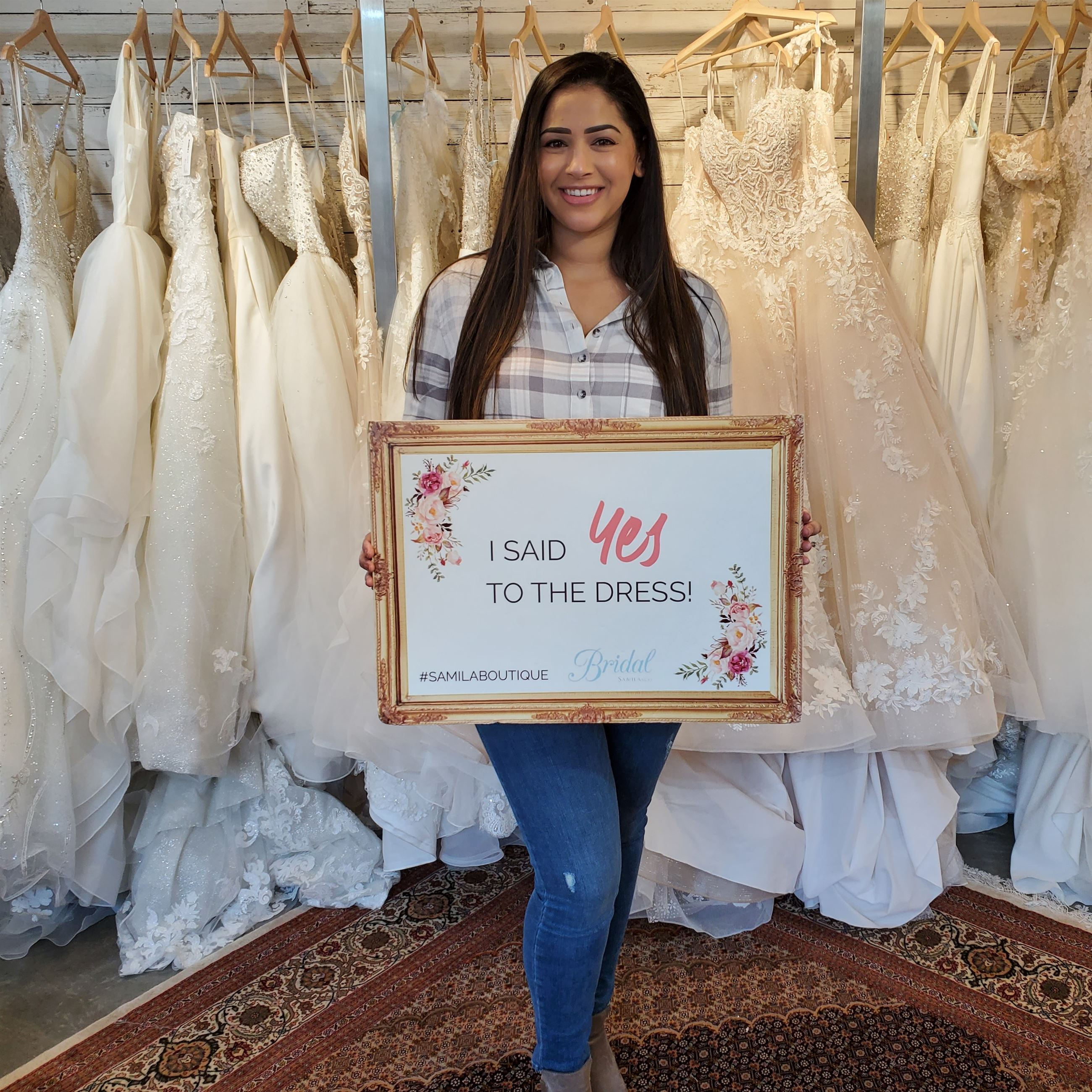 Brooke P.
The Knot ★★★★★
I knew I wanted to shop at Samila Bridal after I saw they were first responder friendly. My fiance is in law enforcement and the military so this is important to me. I had the most amazing wedding dress shopping experience at Samila Bridal. I paid $200 to have the boutique to ourselves and that money went towards my wedding dress. My little party and I were welcomed so warmly and with champagne of course! I showed Yasmin dresses I loved and had several dresses pulled. They also understood my body and what looked best on me. I'm generally insecure about my figure (especially after gaining the quarantine 15) but Yasmin and her team made me feel so beautiful and confident! I ended up finding the perfect dress and they gave suggestions on how I can alter the straps I was concerned with. Thank you again, Yasmin! I also am using the term #snatched when sinching my waist.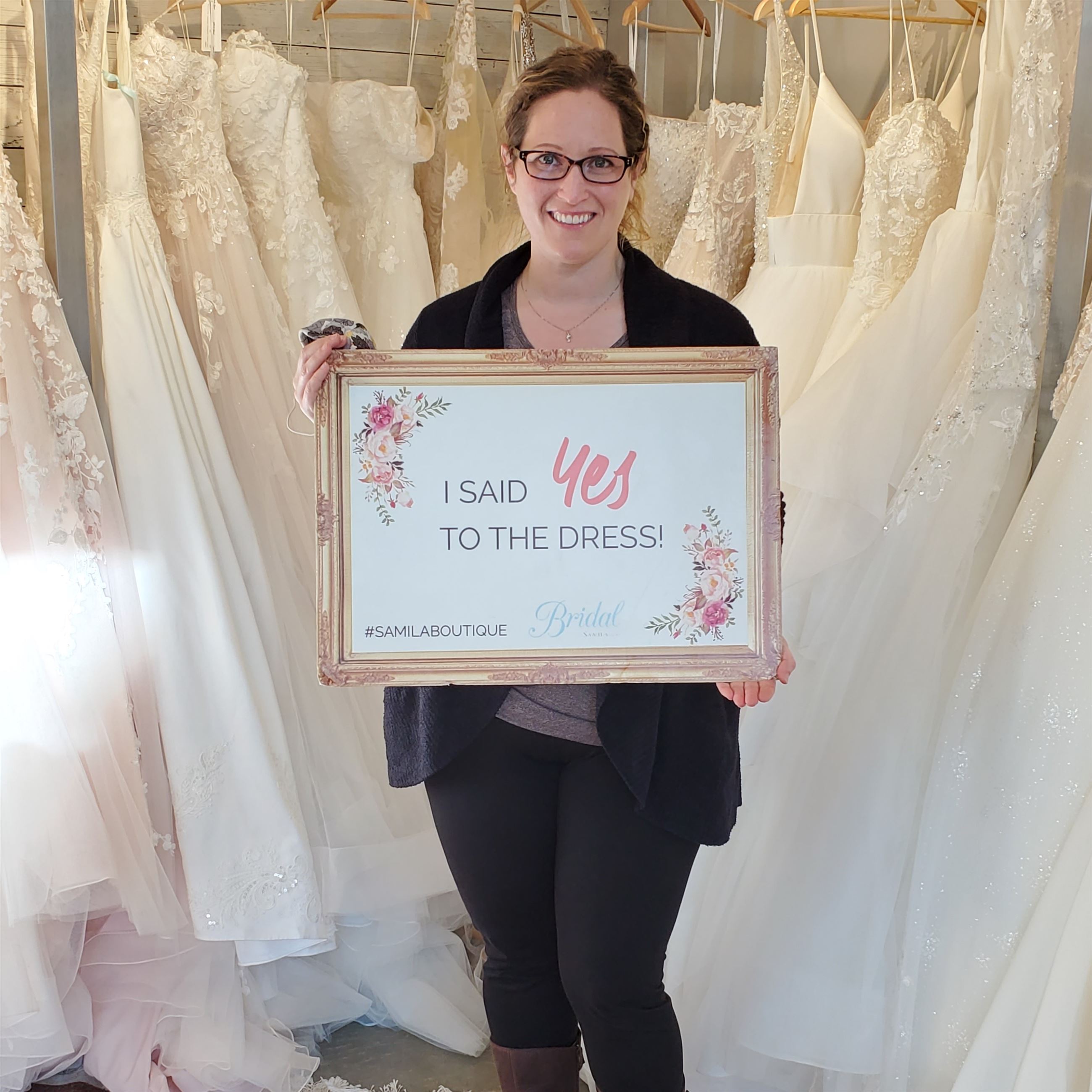 Jen B.
Wedding Wire ★★★★★
Samila was the 7th bridal dress appointment I had done. Yes, SEVEN. Over the course of 7 months, too. I had had some good experiences where I just didn't find the one, but also some bad ones that made me not want to go to another store again. And then I saw a Facebook ad that Samila was having a trunk show of my favorite designer, so I thought I'd give dress shopping one more try, and I'm so glad I did! I was solo at this appointment due to Covid and work flexibilities, but I never felt alone. Yasmin and her "apprentice" Shay were incredibly nice and really listened to what I wanted and asked questions so that they could pull out the right dresses. I had a good feeling when there was a rack full of dresses that matched what I was looking for within minutes, whereas at the last shop there wasn't even a single dress that did. Shay helped me in dresses and took pictures for me. Yasmin put some finishing touches to the fit and worked her magic with talking me through things. She interpreted my mixed feelings and contradictory statements and was able to make the right adjustments to have the number one dress fit exactly how I wanted. And then she continued to work magic. And I mean magic! I had been hung up for so long on this one dress by Morilee online that no one had a sample of, so I couldn't try it on (I'd still be able to order it through Samila tho). When it came down to the one I had on and the one that was online, I at first was still torn. These decisions are hard! But from the initial chat, Yasmin knew that I was a biologist and thus started approaching the comparison rather scientifically for me. She broke down each detail I was debating on and was able to help me see the differences with other dresses or lighting, etc. In the end I was able to come to the conclusion myself that the dress I had on was the perfect one, and actually better than the one I had been hung up on for over 6 months. I tearily said Yes to the dress and felt like I was in a room of friends with their reaction, too. Yasmin even was able to find the right size in stock so that it will get here in time and gave me a discount to put my frugal mind at ease a bit. When I left, I realized that my appointment had gone way longer than it was supposed to, but I had never felt rushed or pressured. I was the center of their attention and felt valued and respected, even when, I admit, I was probably being difficult. I would recommend them to any bride, and I wish I had gone to them earlier! Definitely worth the drive to West Seattle, even with the bridge out (that alone is saying a lot!). Thank you, Yasmin (and Shay)!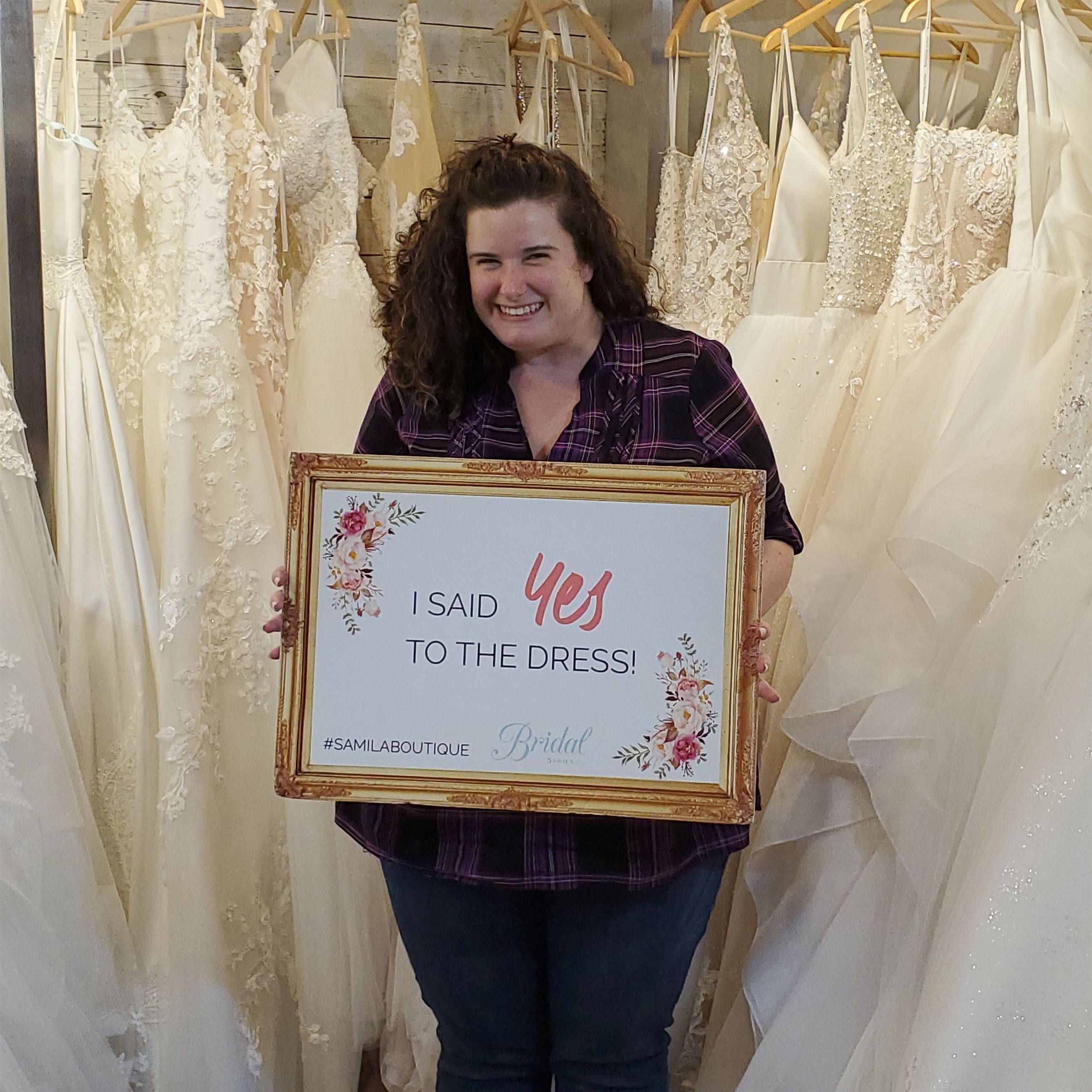 Becca H.
Wedding Wire ★★★★★
Samila Bridal was amazing and made the experience of searching for my wedding dress fun and simple. When going in I had an idea of things I liked and did not like. I did not have a specific dress in mind and needed a lot of guidance. Every dress they pulled for me to try on was beautiful and had something I liked about it. They listened and somehow took everything I was looking for and knew just what I wanted. They also made the experience special for my guests whose opinions were very important to me without taking any attention away from me, the bride.
I am so grateful someone suggested Samila Bridal to me and yes, I found my dress!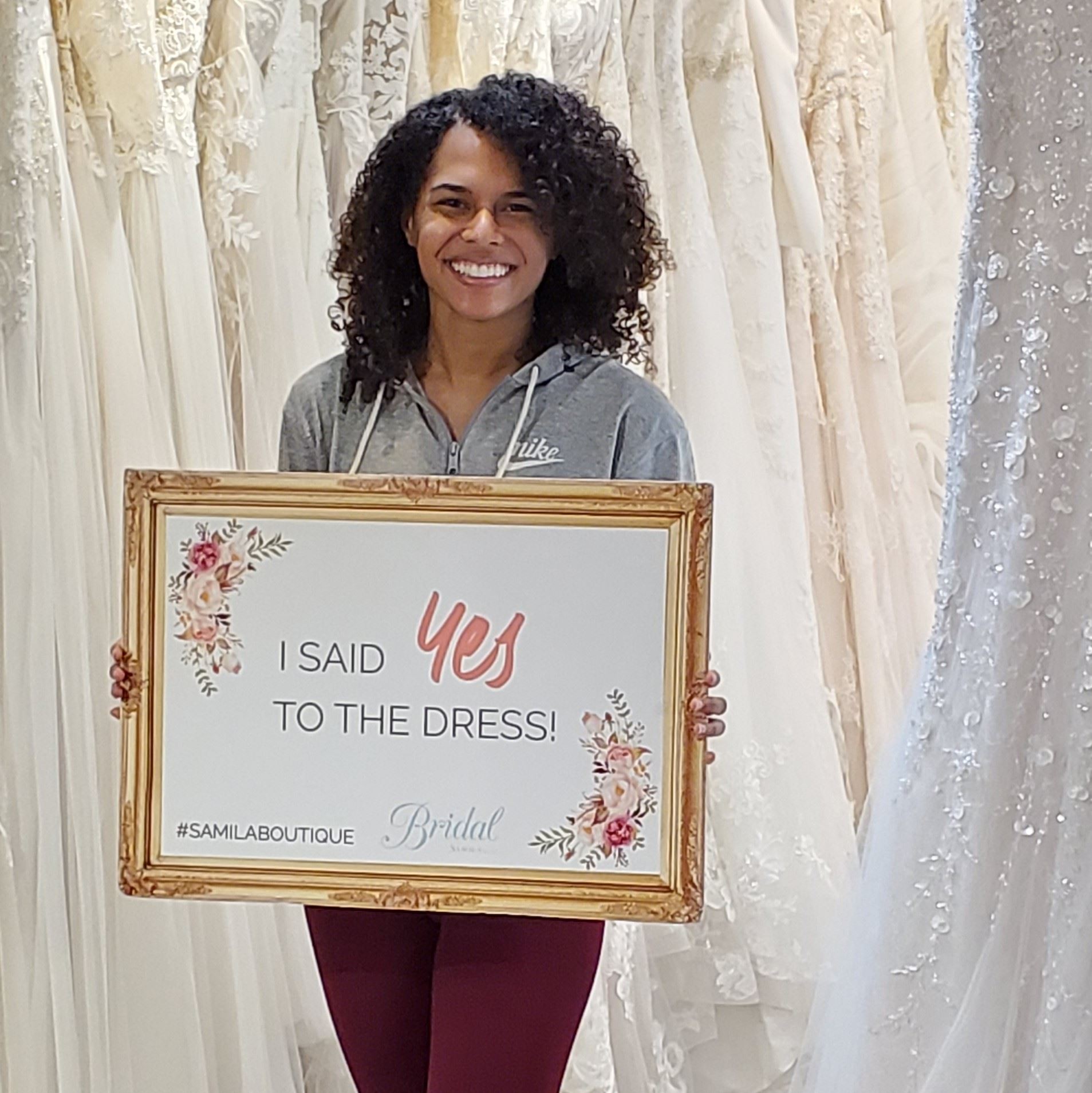 Ashley O.
Wedding Wire ★★★★★
I had an amazing time finding my dream dress with Yasmin and Shea! I had gone to 4 bridal shops before finally finding this one. By time I reached this appointment I was discouraged and exhausted, but when I spoke with Yazmin on the phone to schedule my appointment she made me feel confident that this appointment was going to be the one where I would find my dress. They had many dresses that fit the style I was looking for and they took their time going through each one to understand what I liked and disliked. The dresses are so unique and beautiful I thought they were going to be way over budget, but I left under budget with my dream dress! I had an amazing time saying yes to the dress and can't wait for my wedding day. Another thing that made this experience amazing is that my family lives out of the state so I came into the appointment alone. Yazmin and Shea held the phone so I could FaceTime my family for every dress and hyped me up the entire time.they are so sweet and fun to work with. Best dress shopping experience ever!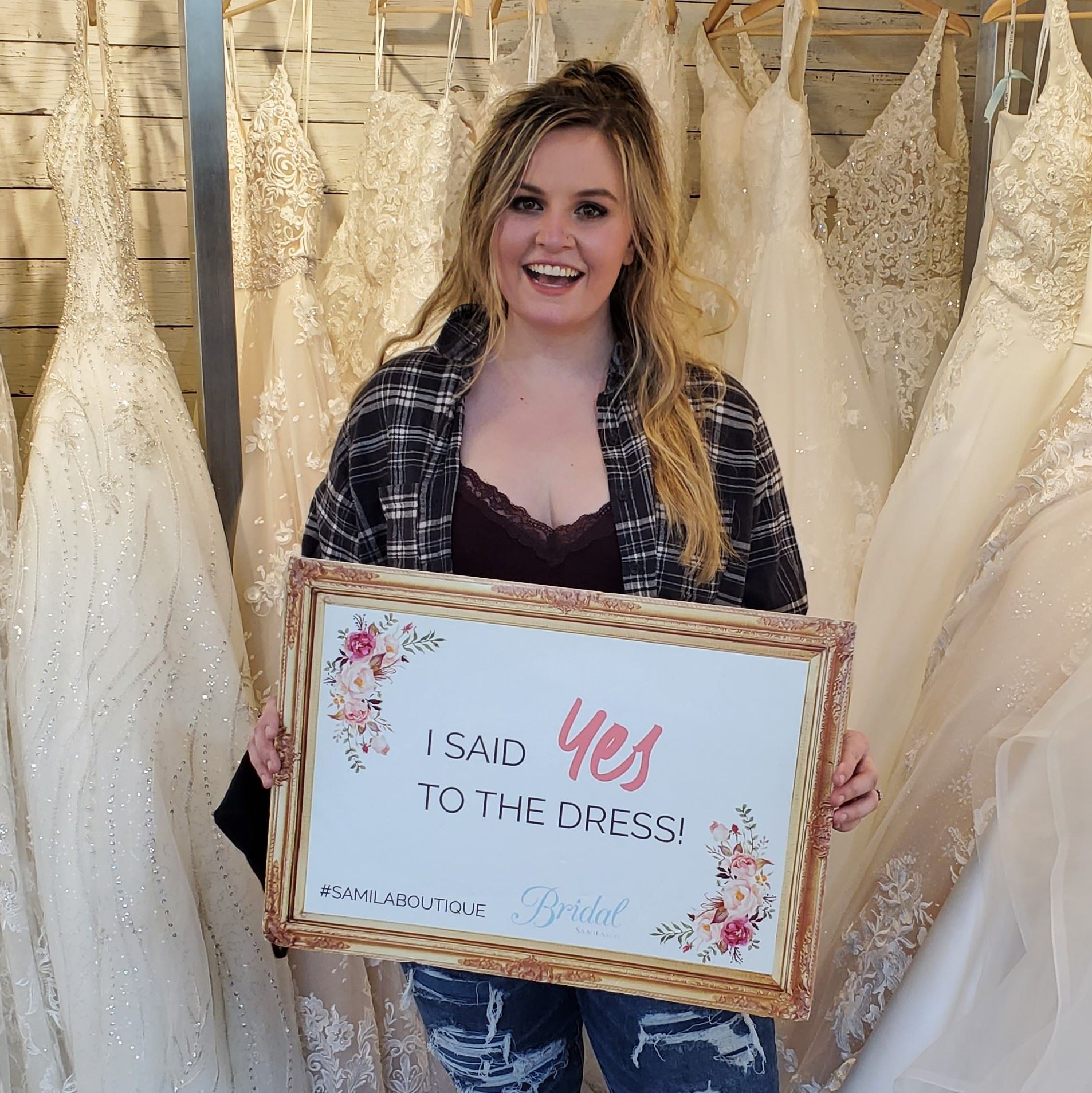 Jordan F.
Yelp ★★★★★
I wanted to go to Samilas back when they were in Redmond. I got engaged in 2019 and was supposed to have a big wedding Dec 2020. I ended up going to a different state to be with my mom to get a wedding dress, it ended being completely different when I got it. We had to cancel our big wedding but we did a small elopement where I wore the dress (uncomfortable the whole time).
This year we're hoping to have our big wedding and I wanted a new dress, so I was sooo excited to finally be able to go to Samilas Bridal! I didn't realize the shop moved from Redmond to West Seattle, but the drive was SO worth it. I've had some pretty bad experiences dress shopping, but when I walked into Samilas, I was greeted by everyone and felt special. I showed them the style dress I was going for and they all went to the racks and started picking stuff out for me. I went upstairs with Samila and started trying on dresses, and ended up falling in love that was pretty different than what I originally wanted. I cried, and I knew it was the one. I wished so badly that I would have went here a year ago with my mom, but I'm so thankful that I get to have a big wedding this year and I get to wear such an amazing dress. I'm plus size, so I'm always worried about things not fitting or being judged, that was not the case here, I was hyped up by everyone and was able to try on regular sized dresses also. Being told your beautiful while dress shopping and feeling like the person really meant it, goes a long way. This is truly the best bridal experience I've ever had and I am so thankful for everyone at Samilas!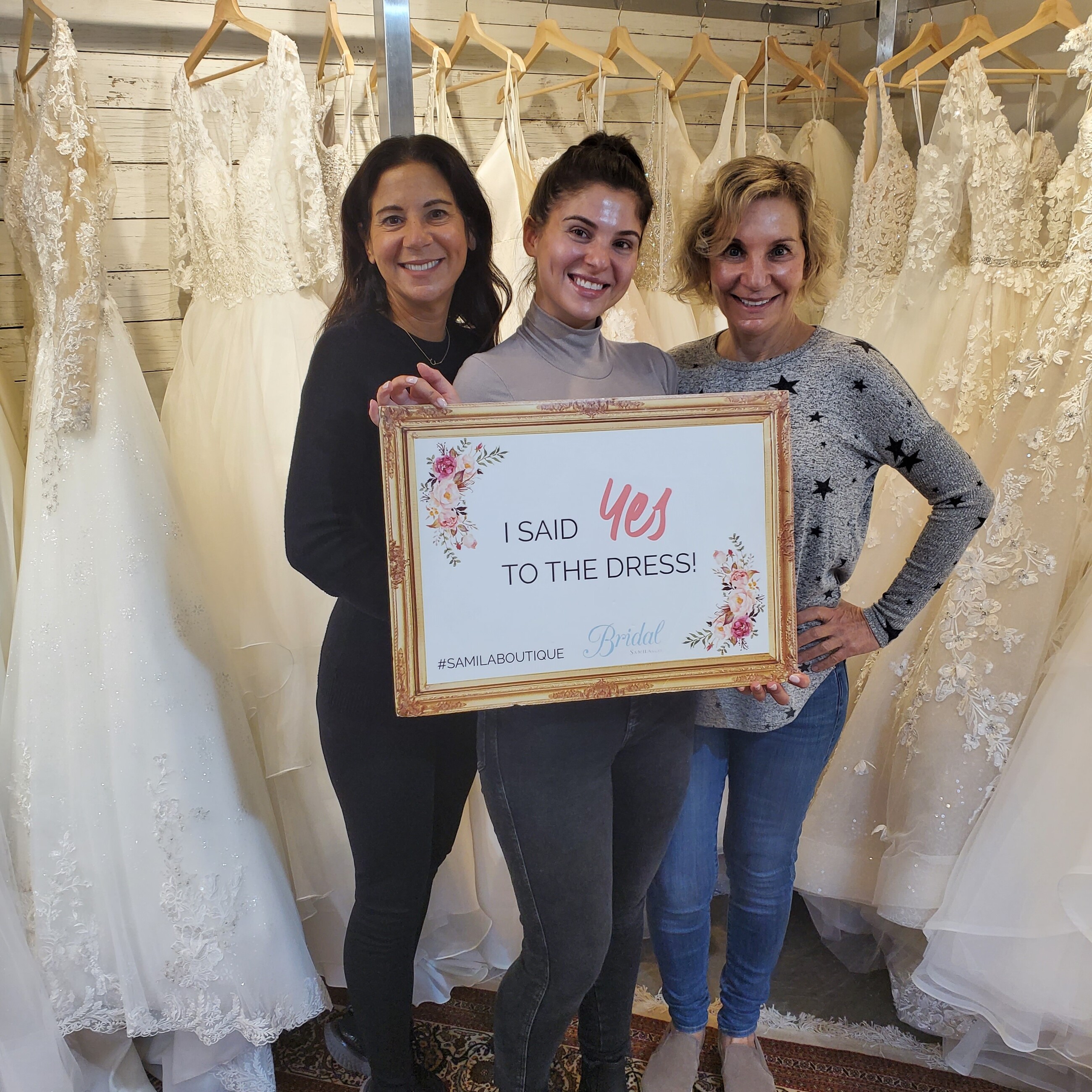 Danica S.
Yelp ★★★★★
The most gorgeous assortment of wedding dresses. I tried many different shops without success (either way too expensive or poor quality), and was pleasantly overwhelmed by how many beautiful dresses Samila's had! I was able to find the dress of my dreams without sacrificing our budget. I had picked out several dresses on my own and Yasmin picked out a dress she thought would work for me. The one she selected was THE ONE! Yasmin knows her stuff and has continued to advocate for me to look my best on my wedding day (even helping with shoe recommendations, being meticulous with the alterations, and helping to pick the perfect dress). She was helpful without being pushy. Definitely recommend Samila's to all my engaged friends!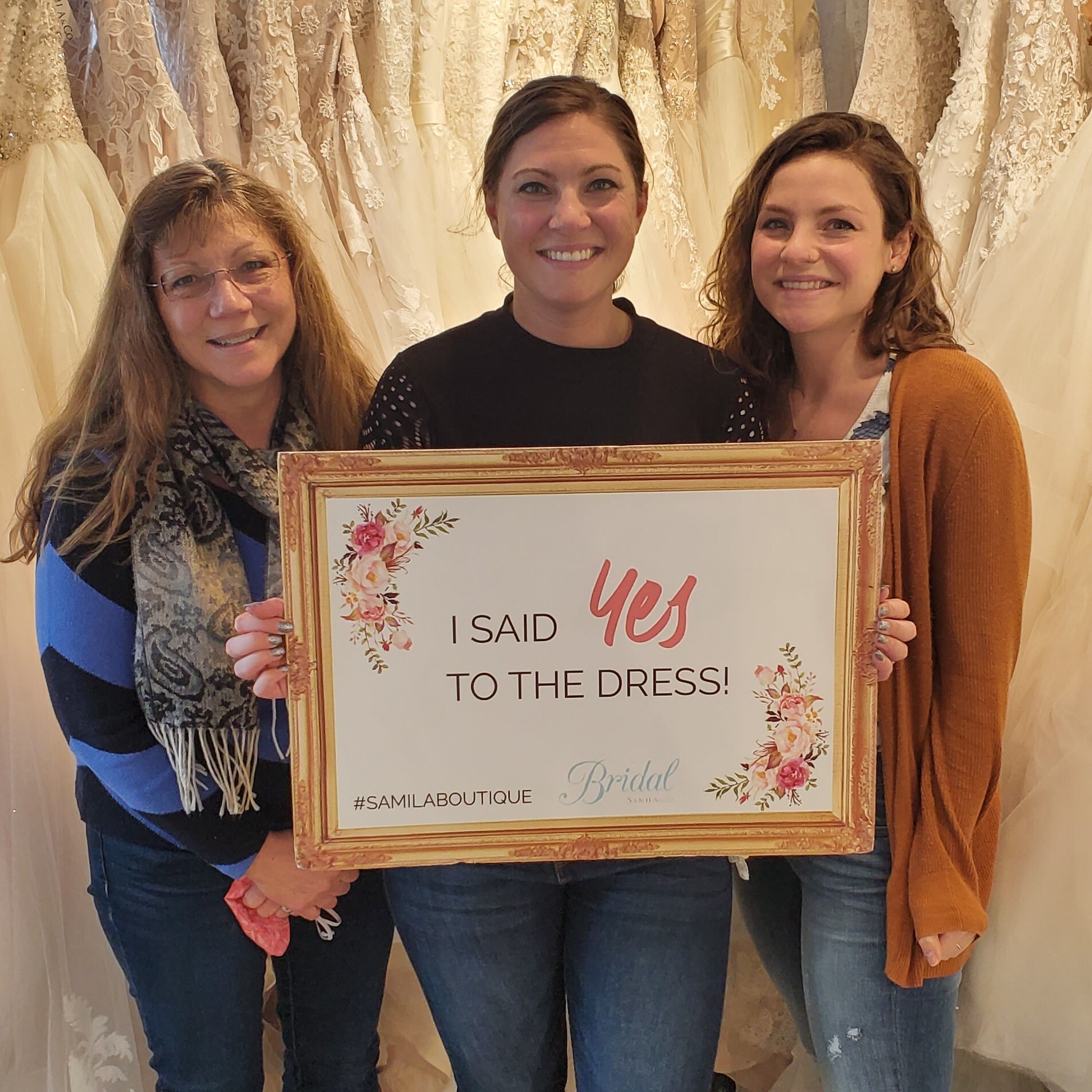 Anna S.
The Knot ★★★★★
The one weekend that my family came to Seattle to shop with me was, of course, the weekend of an apocalyptic snow storm! Nearly every shop cancelled on us via email or a very brief phone call. Yazmine called to ask me what I wanted to do and to pick my brain about how best to keep us all safe and find out if rescheduling was possible. She asked so many questions to make sure she had an idea of what I was thinking and had options in my price range before we drove across the city in the snow. She even had me send her a picture of my favorite dress from another boutique so she would know what I was thinking. She was so kind and warm and knowledgeable. She let us take our time with every dress and was great at drawing out MY feelings and opinions on each one. I walked away with the MOST amazing dress that was even in my budget. We lucked out in finding Samila Bridal! We could not have been in better hands!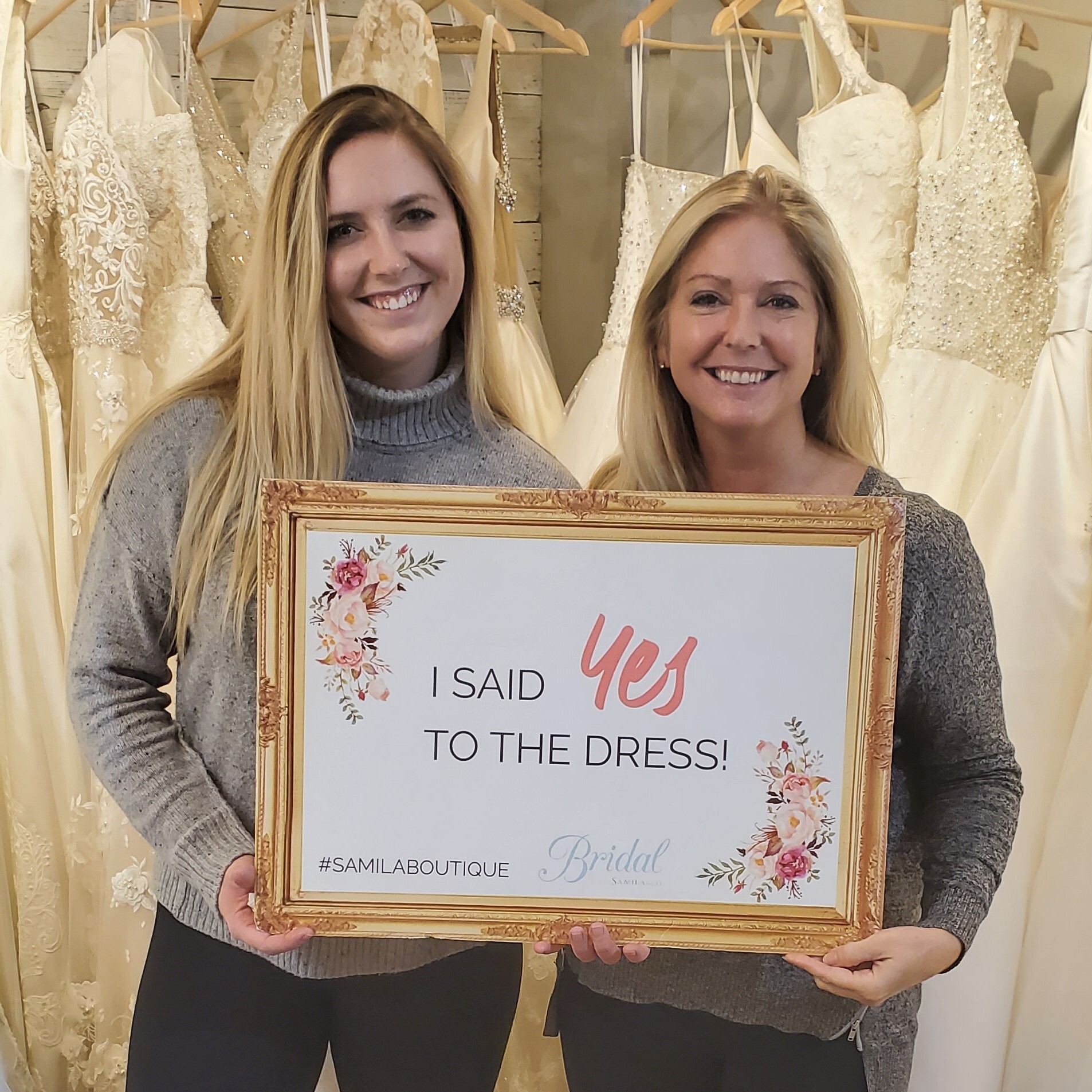 Kat H.
Google ★★★★★
Samila Bridal and Formal is hands down the best place to find your wedding dress in Seattle. Everyone we worked with was so helpful and I'd recommend this place to anyone.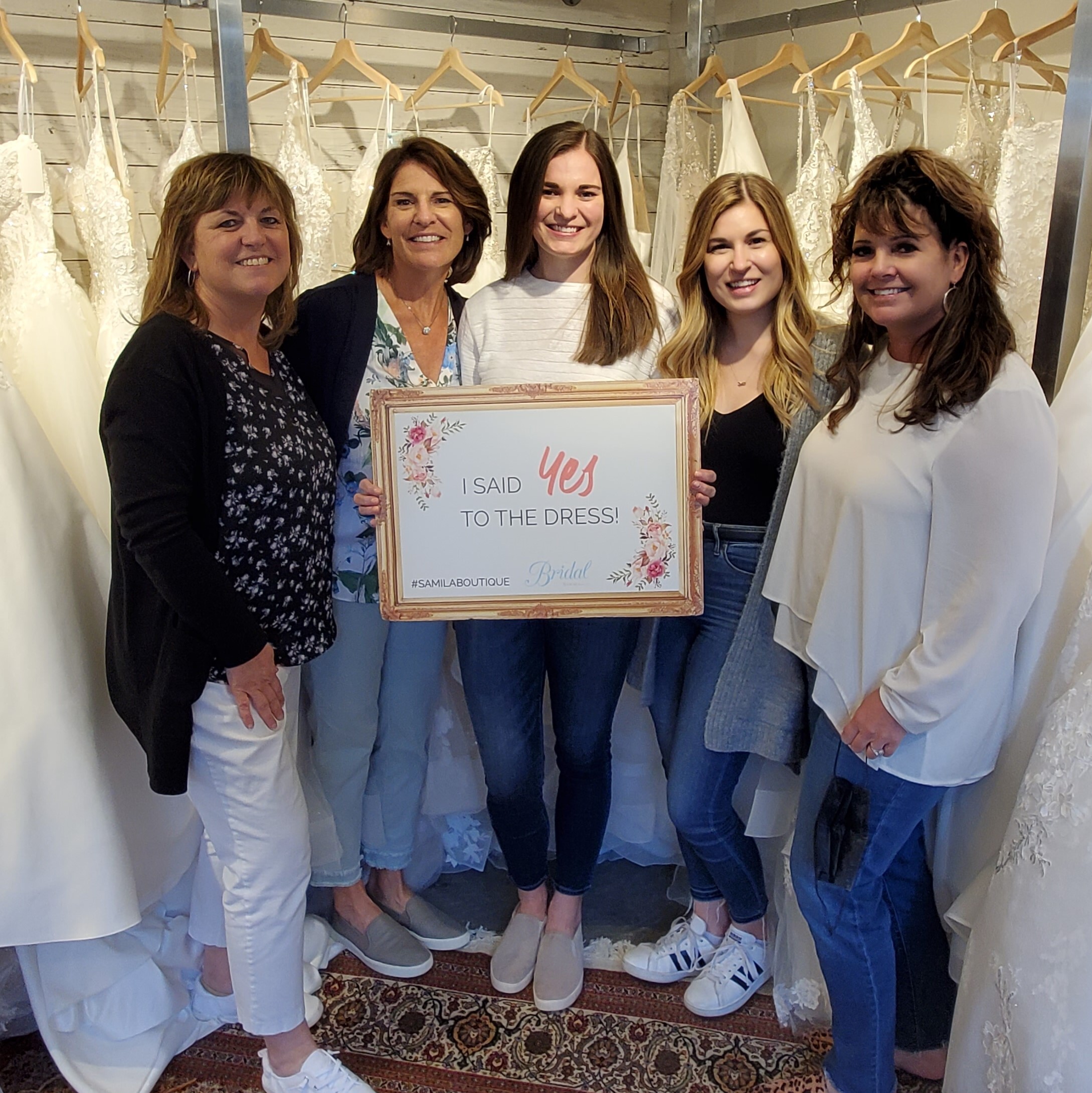 MacKenzie I.
The Knot ★★★★★
My experience at Samila was a dream! It was the first place I looked for wedding dresses and I said YES!! Fun side note, I also got my homecoming and prom dress here 12 years ago! It was great to see Samila and again and work with her daughter Yasmin. HIGHLY recommend!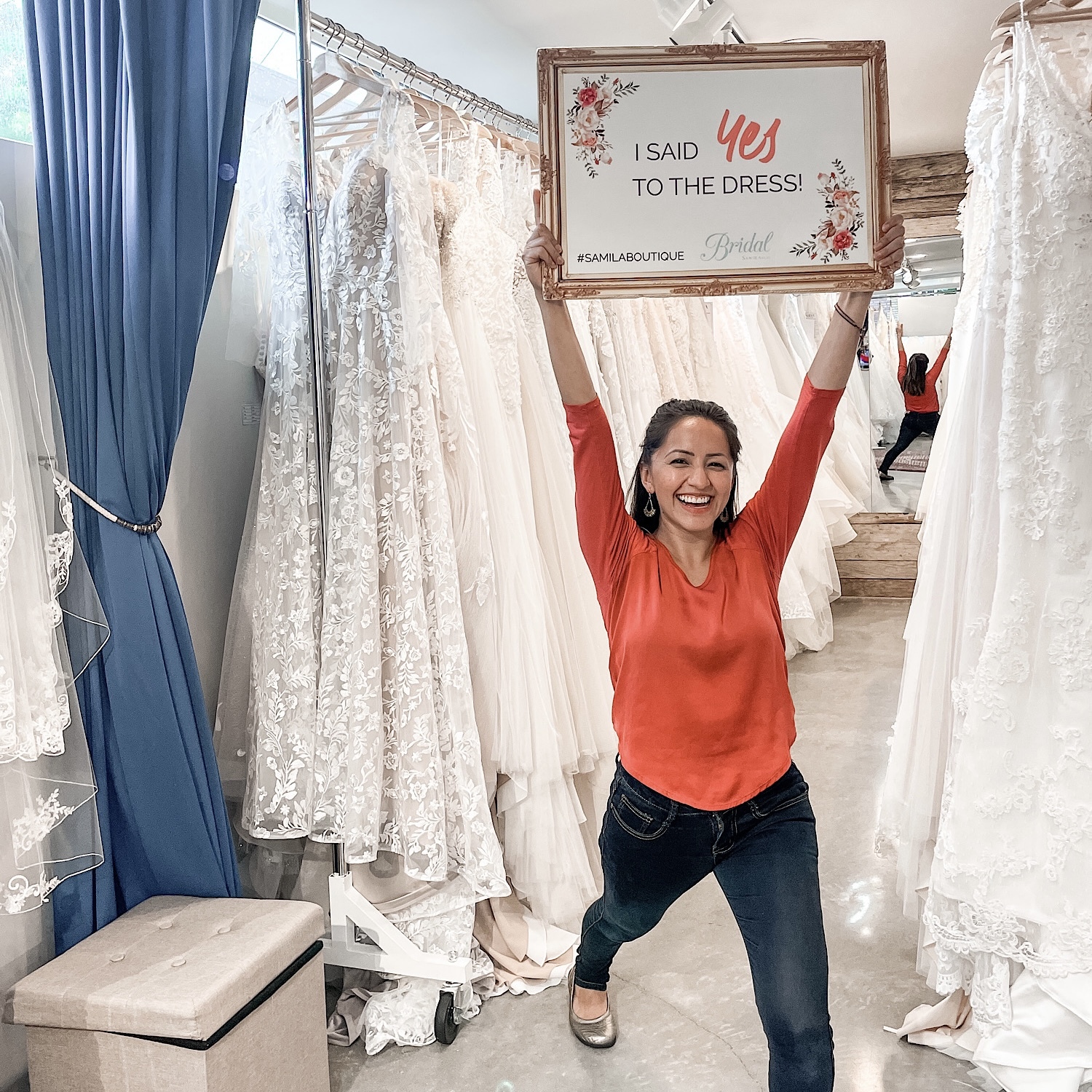 Alicia S.
The Knot ★★★★★
I am so pleased with my experience wedding dress shopping at Samila Bridal. I completed an online questionnaire prior to my visit which helped the stylists learn about my style. As soon as my mom and I walked in, we were greeted and offered a refreshment. Yasmin was very attentive and a good listener. With each dress I tried on, her selections were more on-point. When I said I liked the top half of one dress, and the bottom of another, she offered to combine them and make me a custom dress! Thanks to Yasmin and her personable, down-to-earth team, my mom and I had a wonderful experience. I walked away with a dress made just for me and I'm so happy with the result. . I highly recommend this boutique to anyone that values top-notch customer service and wants to support a woman-minority owned business :)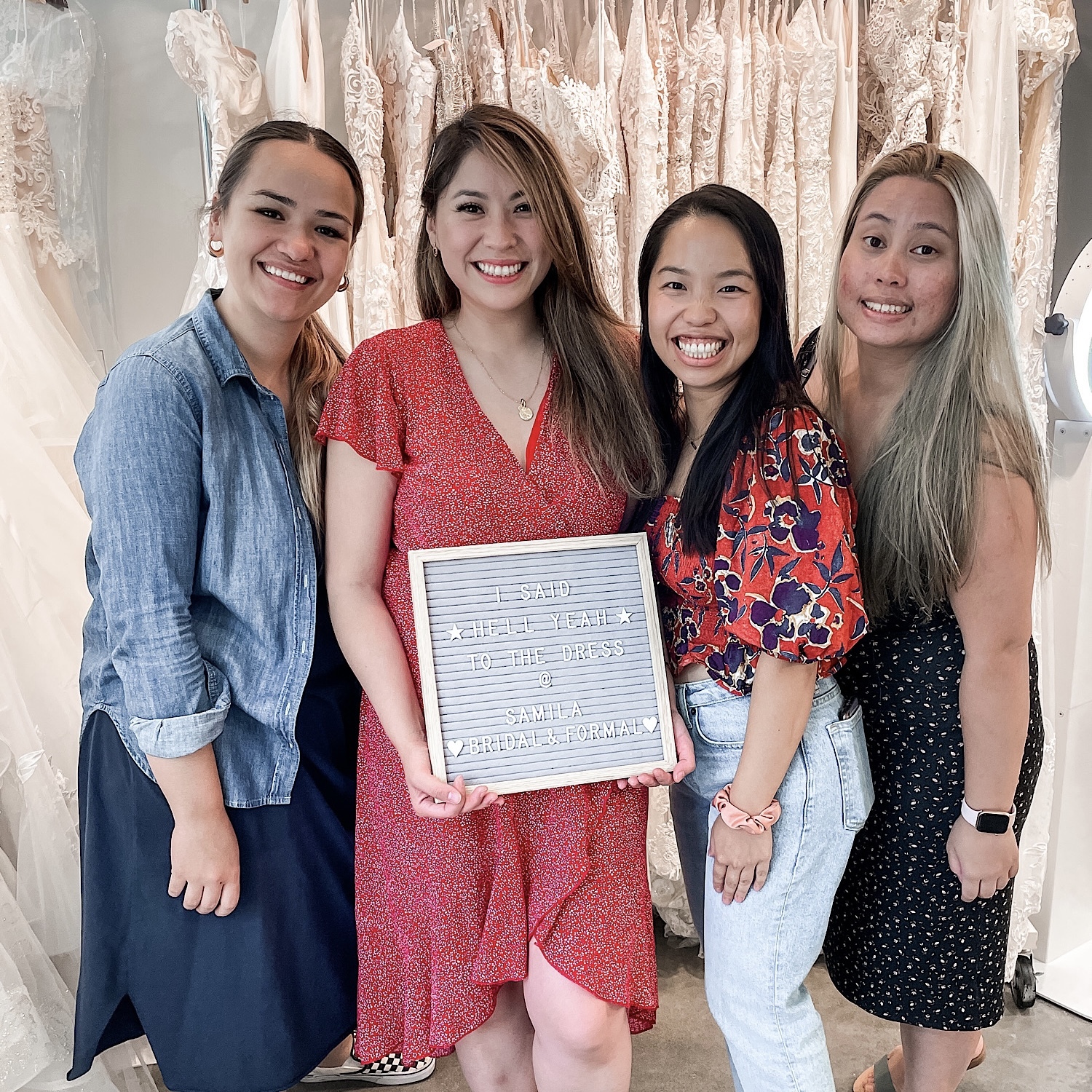 Lisa N.
The Knot ★★★★★
Samila Bridal was my second bridal shop I visited and everyone there wowed me with such great service. My bridesmaid and I felt very welcomed! Yasmin and Shea were very helpful. They listened to what I really want in a dress. Because of that, I was very confident in the dress I said yes to! I felt like a princess that day! Definitely recommend all brides to make a visit to Samila Bridal!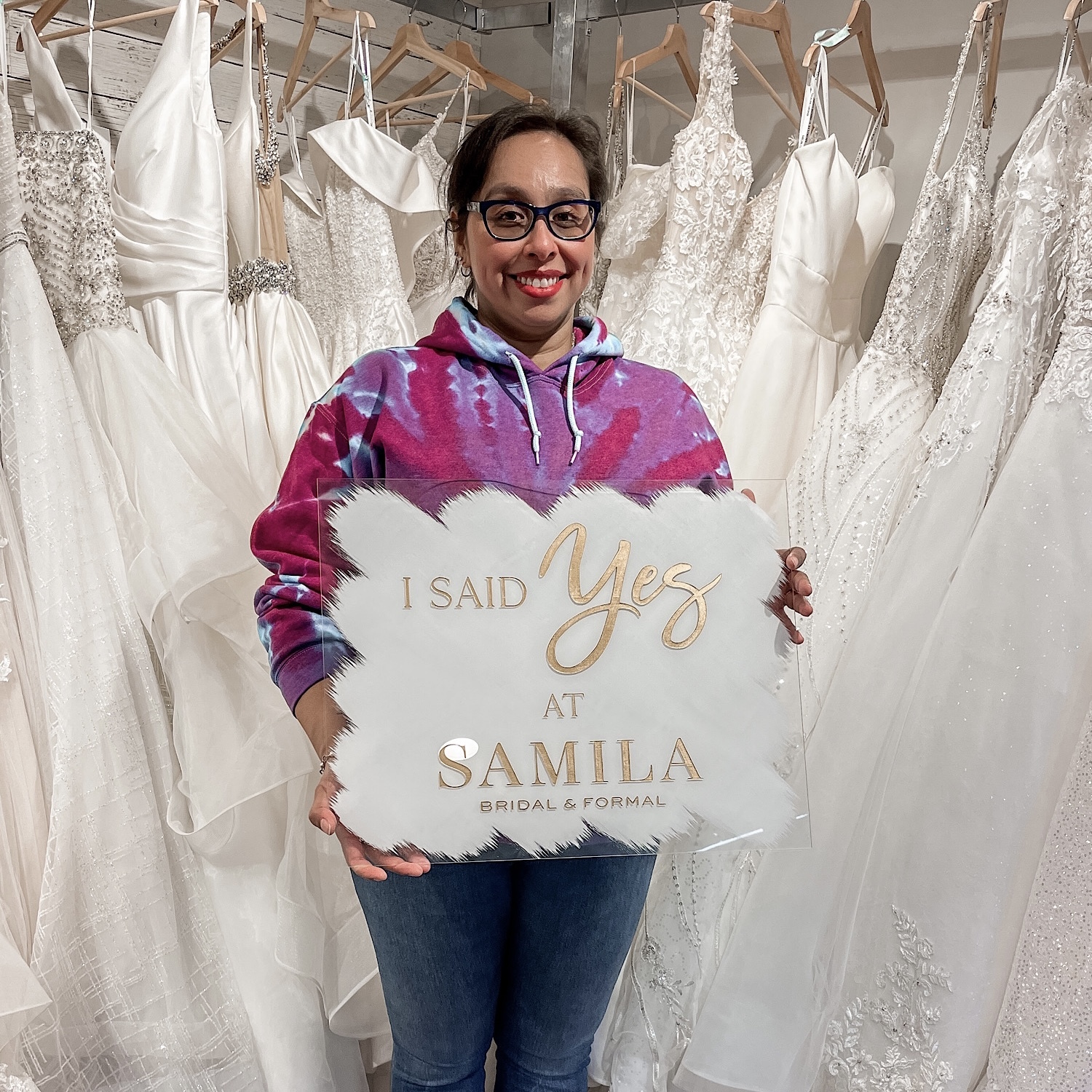 Elizabeth T.
The Knot ★★★★★
This is the cutest shop ever! They made me feel so incredibly special!! I was the only bride to be there and got all the attention from everyone. So so nice that you have your privacy putting the dresses on and off. They're there to help, but let you get the dress on most of the way first. I was able to try on several dresses before I found the one!! They were able to read me and select just the perfect choices when I gave them ideas of what I liked. It was just absolutely perfect and I couldn't have hoped for a better experience. I was even able to video call with my family that lives out of state and they never made me feel rushed. This shop is a gem and I highly recommend them!!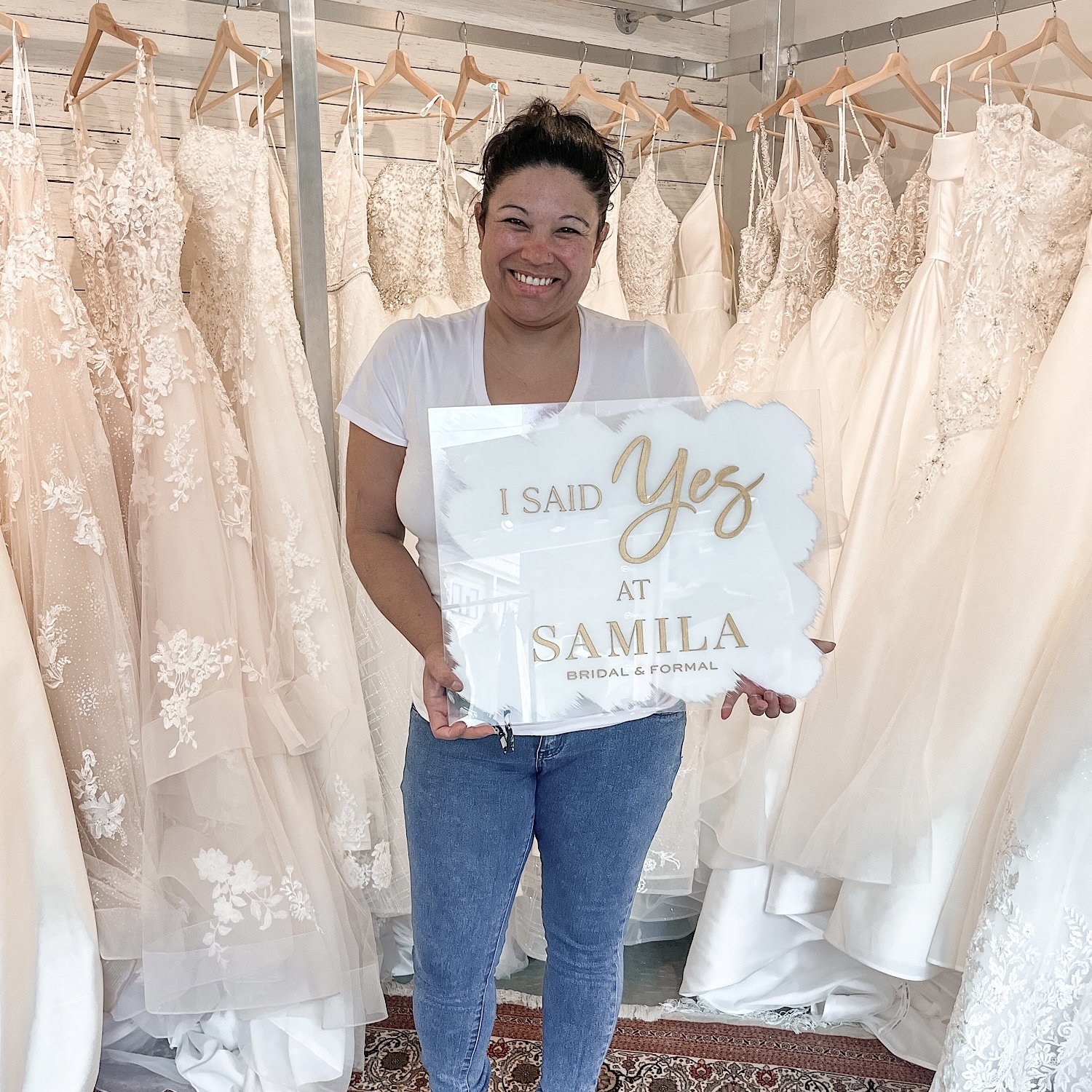 Julie Y.
Google ★★★★★
I couldn't say better things about Samila I wish I would have went there to start. They are phenomenal stylists with great eyes and best of all: THEY LISTEN. I felt like every salon I went to before Samila kept bringing me dresses that were missing something. Right from the beginning they brought out dresses I was looking for, helped me to see what alterations would look like and by the third dress I found the one. Not only are their gowns beautiful, but they ensure the utmost in customer care, giving you the whole place to yourself and your bridal party while they hunt the dresses down for you. I wouldn't recommend wasting time anywhere else!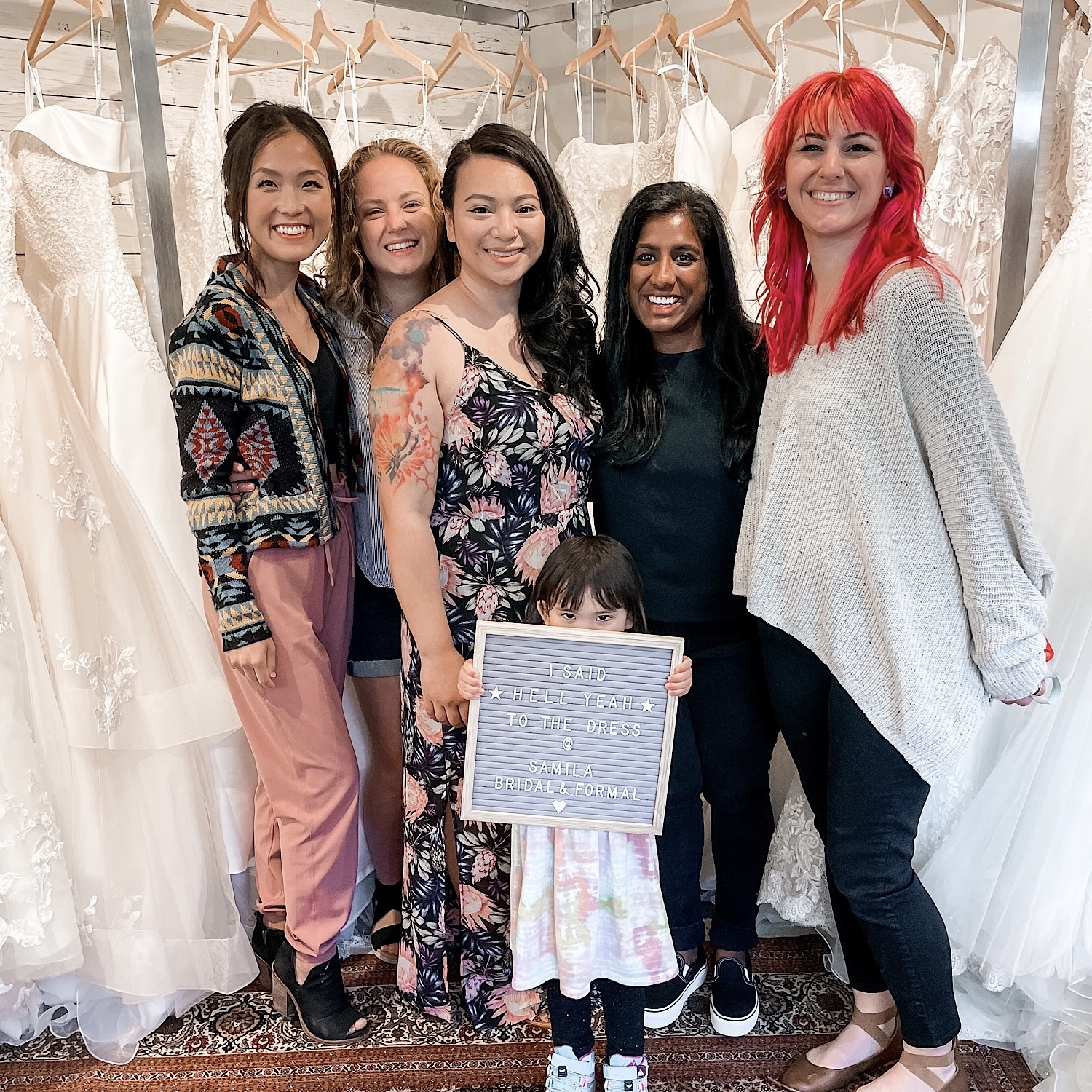 Linda H.
The Knot ★★★★★
I saw this boutique back when they were in Kirkland a few years ago, and I had told myself "this is where I want to go when I get engaged." Fast forward a few years, I'm standing in the room with my best friends. Yasmin and Shea were beyond helpful and professional. They did everything they could to accommodate my wishes during COVID restrictions. The dress I ended up choosing was beautiful, their in house tailor Lana did an amazing job, and they went through lengths to get me everything I needed (dress, veil, accessories) within our 3 month engagement. I can't recommend them enough! This was literally a dream come true.